There are people who lazily read a couple of stateteks in the evening after work on beer and already have a "very clear" opinion about everything.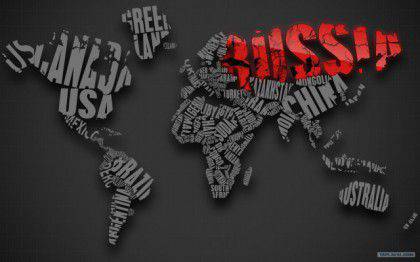 In geopolitics, as in chess, haste and adventurism do not lead to anything good. If you play against a strong opponent, but try to put him a "childish" mate, he will first simply push the knight, neutralizing your threat, then force your pieces moving too far without covering to retreat, and while you save them, he will develop positions it turns out that you haven't done almost anything yet, and your opponent has more than half of the board under control.
I understand the children's enthusiasm to solve everything with cavalry, as in the unforgettable DMB. And we must "bahn", but then.
And before you bang, you need to carefully think through everything. Because the consequences of wrong actions in such cases will be, at a minimum, a long-term occupation followed by plunder (like defeating the USSR in the Cold War) or complete annihilation of the Russian statehood and the disappearance of Russians from the face of the earth, as has happened to many other nations that have suffered civilizational defeat .
Decisions in such a big country like Russia are always made not by one person (whatever liberals and others maydanut about Putin's tyranny do not rave about), and not arbitrarily, but on the basis of several intelligence reports and the work of a number of research and analytical institutions.
And even many employees of these specialized departments are not always able to put together a complete picture, because often they collect information in their narrow direction. Already different people put together mosaic elements.
I, in spite of my involvement in the activities of RISS and a number of other analytical groups, do not have all the information. And even such a recognized orientalist as Yevgeny Satanovsky, who came to most of the offices, recently admitted that he also did not have complete information about the reasons for the evacuation of Russian and British citizens from Egypt.
A fairly complete picture can (except Putin) have such people as Bortnikov, Fradkov, Patrushev, Ivanov, Shoigu and a few more people. But they have no right to tell you all the information, and therefore they will never tell. As the saying goes, "Who knows - silent, who does not know - tryndit."
But taxi drivers, pensioners on the benches in the park and the network hamsters are the most knowledgeable and know exactly how to manage the state. Usually it is their "best way" and it comes down to "you have to bang urgently". In the USA, for example, the overwhelming majority of those who supported "it is necessary to bang across Syria" could not even show it on the world map. I think that among the Russian sofa "experts" the situation is not much better.
So I can argue at Hennessy that the overwhelming majority of those who yell about Donbass merge will not be able to indicate either the number of militia, the names of key officers, nor the number and types of weapons, nor other similar information. And in the economic channel, it is no better - they will not be able to answer how many medium and large enterprises of Donbass are currently working, how many workers are employed, what their monthly turnover is, what is the mass of rubles in the region, and so on. Again, none of them says and does not write about the fact that utility payments in Donetsk and Lugansk are far below Ukrainian today. For hysterics and panic, accurate information is not needed, in general, no information is needed.
Mr. Strelkov, for example, the other day received accurate information about how many sorties the Russian Air Force carried out in Syria, how many of them hit the targets and what the total result was. And immediately he stopped writing "everything was lost," and was forced to admit that
aviation
Works with amazing efficiency. And the successes of the Syrian army in the offensive are evident - the unblocking of the Kveiris airbase alone, which has been surrounded for two and a half years (!), Is very significant.
Let those who, with a silly malice ask why the militia did not take Mariupol, show me on a topographic map how they would then be going to build a defense of the city against a possible counterattack of the Armed Forces of Ukraine. After all, ours would have to take the city in the melee, clean it, using only small arms, and the punishers would not bother and fired at it just like the other Donbas cities. And the terrain there is such that to protect the city from shelling is extremely inconvenient, and the existing militia forces are almost impossible. But the sofa "experts" did not see these cards.
Meanwhile, the cable for the power supply of the Crimea from "mainland" Russia is ending and right away, literally today, on November 11, electricity supplies from Russia to Ukraine are stopped. Gas supplies, according to Novak, will also be terminated by Saturday.
The IMF mission to Ukraine is "delayed", every day coming up with new conditions, requirements and excuses not to come. Restructuring is still not. And December, when you have to pay your debt, is getting closer. Inside the Kiev junta split, there is a quiet war of all against all (the latest information about this in my other article), in Ukraine, more and more dissatisfied with this regime.
It is simply unrealistic (and often unsafe for people in Ukraine) to lay out all the information coming to me through various channels. Therefore, it is necessary to give only the most important thing, to say only what can be voiced.
There are people who sit tightly on the flow of information, have an extensive insight, and they constantly consult each other, enriching their vision. And they form their point of view on the basis of processing large volumes of information.
And there are people who lazily read a couple of posts in the evening after work under beer (preferably short and not burdened with numbers and details), and already have an "extremely clear" opinion about everything. And when they begin to broadcast this opinion, approximately in the format "all around are Cardinal's guardsmen, I am Boyarsky alone" while muddling Russian authorities, scientific environment, expert community, special services and the state apparatus, then guess who looks like complete idiots?