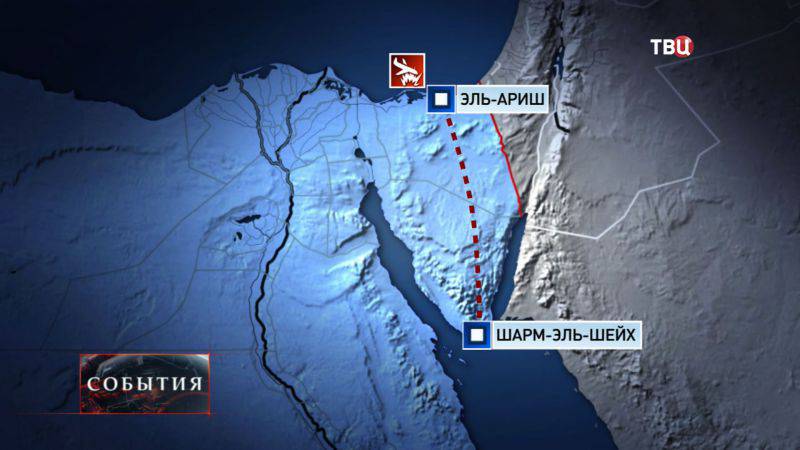 Rostislav Ischenko: "Open Studio" Guest - Evgeny Satanovsky, Director of the Middle East Institute.
Yevgeny Yanovich, in the morning I looked at the press about the crash of A321. Tell me, what is behind the emergency evacuation of Russian tourists, after the British, Americans, from Egypt? After all, it was more than once when the Americans, the British evacuated their citizens, and the Russian tourists didn't care: they were flooding to Egypt, nobody evacuated them, and nothing really bad happened to them if the sharks did not attack. By the way, in one of the comments on the article I read: "And the villain Satanovsky called for bombing Qatar." At that moment, I thought that I can explain why bombing Qatar is wonderful, why bombing Qatar is terrible, and why bombing Qatar in vain. It all depends on the algorithm that we prescribe, on what goal we want to achieve, by what means, how adequately we predict the reaction of our friends, allies, opponents, etc. In general, there are different options, but they are all are logical. When I think about this evacuation, I see different options. There was a terrorist attack, there was no terrorist attack - until confirmed and not denied. Although more and more inclined to the fact that the attack was. Until evacuation began, everything fit into the normal normal algorithm. The plane fell, people died, expressed condolences, paid compensation and launched an investigation. Suppose there was a terrorist attack. Evacuating 80 thousands of tourists from Egypt, whose number increased according to official data in three days from 50 to 80 thousands, we do not reduce the likelihood of a terrorist attack. On the contrary, we increase. Because in order to protect such a number of people, you need to use the entire Egyptian army. In general, before it was no secret to anyone that at Sharm el-Sheikh airport there were also those "security" measures. It was not yesterday that we learned that terrorist attacks were possible there. Moreover, in Moscow airports I came across the fact that if you are going through the hall of official delegations or through the VIP room, then you can carry anything you like into the plane's pockets. And if you're in a coat, you can carry 10 bombs. What happened to suddenly such a huge number of people urgently take out of Egypt?
Yevgeny Satanovsky: First, I have never offered to bomb Qatar. I did not offer to bomb this or that country at all: there are other measures to influence its leadership. I'm not talking about Qatar, first of all, I'm talking about a specific Qatari leadership that "protects" specific militants, including in Sinai. These are militants from the Muslim Brotherhood *, the Islamic State **, while in Sinai it is just a targeted terrorist war against the Egyptian leadership and the Egyptian army. In Syria, we attacked the most painful part of the body of the head of the Foreign Ministry of Qatar, who personally personally oversees the Syrian civil war - this is Khaled al-Attiyah. He manages Qatar. Of course, there is a young emir, quite young in Arab ideas, and his overbearing mother, Sheikh Moz, but having persuaded the previous emir to put his heir ahead of the line and go into the shadow of Khaled al-Attiyah, we stepped on his pocket. These multibillion-dollar investments in the overthrow of Assad, in the fact that the pipe will now stretch to Turkey, Erdogan will happily accept it, and the Europeans will be happy, they can be eliminated at any time. Moreover, Qatar already now has to take out militants of the "Islamic State": someone to Libya for a civil war, which they support against pro-Egyptian groups, someone to Yemen, where they are fighting the Hussites together with the Egyptians. Some long-term project, perhaps because of the Russian videoconferencing on the threshold of victory, when everything has been agreed upon, divided the sectors of attack, may collapse. And this then means the collapse of his career, because al-Attiyah clan is rich, influential, but there are others. So there we can expect not only the situation that occurred in Egypt.
All experts persistently talk about the attack, discuss the type of explosive device, how it was carried, and so on. We on the Russian territory can expect a lot of things resonant, because the enraged representative of the clan, whose billions lie, is looking for where to put them. Qatar has about 100 billion a year of extra money, a lot of ambitions. "The Caucasus Emirate" *** they just bought. This is a serious threat. We have examples: there were before this game with the Saudis, once Prince Abu Faisal came to visit us, probably, the main godfather, so to speak of the Arabs. September 11 - from the United States, and we have Nord-Ost. So we have - Prince Bandar bin Sultan with his first and second Volgograd terrorist attacks. These people are so used to seeing the world. In the case of Sinai and the aircraft, they sent us a black mark, exactly according to Stephenson. In their style, so they have taken. And they are accustomed to complete impunity, because Qatar is very small. Qatar, no matter how hard it is - you will go to the American military base Al-Udeid, the largest in the Middle East.
Well, ours rarely polloshatsya, and why Westerners so raised their own? Apparently, they have much more information, because they are inside this entire intelligence system: Saudi, Qatari. They understand that now something will start there, that it is absolutely necessary to remove all people from there. I can't even imagine what could start there, but when you have a stream of terrorists, when in a big war with the "Islamic state" Egypt is one of the parties that is leading this war. And, oddly enough, so far on the same side of the barricades with Saudi Arabia. In the terrarium, like-minded Qatar and Saudis are two Wahhabi Salafi states, they hate each other. Somewhere their interests coincide, as in Syria or in Yemen, somewhere they fight through terrorists. Qatar has already brought the situation with attempts to play on the Muslim Brotherhood to revolution and democracy to the point that they even asked him to think whether he would not go to the United Nations from the Cooperation Council of the Arab States of the Persian Gulf: there was such an incident.
Evacuation means that the situation could explode in a big terrorist war in Sinai, when, for example, the strike on hotels simply begins. Didn't they blow up the Hilton in Taba? Okay, an airport is an object that you can cover. And what will you do when the hotels begin to collapse one by one at all the former Israeli airports and naval bases, such as Dahab, Sharm el-Sheikh. The Israelis at one time built the airport, a naval base, then left, all gave to the Egyptians, now there is a resort. You can't cover Sinai completely. This is a tough violation of the convention, because it has always been a tacit agreement: the terrorists do not touch the tourist sector, and their relatives, who are in this tribe, quietly receive their income in this city. By the way, Bedouins of Sinai, who do not love the government, covered the tourist sector. And now, apparently, with all the bitterness that they will simply go bankrupt in Egypt and feel sorry for the warm sea, the situation seems to be such that it is necessary to carry away the legs and all other parts of the body.
R.I .: Well, maybe someone is so brave to catch at once? Three great powers evacuate their own.
ES: Yes, do not care about the great powers: people will go to heaven.
R.I .: Yes, but at the same time their Muslim brothers will grab ...
ES: Yes, it does not bother anyone. At one time, when the Iranians spoke with Ahmadinejad, how do you say there is an apocalypse, there are so many Arabs in Israel? He looked surprised and said, the righteous will go to heaven, and all the rest - what difference does it make to us where these dogs will go.
RI: But the people who are now forcing to evacuate Sinai stepped on the tail of literally everyone. Where to find a place, a safe point from where you can continue to act?
ES: First, there are those who command. For all the terrorism in Sinai, Qatar is personally responsible and the man I called. You see, if Mr. Al-Attiyah said that we, together with the Turkish and Saudi brothers, would now introduce the army into the territory of Syria, the Americans or the British did not turn those words into language. At best, politely: and we can fly, pobomim too. And we will help the Kurds to take Rakka. To which they replied that for the sake of God, let the race on the minefield go, skip a friend, let him joyfully run ahead of you and come to the finish line if he reaches the finish. Moreover, it is Qatar, in which 8500 is a man of the army. They are accustomed to eliminating Gaddafi with small special forces. Yesterday he was rich, but today he is not, he was slaughtered, tried and killed. And in this situation, the men running around Sinai are still in the war, what difference does it make - its great power will kill or the Egyptian army. He is fighting, he knows that he is at war. Drive great. He hates these people, he knows that there are a huge number of people in hotels. Huge is the number of terrorists who specialize in eliminating tourists, this is their enemy.
The second thing is pumping with terrible force: the Russians in Syria are killing our brothers. She is terrible and very time tossed. When you are zombied and zombied, you can already see with bloodshot eyes that there is an enemy, and a lot of other things. I'm not saying that the mountainous area in the center of Sinai is thousands of Islamists. These are all those who were released from prison during the "Arab Spring", so beloved by our Western colleagues.
See, evacuation is the lesser evil. Why luggage flies separately is now clear too. If I had got into such a situation, I would have been angry that my suitcases remained here. If they hadn't told me: choose, can the entire luggage compartment fly up with you. Then choose, really. Because you can put it, anywhere and anytime: in the hotel, when loaded, and on the bus, you will not find anything. So, it is necessary to pass each bag, each suitcase through the scanner, and, as we know, the scanner at Sharm el-Sheikh airport only works in one situation: when the boss arrives. That's the whole explanation.
R.I .: Look, there are frostbitten terrorists in Sinai, in Syria ...
YS: They are not frostbitten, they just live like that, they believe in it.
R.I .: In order for them to act, someone must direct them, arm them, finance them, otherwise they are just Somali pirates.
E.S .: The Somali Pirates Control Center was in Massachusetts, the largest outside Somalia. From there they received information about which ships go. The money went there, everything worked very well.
R.I .: Despite this center, the Somali pirates dissolved in time and space.
E.S .: Not really. They now have a lot of money, they do not risk them, they invest, they are engaged in other types of business. They will go on strikes on tankers in the straits, do not worry, there will be much more there.
R.I .: If there is a terrorist control center, then you can always reach it, because there are special forces not only in Qatar and Saudi Arabia. And who accidentally lost someone - then you can figure it out just as long who shot down the plane.
E.S .: Theoretically.
R.I .: Why theoretically? It is possible and in practice. You say that Qatari is rich and accustomed to the fact that they can buy everyone. Qatar is a small, weak country, a lot of money. I have always assumed that if you have a machine gun, you will always take a bag of money.
E.S .: And Qatar was laid.
R.I .: In what sense? Has he bought an army?
E.S .: Almost. US military base in Qatar. Qatar is so small that it is useless to bomb it, you will still touch this base.
R.I .: But you can find a person.
ES: A person, from my point of view, even needs to be found. They found Yandarbiyev in their time, and then the flow of money that went to Chechnya to the war against Russia fell on 2 / 3, although the operation was not perfect. Well, long ago it was what is called. We relaxed by that time, but today we are already concentrated. The thing is, people hide behind connections with those and these intelligence services, economic partners. When you do something to Qatar, you are attacking such a wave of economic, political, personal interests, because bags of money go to the highest echelons of power to Europe from the United States. Bags go different. Someone, by the way, and a cache. At one time, Chirac, Mitterrand, Rafik Hariri was carrying suitcases with cash.
RI: Well, did Gaddafi get carried around, and did that help him a lot?
E.S .: A correct idea, but Gaddafi was a rude, outrageous man. He supported terrorism at the level of children's babbling compared to Saudi, Qatari, Pakistan or Turks. The four main countries we hold Islamic terrorism today. Pakistanis, I must say, it also does not bring much happiness, as recently ex-President Pervez Musharraf expressed himself more than substantively. Turks still get their. They are already beginning to cool their relations with China because of the training of Uygurs around the world. And it will not be only with China, because the attacks in Bangkok are absolutely Uygur-Turkish origin. But in Syria, as it happened, Erdogan broke into this path, deciding that he should have his own terrorists and he also supports the "Islamic State", and he has his own fighters in the form of the "Muslim Brotherhood" or some Turkomans. And in Qatar, "Ahrar al-Sham", the same "Islamic State" and the same "Muslim Brotherhood". And Jordan has a little connection with Ahrar al-Sham. Everyone has their favorite al-Qaeda ****. Well, the Saudis are conservative, they have al Qaeda and Jabhat al-Nusra *****.
When you beat them, it is clear that the whole snake coil raises its head, everyone to whom they paid. And this is such a crowd of human rights organizations, UN officials of different nationalities, not Arabs, all those associated with refugees, human rights, unfortunately. Because only now our Geneva Foreign Ministry Group has been confronted with the state of how hard the facts are juggling in official international organizations, support for terrorist groups in Syria. The goal is to destroy Assad. Well, it seems that respectable organizations will work, including very good ones: "Doctors without Borders", "Human right watch". And suddenly you are looking at where certain specialists came from, what their salary is, and what this bosses are doing. Those who work in the field is understandable, but everything that has become a power pyramid? For decades, they bought everything. In this invested and invested.
Saudis have invested more in the propaganda of their type of Salafi Islam than we did in Soviet times in all our
history
in the promotion of socialist ideas. And they did it, concentrating, from the 80-ies, in such a very substantive form. And the Qataris have generally entered the market since 95, when Hamad bin Khalifa At-Thani entered power with his ambitions and began to work. This created a powerful shield and a feeling of invulnerability. In order to beat them, you need to understand how to do it. And I am afraid that this will have to be understood by minimizing the risks.
These guys are ready to unleash even the Third World War, they do not care. Just as the Saudis persuade the Israelis to strike at Iran and its nuclear facilities. They absolutely do not care what will be the result. Because it is clear that Iran's nuclear can only be obtained by using non-conventional
weapons
which Israel does not have. They do not care: the Shiites are fighting with the Jews, Lord, what a blessing. Then Salafis emerge from the desert, finish off the rest, and all is well. None of the great powers who understood that they should be responsible for their words ever went to such adventures. And these do not understand. Yesterday they ran through their deserts, until recently they were very poor, they were nobody and called them in any way. So what is Qatar 50 years ago? What is Qatar 30 years ago? We were the first structure in Russia that released a book about Qatar in general. Nobody was interested in them at all.
What was Saudi Arabia the same 50 years ago? In the 30s, Stalin said: "We have nothing to look for the ghost of communism in the sands of Saudi Arabia." Kerosene was taken from Baku there. They did not have this oil. That is, it was, but no one knew what it is. These are people living in the style of slave trade and slavery, it was abolished in 1962 or in 1965. Yes, today they have a lot of money, they have modern gadgets, they speak different languages, they graduated from Western universities. Everything is clear, but these are the guys. And here we must very seriously understand what to do with them. Although, of course, if they knew that this kind of game would be answered not by nameless terrorism, but personally by the one who gave him the command, there would be no such situations: we would have long ago ended international terrorism. There is no terrorism without financing. This is a serious economic and political event. This is a big process in which big money is invested. If you don't, in Russian, say, a roof, a rear, then you don't have any terrorism.
When Qatar organizes treatment at the Turkish resorts of terrorists who are fighting in Syria when you go to wonderful Antalya, it is quite possible that a crowd of children from Al-Qaida is being treated near you at the hotel. And today it can be in Cyprus: yes, anywhere ...
R.I .: This is the answer to the question, is it necessary and is it possible to go to rest in the Middle East? You said yourself that somewhere they could kill with the 90% guarantee, and somewhere with the 60% guarantee.
E.S .: I know one country where there is a quiet security regime at airports. They just have nowhere to go. Moreover, Ben-Gurion also declared at the time that any attack on Israeli aircraft or the airport system would be perceived as a "casus belli" for the war. And here he was heard by all. Because a specific word was said here: "Do you bomb us or blow up our airports? You will not be. "
R.I .: You say that Qatar is sleeping on a pillow of money and is not afraid of anyone, because it has bought intelligence, the army, politicians, and so on. But his tail has already stepped in Syria. That is, if Russia began to save Assad in Syria, by doing so, it practically made Qatar very costly and, by and large, throw money at the garbage?
ES: Yes, everything is much worse there.
R.I .: After what happened there, the gas pipeline cannot be built in the next ten years.
E.S .: The project is closed.
R.I .: Especially. Since we went to such a level of confrontation, it is clear that some personal actions against specific people can also go and no politicians and intelligence will save. After all, they are afraid and appreciate not intentions, but opportunities. If there is a possibility, then the intention may appear later.
ES: There is a certain mutual consensus that they do not touch the first persons. In fact, until recently, until this "Arab spring", it was not customary to eliminate people from a certain contingent. At one time, since 1943, even Stalin has stopped considering plans for the liquidation of Hitler. Having politically calculated that everyone would be grateful to him, but behind closed doors, after that they would hit the Soviet Union, uniting with the out-of-Hitler-led Germany. This, approximately, in the form of sanctions is already happening in Ukraine today. Top management considers all combinations of all situations. It is necessary to take certain decisions based on all the consequences that may be in different directions. In this situation, I really believe that the authorities can calculate, and since it is patient, and rightly so, those to whom we are now heavily indebted with this terrorist act or with subsequent ones, they will. In the same way as they say about the actions of the VKS in Syria. There is such a correct expression "usefull idiots" - useful idiots. We also have a lot of useful idiots. And there will be a lot of different signals. Someone will say: "working." And someone will say: "In no case, my God, how can you." What to do now. We still many times about Qatar stumble. And in Belarus, where he managed to wrest fertilizer from us. Instead of a powerful alliance with Russia, Lukashenko after all went to an alliance with Qatar. Both in the Baltics and in Poland with liquefied gas and, by the way, in Ukraine, where they will be happy to deliver it if they are paid. And where many more. What is called "Nothing personal, it's just business". In the old days, release fireplaces, privateers. Free piracy.
R.I .: I don't know about privateers, but apparently it's not even in the Middle East, but in the whole East, all this for a long time and clearly not in the interests of the small Gulf states. I do not know what they think about themselves.
YS: They think that they rule everything.
IR: But at the same time, the Greeks are already going to divide Turkey, like the Poles Ukraine.
ES: Well, as for the Greeks and Turkey, I would be careful. Want is not harmful. Borders are changing, much is changing. Come with Turkey to cope. And this, by the way, is another headache. And what should we do if Erdogan launches his terrorists back here? With our visa-free regime and an insane amount of "fun-loving people" from Central Asia, not only with Russian passports that went through Turkey to the war in Syria. Therefore, there is a complex balance of interests.
Let us again not forget that Qatar and Turkey have a certain axis, such a military-political alliance, reminiscent of the situation with the Third Reich and Italy. And rush there, that Al-Attiyah, that the Emir often enough. They covered up, to a considerable extent, by the Turkish army from the consequences of their adventures, having invested all the money that Erdogan needed in his economy. Qatar is not in itself, it has acquired a huge system of relations. And the Saudis are overgrown with it. Look at the Saudi-Pakistani alliance, including in the framework of Riyadh's financing of Pakistan's tactical nuclear weapons, which are de facto Saudi nuclear weapons and get to them in ready-made form. Why should they teach their physicists and mathematicians? Although nuclear specialists in Pakistan are currently studying with them. So, everything is not very simple there.
R.I .: The destabilization of the Middle East is growing before our eyes.
E.S .: Increases. And we broke into this situation not from a good life and not for Assad. What is Assad? Well, yes, Assad is a symbol of civil war and resistance; if you remove Assad, there will be another Alawi general. They are cut out, they have nowhere to go. Most likely, there will be Maher Asad, his brother. We broke into Syria, realizing, from my point of view, that we are five minutes from the big kirdyk ...
R.I .: So that's the point. Syria can still be stabilized with a sin in half ...
Ye.S .: Everything just went away. The failure here is colossal. There are irreplaceable potential losses. If we went there, then, apparently, realizing that this process of the collapse of everything must be stopped. The collapse of everything - this is not only the Middle East. It is also Yugoslavia and Ukraine. South Ukraine was part of the Ottoman Porte. Here is my native historic city Satanov was part of Khotyn Pashalyk 70 years. So what? But the ports there have long been gone. So, unfortunately, it all went further. If your democracy does not work out, and perhaps no one likes a local management style, but it is effective, it means that there will be a local management style. Whether it be a military junta, a liberal-democratic parliament, an authoritarian leader, hell, the devil is absolutely not important. If only he didn't touch his neighbors, didn't produce terrorism at different near, far, medium and whatever distances he wanted. And a meeting in Vienna is very characteristic in this respect, where curious things said: Syria will be a secular state within its Syrian borders. So, somehow, spreading it out on ribbons is not very successful, and our Western colleagues acknowledged this, despite their heavy insanity.
The fact that they will crap, there is no doubt. There is no doubt that they themselves will also attack this themselves, because no one expected 11 of September. They do not understand how all those people whom they support hate them. And the more they support them, the more they hate them. Yes, we have an agreement with the United States on not transferring MANPADS, but we had the same with Ukraine. The guys will pay dearly, of course, for their policies. Unfortunately, we will pay for their policies. Well, karma is like that. Who promised it would be easy?
R.I .: You say that destabilization was stopped.
E.S .: Suspended. These guys began to be eliminated, regardless of whether they are a good terrorist, a bad terrorist, my terrorist, I am rich and I will pay you, just do not touch him. I looked at the report of what is happening in Syria over the past month, which the Institute of the Middle East publishes on the website. How do they act
aviation
, the Syrian army, their support group? Well, yes, here are counterattacks, here are some kind of dagger attacks to repel the Aleppo's deblockade. That blocked the road. But up to a third of the IS terrorists have either been taken out or left on Turkish or Jordanian territory. An influx of new militants is being conducted and is being conducted seriously, but from outside new ones, and this is already serious. Smart people do not want to run under Russian missiles. Of course, they will be supplied with MANPADS in the same way as anti-tank systems.
R.I .: But MANPADS does not bring down everything.
ES: Not everyone, but they will try. From Libya will pull up, including through the Sinai. It is clear that this stream, which the Americans are probably observing from the Libyan warehouses from the Sahel, from the Sahara, does not make them very happy. And they just understand that they can shoot at anything flying. MANPADS are not all knocked down, but if you start to hit at taking off or sitting at low echelons ...
R.I .: But for that you need to come there.
Е.S .: From a certain distance, listen, Egypt is such a place, there are many airports, there are many tourists, Sinai is big, mountains, whatever ...
R.I .: Yes, you can drive terrorists for Mozhai in Syria. They will move to Jordan, Libya. Somehow through joint efforts, it will be possible to stabilize the situation in Iraq through 5 − 7 over the years. It is not clear what to do with the Kurds, but you can somehow agree. But all of this space from Libya to Pakistan and Afghanistan, inclusive, is the same as jelly. Here he took a fist, he slipped between his fingers ...
Ye.S .: It depends on how I took it. Why jelly should be taken with your fingers. Humanity came up with this dish for quite some time. And from the bowl the jelly does not flow. The war with basmachs was won by us for a long time. Basmachi, having ceased to receive funding from the British, moved to a peaceful life, and after some time stopped attacking Soviet territory. This is known. The same South Turkmen tribes in Afghanistan are pure basmachs. On the territory of Saudi to 800, thousands of people are people from Central Asia, only Uzbeks are ethnic from the beginning. The same with the Chechen terrorist war. It's not so good in Dagestan, if not to say bad, but in Chechnya, where they did it, including the local population ... There are factors. First, stop playing against each other. It is clear that the British, Americans, French - this is still a terrarium. But at some point they started to play against us. And notice with what a furious speed everyone began to interact with the Ministry of Defense, when exactly that started in Syria, with the forces of one regiment that they imposed on us for so long, saying that we are fighting in Ukraine. If our people fought in Ukraine, then in general the situation was very different. Because the jokes are over. It was the first signal in Georgia. They decided not to notice this signal and not to pay attention to it. There was a second, very bad signal in Ukraine, which was the victim of all these political speculations.
R.I .: The second signal was in Syria. Syria began in 2011 -2012, and Ukraine in 2013.
ES: No, I mean our signal. We have nothing in 2011 year in Syria. We panged, said something, the Foreign Ministry produced something. But the Russian signal was that enough guys. The third bell rang in Syria, when the regiment arrived, no one was watching. This is a huge hard job - the deployment of even such a small part. None of the infections have noted this. Everything that was supposed to sail - came by sea, everything that should have flown - flew in, turned around and started appropriate actions. Actions, in intensity, are close to the theoretical maximum. Nobody expected such a flight. Accuracy actions are quite serious. Interactions with ground forces are very, very good.
R.I .: I am most impressed with logistics. To organize the provision of a belligerent group at such a distance, moreover, that there are unfriendly, to put it mildly, countries ...
ES: Everything is organized at a very unexpected level. Knowing that when Serdyukov began to happen in the army, you make a helpless gesture. This is the third call. Guys, you want to try us for strength, there will be a very sad result. It's cheaper for you to just stop being a hooligan and start working normally, doing what you say, not what you are doing. The same firing from the Caspian Sea, from the sea-based platform — it was such a clear signal that repulsed all desires to communicate with us by medium-range missiles, cruise missiles from submarines, and destroyers. And it seems that we signed an agreement on the limitation of medium-range missiles, and immediately the naval component began, everything is fine, "stupid Russians." Brains, on this topic, actually turned on yesterday, during which time much has been demonstrated. It is clear that the US Secretary of Defense comes out and says that the Russians have something so secret that they will win all. Well, every secret has its secrets. Nobody touches him. You don't do a damn thing. Either you do not do it on purpose, or you are dragging money from taxpayers. Or you can not do, or do not want, or you interfere with the policy of working as expected with terrorists. Well, what to do, we also need to finish them off, and over two thousand of them run there.
R.I .: States can be frightened, it is possible to agree with them, it is possible not to agree with them. But even if we agree with them, this does not mean that we can work together in the foreseeable future to solve the problem of the terrorist threat, because in the very same Libya all these local tribes, like the Romans, couldn't be driven out for Mozha, Turks and Italians failed.
E.S .: Can I disagree? Gaddafi demonstrated how it works. Negotiate with Al-Ubaid, with Varfalla - rather big tribe. Take the throat of Benghazi, who is always with his sinusitis - rebellious was, is and will be. Hates Tripoli. Agree with the Benghazians, after you put them in their place, about the posts they will receive and about the share they will receive. Me too
news
.
R.I .: The preservation of Libya and the fight against terrorism are two different things.
Е.S .: The fight against terrorism, with those who finance it, is pumping up these people with weapons and trying to use them - the process is lengthy. There is an old and kind rule on this subject, which has been forgotten since the 80's: "the white man does not use the natives against another white person, does not give him modern weapons and does not teach him modern methods of combat". The states in Afghanistan behaved just like that and paid for it on September 11, a Boston terrorist attack, the destruction of its ambassador to Libya. And here the question, of course, is that these people stop training militants, calling them "opposition." At one time in Chechnya, this was achieved. Today, Americans, British, French, Turks are training militants in Jordan, Turkey. It is they who do this. Because if the Saudis train them, there will be an order of magnitude less. Look at the half a billion dollars that went in two tranches to Jabhat al-Nusra, i.e. to Al-Qaeda, such legendary wiring of equipment and people with words, they say, first the first group ran away, and the second gave up on its own and went to Al-Qaida. And we believed it right. Even in the first group, the people naively laughed and said what idiots the Americans spent so much money, but there were four people left and the rest went to Al-Qaida.
In the second group, they stopped laughing, because this is not the case. Yes, there was a congressional scandal, but not a single person at the Pentagon was fired. The idea that I'll call the devil to win the devil, and then I'll deal with him or find the next devil and deal with him, the idea is idiotic. Try to persuade this even at least the old Brzezinski. None of them recognize that this is so. The only thing that has to be done here is to speak directly with the American people or Europeans, in an open form. Plain text saying everything that their superiors and their special services do. At the same time, since the Institute of the Middle East is not a state structure, and the state, diplomats, and the Academy of Sciences are not responsible for me, I carry it out in the form of some enlightening voluntary mission. They are masochists, they come, listen, blush deeply, and then write reports to superiors.
We will see further. Drop stone hammer. We must do what is necessary to destroy all these groups, not paying attention to their threats and all this nonsense. That's all.
RI: We will end our dialogue on this optimistic note, and we hope that if, as you recommend, we will kill the terrorists faster than the Americans teach them, they will sooner or later spit on this matter and decide that they will not worth the money ...