Brigadier General of the Syrian Armed Forces Ali Mayhub said that Syrian troops were able to repel the attack of militants on the airport of Deir ez-Zor. According to the general, the Syrian army's counter-strike succeeded in destroying several dozen Islamic State terrorists and about ten all-terrain vehicles armed with heavy machine guns.
RIA News
cites the statement of the Syrian general:
The garrison of defenders of Deir ez-Zor airport suppressed an attempt to break through the terrorists from the east side of the airport. Dozens of militants and 10 armed with machine guns destroyed.
Successful operations conducted by Syrian troops in the provinces of Homs and Hama. Here it was possible to eliminate several militant groups of the terrorist group Dzhebhat al-Nusra. One of the terrorist groups was eliminated on the highway connecting the cities of Palmyra and Mkhin.
An-Nusra militants attempted to break out of encirclement near the village of Sneisely, but were destroyed by fire from the Syrian army.
Several localities were released from the militants at once in the area of ​​the unfolded Kveyris airfield.
In the province of Latakia, heights were taken from which terrorists recently carried out rocket attacks. As a result of one of these attacks by terrorists, at least 23 civilians, including children, were killed.
Intensified its activities and the Syrian
aviation
.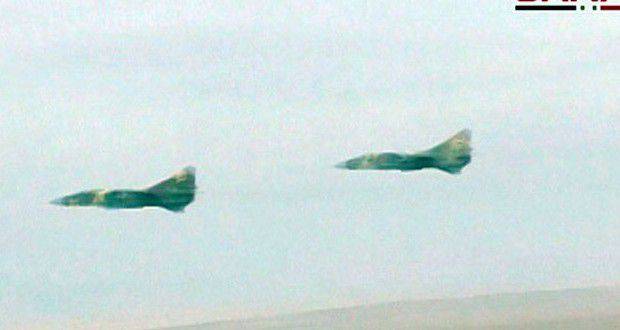 This is reported by the General of the Supreme SAR Ali Mayhub:
Over the past two days, Syrian air forces carried out 75 combat missions and hit 150 targets of terrorist groups, their command posts in the north, center and south of the country.
It is noted that several targets of terrorists are struck near the militants of the ancient city of Palmyra, to which the Syrian military continue to advance.
In the province of Idlib, the settlement of Kafr Nubl was liberated. It is reported by the news agency
SANA
.