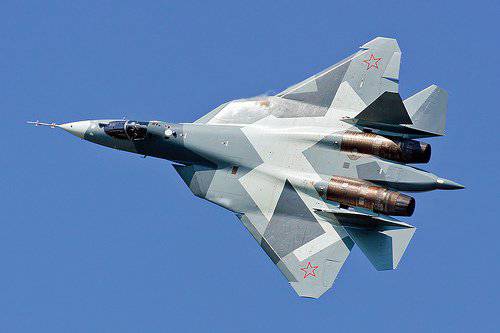 By the end of the year, flight tests of the third T-50 fighter equipped with an onboard radar station with an active phased-array antenna (AFAR) will begin. Alexey Poveschenko was told about the plans by an employee of the firm "Sukhoi". Radar with an active grid, as a part of VMIRS (highly automated multifunctional integrated electronic system) of the T-50 fighter, developed in the NIIP named after V.V.Tikhomirov. At the time of MAX 2009 and 2011, in the NIIP exposition one could see prototypes of the radar system.
During MAKS-2011, at the institute's stand, prototypes of AFAR for T-50 were tested. First for two years, then a year. In 2011, bench tests passed the third prototype of the system having AFAR. After the acceptance tests, it was installed on the third experienced T-50-3. The preparation of the third PAC sample for flight tests is now being completed in Komsomolsk-on-Amur. Upon completion of the test flights of the T-50-3, it is planned that the radar station will be activated, which will start the development of the radar equipment as part of the fighter avionics. NIIP developers do not hide the difficulties that have to be overcome during the creation of the radar with AFAR using domestic electronic component base. Mastering the production base is difficult, especially in the manufacture of receiving-transmitting modules.
It is necessary to add that VMIRS fighter has five radar posts. In development and testing, priority is given to the front phased antenna array and its integration with the rest of the onboard systems. The radar with AFAR many new modes of operation, which in domestic practice will be used for the first time.