Sukhoi Su-27 aircraft was originally created in the Soviet Union to fight for air superiority with the American F-15 Eagle. But gradually its design was developed and improved, going far beyond the framework of ideas that aircraft designers had. Su-27 variants are created not only in Russia, they are quite successfully copied by China.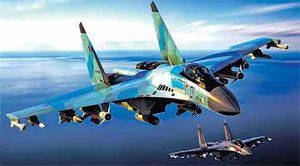 Russia produces a variety of modifications of the Sukhoi aircraft - from the rather simple Su-30М2 model to the newest Su-35С. But China also makes many copies of these machines. He continues his efforts to create more modern and sophisticated versions of the basic Soviet design. Most of them are unlicensed copies, which Beijing reproduced according to the original Russian models, and then modified it. It is likely that Chinese and Russian samples of Sukhoi aircraft in the coming years will fight in the sales market. It is easy to imagine such a scenario in which the Su-35 confronts J-11D head-on in future export battles.
But while the "drying" of Russian production have the technical advantages over Chinese copies. Su-35S - is the most modern version of the fighter built at the moment. It has high-end on-board electronics, an improved airframe and new engines with three-dimensional thrust vector control. This is a very effective combat vehicle, and if it is adopted in large numbers, it will create a powerful threat to the Western Air Force. Other Su variants, such as the Su-30CM and Su-34, are also very efficient and combat-capable aircraft.
But the Chinese are not far behind and even catch up. They went further than reverse engineering and began to create their own options. One senior American representative
aviation
The industry told me that the "aerospace renaissance" is beginning in China. The main problem of the Chinese is that they are far behind in the design and manufacture of engines. In the laboratory, engineers can create a workable engine, but they are not yet able to establish reliable mass production. This is their main vulnerability.
China is probably catching up with the rest of the country in the field of avionics and detection equipment, but today it is not clear how effective their systems are. Obviously, the Chinese are developing passive and active antenna arrays with electronic scanning, but we cannot say how perfect they are. In the same way, the Chinese are creating their own electronic countermeasures, infrared search and tracking systems, and electro-optical aiming systems. But although brochures and catalogs are quite impressive, there is very little information about how these systems actually work. Considering the fact that the Chinese are still relatively new to the creation of domestic combat aircraft and their components, it is likely that the original versions of Russian-made dryers still outnumber Chinese copies.
Nevertheless, the Chinese aviation industry produces an impressive selection of clones of Su-brand aircraft. In addition to the original J-11, J-11A and licensed J-11B, China is working on modern options, including J-11BS, J-11D and the J-16 strike fighter. The Chinese also designed the J-15 carrier-based fighter based on the Su-33 prototype. The most effective Chinese copies of the dryers are J-15, J-11D and J-16. The J-11D is in many ways the Chinese equivalent of the Su-35, although inferior to it in maneuverability, on-board electronics, and the propulsion system. But, perhaps, it is cheaper and may turn out to be more attractive as an export product, if the Chinese manage to create operational engines. But this is still far away.
Over time, China will be able to compete in the military aviation industry with Russia, and someday even surpass it. The Chinese have a lot of money, and they are willing to spend it on the development of their military potential. They also readily steal technologies they don't have yet, which helps save development time and money. Moreover, now, having more or less robbed Russia in terms of useful technological innovations, Beijing is beginning to make raids on the American military aerospace industry, trying to get its technologies and production secrets.
But China is clearly hampered by a lack of its own innovations, as well as a terribly poor quality control. This is one of the main reasons why Beijing is still not able to create a workable jet engine. Until he improves their design and production, his aerospace industry will not be able to attract customers regardless of Russia.