Holding "Helicopters of Russia" began flight tests of the second prototype of the newest multi-purpose helicopter Mi-171А2, reports
RIA News
message of the press service of the company.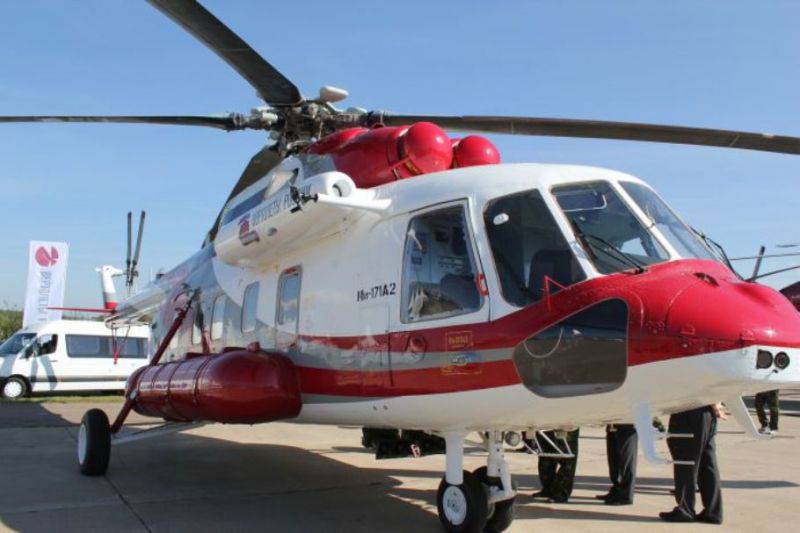 "Moscow Helicopter Plant. M.L. The mile of the Russian Helicopters holding company (part of Rostec) has begun the flight tests of the second prototype of the Mi-171А2 medium multipurpose helicopter, the release says.
The press service noted that "the Mi-171А2 is a further development of the world-famous medium multipurpose machines of the Mi-8 / Mi-17 family, with improved flight performance, as well as enhanced levels of safety, comfort and autonomy."
"The design of the second prototype helicopter fully implemented the design features of this type of helicopters, corresponding to the best foreign analogues," the company noted.
"The power plant of the Mi-171А2 helicopter consists of VK-2500PS-03 engines equipped with a digital regulation and control system and the Safir control unit, which provides engine start-up at altitudes up to 6 thousands of meters. A thorough modernization of the commercially available Mi-8 / 17 type helicopters has undergone a carrier system. The use of composite rotor blades, upgraded swashplate and bushings made it possible to reduce the total mass of the carrier system and increase the thrust of the rotor on 700 kilograms, "said the press service.
"The Mi-171А2 helicopter is equipped with an X-shaped tail rotor with blades made of composite materials, which provides increased helicopter controllability and noise reduction. The modernization measures allowed to increase the maximum take-off weight of the helicopter by 1 a thousand kilograms in category A and by 25% to increase the weight of the cargo carried on the external sling, which is now five tons, "the message says.
"Another new product installed on the helicopter was the complex of the KBO-17 on-board equipment, which makes it possible to carry out flights safely at any time of the day, including in adverse weather conditions. The dashboard of the complex KBO-17 is made on the principle of a "glass cabin" with five multifunctional liquid crystal displays, "the company said.