Russian Defense Ministry spokesman Major General Igor Konashenkov during a regular briefing told media representatives about the actions
aviation
Russian Aerospace Forces in Syria in a few days. According to General Konashenkov, Russian aviation attacked 448 militant infrastructure in the Syrian Arab Republic for three days. A total of 137 sorties were completed.
According to Konashenkov, the objects of terrorist groups were destroyed in several provinces of Syria. These are the provinces of Hama, Homs, Aleppo, Damascus, Rakka, Lattakia and Idlib. Several ammunition depots, militia communication and coordination centers, strongholds and training bases of terrorists were liquidated. A blow was struck at the transfer points of militants where military equipment was located, including armored vehicles and anti-aircraft installations.
The official representative of the Ministry of Defense of the Russian Federation emphasized that all the aircraft and helicopters of the FAC of the Russian Federation involved in Syria returned to the Hmeimim airbase.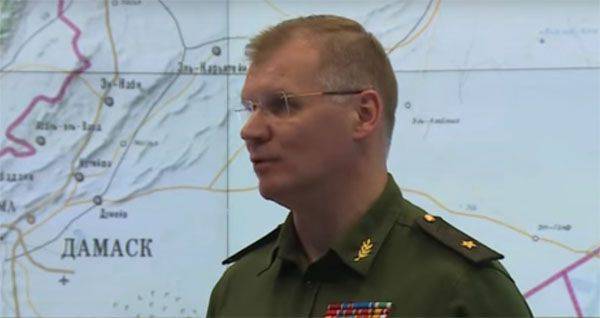 Igor Konashenkov:
In the area of ​​the village of Kafer-Nbuda, Hama province, a blow was struck at a workshop for the repair of armored vehicles belonging to the Jebhat al-Nusra group. Su-24M bomber air strike with a hangar with four
tanks
and one BMP is completely destroyed.
In the suburb of Zerba, Idlib province, a large command post for the gang formations of the Dzhebhat al-Nusra group was destroyed. The facility has been equipped for the past three weeks and is well disguised. Since it was organized by the management of gangs operating in the direction of Idlib - Aleppo.
Igor Konashenkov added that the militants took the path of changing tactics and in order to carry out attempts to minimize losses:
Delivery routes are constantly changing.
weapons
and ammunition. And it is carried out mainly at night with all the elements of camouflage.
Video from the Ministry of Defense:
Earlier it became known that the Minister of Foreign Affairs of the Russian Federation, Sergey Lavrov, proposed to involve representatives of the League of Arab States (LAS) and the Organization of Islamic Cooperation (OIC) in the Vienna talks to resolve the situation in Syria.
Sergey Lavrov quotes
RIA News
:
As for our further steps, there will soon be another meeting in an expanded format. I think that this format will be the main, if not the only external format for encouraging inter-Syrian negotiations. This is about 20 countries and organizations. We consider it necessary to add to the list those participants who met on October 30 in Vienna, the League of Arab States and the Organization of Islamic Cooperation.