BMD-3 "Bakhcha" (airborne assault vehicle-3) - Soviet combat tracked amphibious vehicle, airborne parachute, parachute-jet or landing method. BMD-3 is designed to transport personnel of the airborne troops, increasing its mobility, armament and security on the battlefield. Adopted on 1990
BMD-3 developed in KB Volgograd Tractor Plant. The decision to develop a new BMD was made when it became clear that the elimination of deficiencies in BMD-2 through modernization is no longer possible.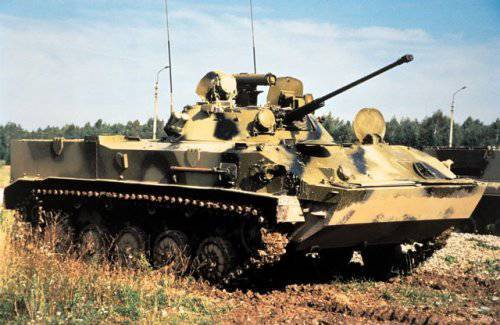 Thanks to a two-channel sight, both the gunner-operator and the commander of the machine can fire a cannon and an 7,62-mm machine gun coupled with it. The machine has a stabilized combined day and night (active-passive) periscopic sight.
In the BMD-3 installed individual universal seats for the entire combat calculation (7 people), which are attached not to the bottom, but to the roof of the hull, this increases the protection of the calculation of the machine from mines and land mines.
There is protection against
weapons
mass destruction.
Ammunition, pcs .:
30-mm gun shots 2A42 (500)
cartridges caliber 7,62 mm (2000)
ATGM "Competition" (4)
shots to the grenade launcher AGS-17 (290)
cartridges caliber 5,45 mm (2160)
Air transportation: IL-76, An-22, An-124, Mi-26
Airborne assault: IL-76, An-22, An-124