The official launch ceremony of the Indra-2015 Russian-Indian exercise today took place at the Makhadjan (India) training ground. It is reported that the "Indra-2015" - is a joint anti-terrorism maneuvers, which will last until November 18. Representatives of the command forces of the armed forces of the Russian Federation and the armed forces of India addressed the participants of the exercises at the Makhajan training ground with a welcoming speech. On the Russian side - Major General Sergey Legotin - commander of a separate motorized rifle formation, from the Indian side - Major General S. Timmayya.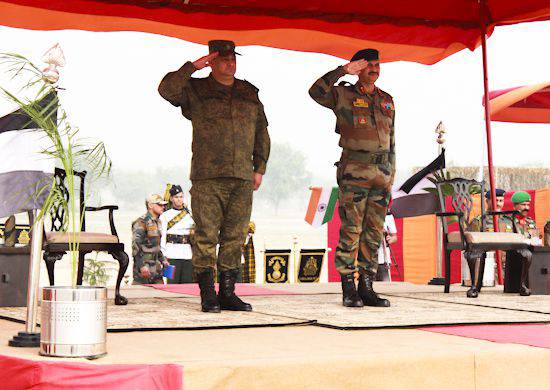 The press service of the Southern Military District quotes General Legotin's statement:
The "Indra-2015" teaching is of great importance to us. The joint actions of the Russian-Indian forces are aimed at working out the tasks of eliminating potential terrorist threats, strengthening military cooperation between Russia and India and are not directed against third countries.
Russian military personnel (250 people) on the way to the Makhadzhan test site overcame about 7 thousand km - at first they were taken by two IL-76 to one of Indian airfields, and from there they were transported by military vehicles to the place of maneuver.
From the message of the press service of the Southern Military District:
The Russian military contingent is stationed in new barracks. An Internet café, a gym with modern exercise machines, a souvenir shop, as well as an international call center have been set up at the training ground, from which each exercise participant can call relatives and friends in his free time. In addition, a medical briefing was held for the Russian servicemen, during which they were given climatic features and health rules in the desert region of Rajasthan.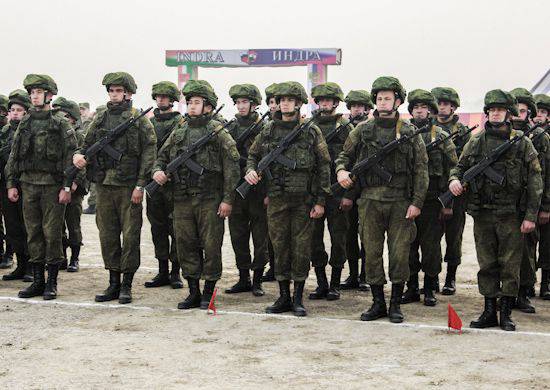 During the exercises, the military personnel of the two countries will work out the skills of escorting car columns, guarding important objects, and neutralizing militants operating in groups.