During the anti-terrorist operations carried out over the past 5 years in the North Caucasus, 875 law enforcement officers were killed, according to
Look
With reference to the Chief of the State Ministry of Internal Affairs for the North Caucasus Federal District Sergey Chenchik.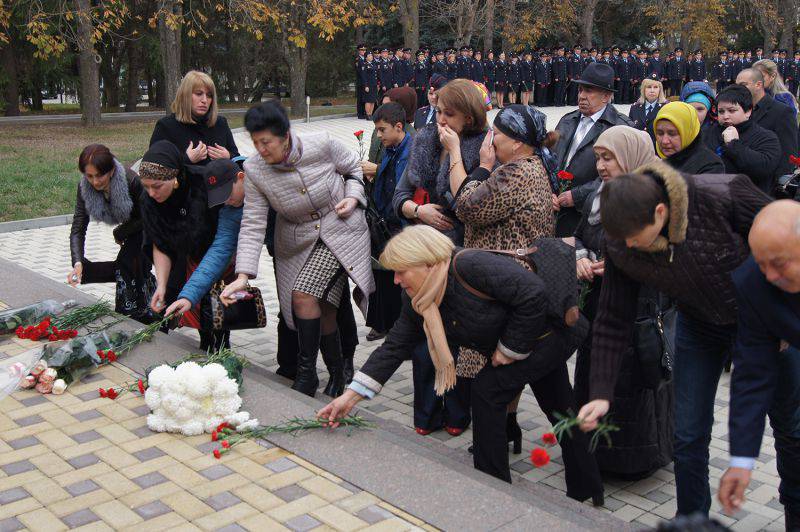 "Over the past five years, 875 law enforcement officers died during special operations in the North Caucasus Federal District. Unfortunately, this sad statistics has not bypassed the headquarters. From the moment of the creation of the headquarters until today, we have lost 18 our comrades to the end of fulfilling our service duties, "Chenchik said on Sunday at an event dedicated to the memory day of the deceased ATS employees.
"The fight against crime, manifestations of terrorism and extremism in the republics of the North Caucasus is not easy," he said. - Often in the foreground of the fight against crime are employees of the internal affairs bodies. And, unfortunately, in this confrontation the best sons of Russia perish. "
Presidential plenipotentiary present at the event, Sergey Melikov, offered condolences to the families of the victims.
"Today, together with you, we mourn those who did not live to this day, realizing that hundreds of thousands of citizens thanks to their heroic deed today can live peacefully in our country, in the Caucasus, enjoy the gifts that life gives them, and, of course, should be grateful and remember those who left us, giving their lives to the service of Russia, "said the plenipotentiary.