The Islamists in Syria have MANPADS that can hit targets at altitudes up to 4,5 km, reports
RIA News
a message from a representative of the Hama airbase.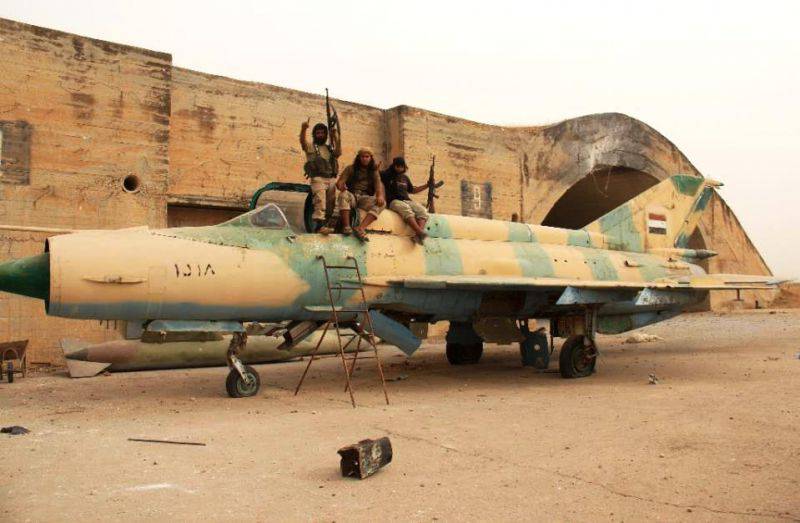 Militants on the captured aircraft.
"We know that the militants have Stinger complexes and some others, including those made in China, which they seized from our military. I have to admit that we lose quite a lot of airplanes from their attacks, "said the source.
"The minimum height at which to fly safely is 4,5 kilometers," he noted. "But often our pilots are reduced to dangerous heights in order to deliver more accurate strikes so that the civilian infrastructure does not suffer and the objects of the terrorists are hit."
The representative of the base, as an example, spoke about the MiG-21, shot down on November 4:
"A plane lowered to a dangerous height was shot down from an anti-aircraft gunner unit in the province of Hama, the pilot was injured. Because of his injuries, the pilot was afraid to eject, in addition, at that moment he was over the territory of the militants. He managed to reach the territory controlled by the army. However, the plane crashed. We found his wreckage and the body of the pilot. "
The Hama airbase is located in the suburb of the city of the same name (central part of Syria) and is of strategic importance. Militants have periodically tried to seize it, the base territory is often subjected to shelling. All in all, 15 military airfields in Syria, of which five are currently controlled by the Islamists.