Militants of the so-called "Islamic State" attempted to attack the units of the Syrian government army in the area of ​​the air base of the SAR Air Force near the town of Deir ez-Zor (Deir ez-Zaur). Government forces attacked the terrorists, destroying the 58 igilovtsev. It is reported by the news agency
Xinhua
.
Street fighting continues in Aleppo's quarters, where government forces have managed to enter. Significant success was achieved in the districts of Al-Lermon, Al-Ashrafiyah. Here significant damage was inflicted on the militants both in manpower and in military equipment. In particular, the Syrian soldiers destroyed several off-road vehicles equipped with anti-aircraft installations and machine guns.
From the news agency message
SANA
:
SAR air forces attacked the positions of the Islamic State's terrorists in the Tel Stabel, Tel Fauri, Al-Maduna, Al-Sheikh Ahmad areas and the city of Al-Bab, defeating their shelters,
weapon
and road equipment, equipped with large-caliber machine guns.
At least the 30 militants were eliminated, another 13 badly injured in the province of Hama. Here, the army unit managed to destroy a truck of terrorists carrying weapons and ammunition. In the area of ​​the settlements of Mork, Kafr Buda and Tel Skeik, the trenches and underground bunkers of the militants, in which there were terrorists, were destroyed by artillery and air strikes.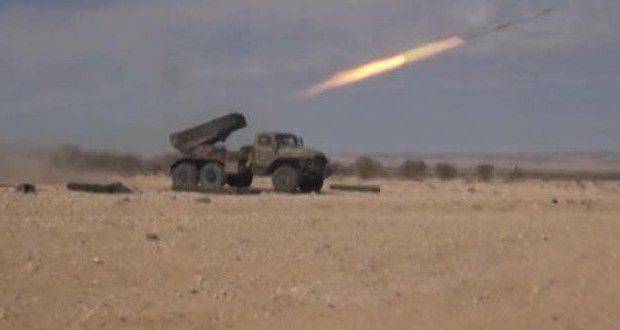 In the city of Daraa, units of the Syrian army attacked the positions of the Jabhat al-Nusra and Al-Karama groups. As a result of the special operation, Zukher Hussein Az-Zoubi, who called himself the leader of the Al-Karam terrorist group, was eliminated. Along with him a few more militants were eliminated.