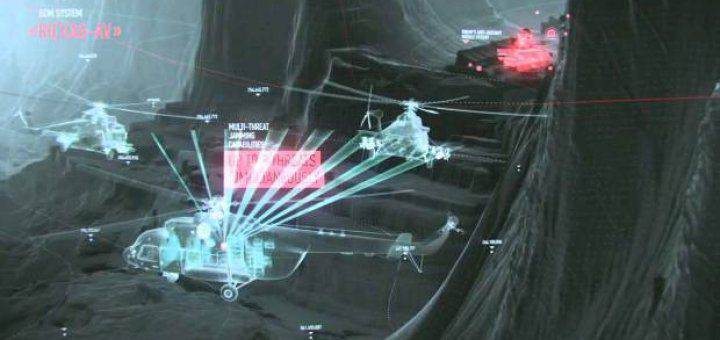 Blinded by radar, disrupted the electronic guidance systems, as well as set a hindrance satellite imagery in the "bubble" in diameter 600 km, according to one of NATO generals in the publication Daily OSNet.
From the combat zone in northern Syria came
news
about the deployment of a new Russian electronic jamming system, which can reportedly blind the radar, disrupt electronic guidance systems, and also interfere with satellite imagery.
This last post follows an earlier report on the Russian cruiser with the S-300 missile defense system deployed off the coast of Latakia. Both of these systems make up what the Supreme Commander-in-Chief of NATO, General Philip Breedlove, describes as the "Russian bubble" of A2 / AD (anti-access / restricted area) in Syria, writes Daily OSNet.
As a result, NATO turned out to be effectively blinded inside a bubble with a diameter of 600 km, centered on the Russian base in Latakia. Further, the author tries to understand what the secret
weapon
Russians deployed in Syria. It assumes that the technology in question seems to be similar to KRET Richag (smiled), but apparently with functions of a larger scale. A tactical version of this system was presented to journalists in Russia in April 2015.
The Richag system, mounted on the base of the Mi-8MT helicopter. They say that now there is no way to suppress it. Its electronic countermeasure is designed to blind the radar, sonar and other detection systems in order to protect airplanes, helicopters, UAVs, land and sea forces against air-to-air and surface-to-air missiles and other defense systems within a radius of several hundred kilometers. It can be installed on blocks of any kind of armed forces, including helicopters and airplanes, as well as ground and ship forces. Much attention in the article is paid to the crocodile tears of NATO General Philip Breedlove, who said that in addition to the Baltic States and the Black Sea, the Russians closed our access to the Mediterranean.
Do not forget the inglorious mission of "Donald Cook" in the Black Sea.
Judging by their actions, they frantically search for points of contact, but they are afraid that they will accept the abrupt transition from confrontation to cooperation for surrender. To Obama, this is an aspen stake in a political career. For some considerable time, we do not hear any "raids" on V. Churkin in the UN from one unbalanced person. The tone and content of the speech of J. Kerry regarding Syria and Ukraine has changed. No one is demanding the immediate departure of Assad, but they are already reprimanding the Poroshenko regime for violating the Minsk decisions. Russia gives a calm and adequate response to the insults. Now the American media themselves recalled to Obama everything he said about the "economy torn to pieces" and about Russia, as a "regional power", but in an unpleasant way for him.
Readers' comments are about the same as on the Censor. We do not believe, all lies, we will destroy with a simple rocket, Kremlin propaganda, although there are also common thoughts, as America has reached such a state when it is being driven away from everywhere.
PS by reference Foreign OS Daily OSNet