Today in the Nevsky district of St. Petersburg will open a monument to the soldiers of the 6 Company 2 Company 104 battalion of the paratrooper regiment of the 76 Pskov Airborne Division, reports
TASS
.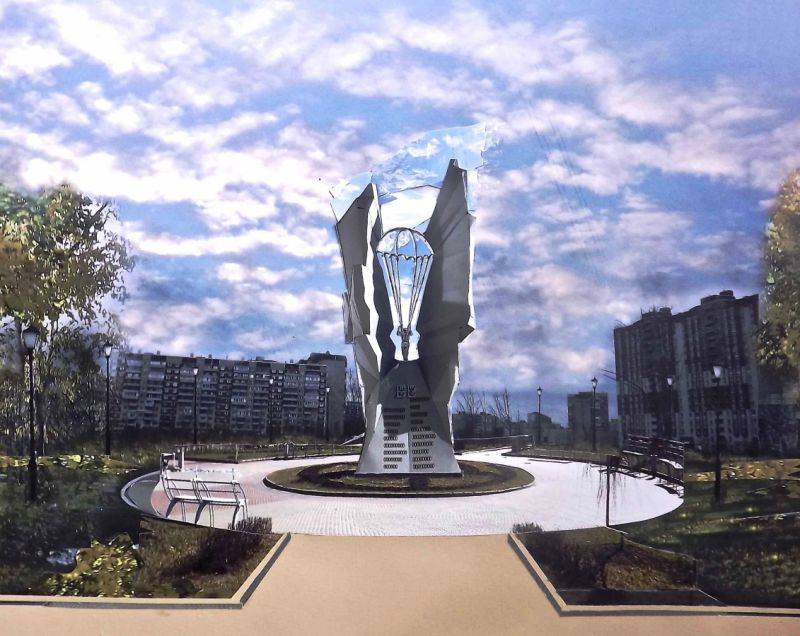 Sketch of a monument
In 2015, the 15 anniversary of the feat of warriors is celebrated under the Chechen village of Ulus-Kert, where the 84 man's heads were laid.
"The monument, created by sculptor Nikolai Gordievsky and architect Natalia Tarasova, is a sculpture with a height of 11,5 meters, made of concrete with the addition of granite chips. On the facades of the monument are embossed images of orders, the names of the dead soldiers, the coat of arms and the motto of the Airborne Forces, "the agency reports.
Earlier, the same authors created a monument to "Soldiers-Internationalists who died in Afghanistan in 1979-1989". It is installed in the Frunze district of the city.
"In the 2000 year from February 29 to 1 in March, at the height of 776, near the Chechen village of Ulus-Kert, the last battle of the 6 Company of the 104 Guards Paratroopers Regiment was taking place. 90 paratroopers killed 84, including 13 officers. 15 dead are buried in St. Petersburg and the Leningrad region. For this fight 21, the Pskov paratrooper is presented to the rank of Hero of Russia, 63-s servicemen were awarded the Order of Courage "
- reminds edition.
Monuments to the heroes were also installed in Pskov and Moscow. And in the small homeland of Senior Lieutenant Alexander Kolgatin in Kamyshin, a festival of soldiers' songs is held annually. Immortalized the memory of the fighters in the Chechen Republic - in Grozny there is a street named "84-x Pskov paratroopers".