In the course of the military counter-terrorist operation, the Syrian government army liberated Al-Safsaf, a town in the north-west of Hama province. During the battle, several militant groups from the Dzhebhat al-Nusra and Jaish al-Fatah terrorist groups were destroyed in the area. It was possible to eliminate the hangar, in which there were several SUVs equipped with large-caliber machine guns.
According to the Syrian news agency
SANA
, military personnel of the armed forces of the SAR in the course of carrying out activities for cleaning up the heights from terrorists Jebal al-Ferk and Jub al-Zaurur revealed the use of medical institutions in the province of Lattakia by militants as focal points with warehouses
weapons
and ammunition. Several mortar installations, artillery guns, large-caliber machine guns, a large number of ammunition and explosive devices were found in the territories of the former hospitals. It is emphasized that measures to provide medical aid to wounded militants were carried out here - boxes with medicines produced in Turkey are scattered everywhere.
The operation of the Syrian army in the area of ​​Deraa. Here, the SAR military personnel managed to eliminate dozens of Dzhebhat an-Nusra terrorists in the village of Al-Naim and strengthened themselves on new positions.
Street fighting continues in the largest Syrian city of Aleppo. It is reported that the militants, whom the West persistently calls moderates, in retaliation for the offensive actions of the Syrian troops decided to blow up the Armenian Apostolic Church in the area of ​​El Judeyd (Aleppo).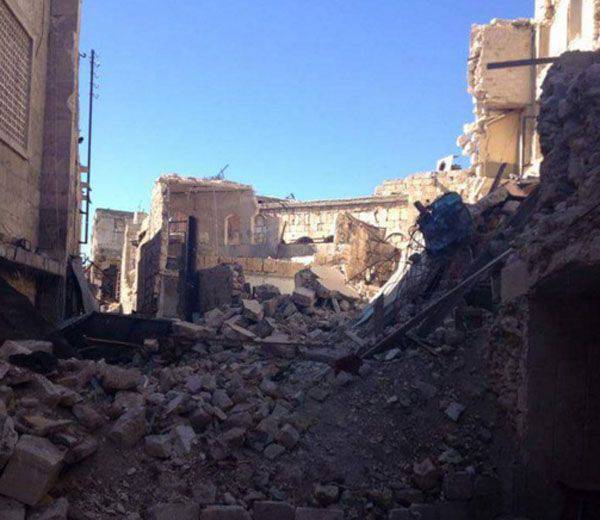 The formation of the shock group of the Syrian army in the area held by the militants of ISIL Palmyra is noted. With air support, Syrian troops are trying to take the city into a semi-ring with the goal of complete liberation and further attack on Deir ez-Zor.