On the eve, the soldiers of the Ukrainian Armed Forces did not miss the patrol of the OSCE monitoring mission (SMM) at the checkpoint in Chabanovka, saying that they had received permission to fire if observers did try to drive, reports
RIA News
with reference to the report of the organization.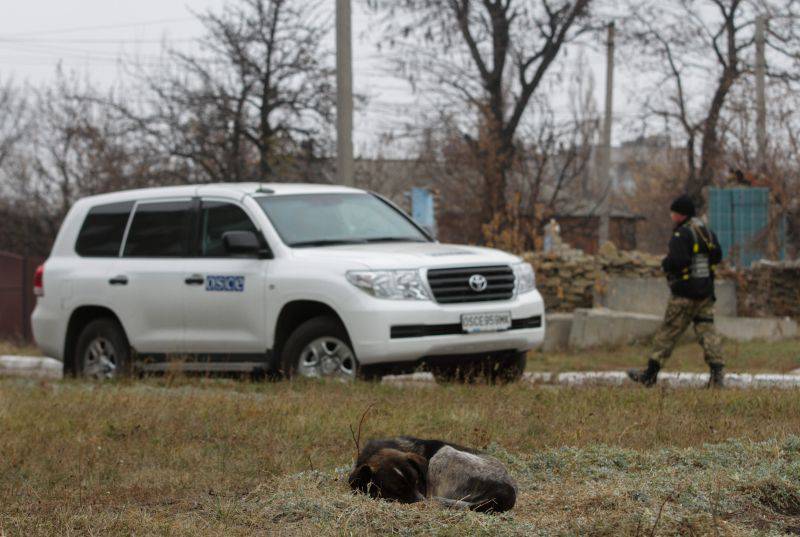 "In the government-controlled Chabanovka (67 kilometers north-west of Lugansk), members of the armed forces of Ukraine at the checkpoint refused to allow SMM representatives to travel on the grounds that they did not have the permission of their commander, and said that they had permission to shoot at the representatives Hmm if they try to drive through. The servicemen of the Ukrainian Armed Forces had obvious signs of intoxication. Ten minutes later, the representatives of the SMM left the checkpoint ",
the document says.
Not allowed observers and one of the warehouses allocated by the Ukrainian military equipment. The military said that missionaries need to warn the command in advance about their visits.
In addition, it is noted that representatives of the SMM from an observation point near the Donetsk station "in the first half of the day Wednesday heard 46 unspecified explosions and extensive fire from small rifle
weapons
and anti-aircraft installations three to ten kilometers north-north-west, west and southeast of their location, as well as 20 cases of small-arms fire and grenade launchers three to five kilometers north-north-west of the observation point. " .
According to observers, this is a smaller number of explosions than the day before, "but more than in previous days."