In recent days, the Syrian army has achieved significant success in liberating its country from terrorist groups, reports
RIA News
message representative of the Syrian Armed Forces command Ali Mayhuba.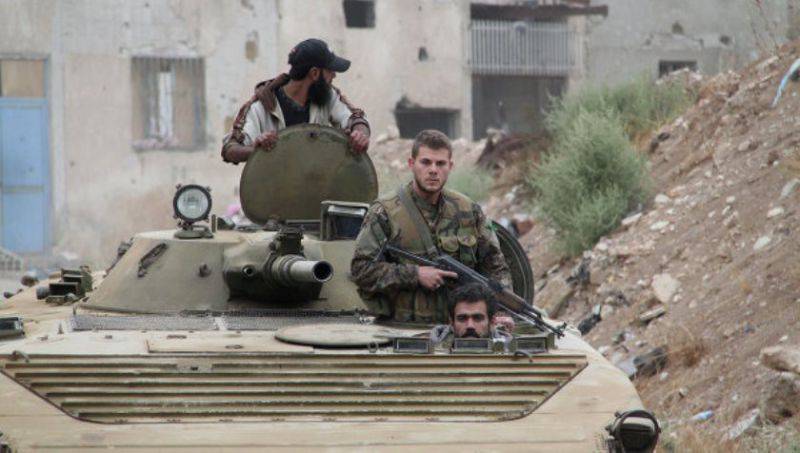 During the air attack, the Syrian air force destroyed warehouses
weapons
in tel bees.
"Our air forces carried out 20 sorties and destroyed ammunition depots in the village of Tell-Bis. Also, the Syrian air force destroyed a convoy of vehicles in the Zhazu and Al-Shair oil wells, as well as the headquarters of the terrorists in the village of El-Karatyan, "said Mayhub.
Dozens of IS militants, a mortar position, anti-aircraft installations and a plant for the manufacture of explosives were also destroyed.
"In addition, a large number of terrorists were killed in the village of Kafr-Nabudi on the outskirts of the city of Murek in the province of Hama. In the eastern regions of Syria, the Syrian air force also carried out several air sorties, in which the headquarters of the IS terrorists and their places of concentration in a number of settlements were destroyed. During the attacks, a large number of terrorists were destroyed. The military operations of our armed forces were accurate, unexpected and highly maneuverable, "he added.
An offensive is developing in the north of the province of Latakia.
"The units of the Syrian army are successfully advancing on the northern direction of the province of Lattakia. After the destruction of dozens of terrorists, the control over the strategic mountains of Al-Faruk and Al-Sarut, as well as roads near the village of Beit Aburim and neighboring villages, was strengthened. A large number of weapons and ammunition were captured, including two 120-mm mortars. Our army is developing its offensive in various directions in the area, "said the brigadier general.
Among the terrorists killed in Latakia, there were many foreigners.
"A large number of terrorists were killed in the village of Darayya (Western Guta). Most of them are not Syrian citizens, "the commander said.
Established altitude control in the suburbs of Damascus.
"Our armed units continue their operations in Haraste (Damascus province) and took control of the height of El Mashtal, the quarry of El Makaser, one of the filling stations and the surrounding buildings, as well as several intersections," said Maykhub. "In addition, a large number of terrorists and their weapons were destroyed, fortifications were destroyed, the most important supply routes were blocked."
The Syrian army is getting closer to the city of Palmyra.
"Our armed forces took control of two heights (Al-Hazei and Assani) in the province of Homs. There are also serious advances towards the city of Palmyra in the area of ​​El Bayar, "the general said.
"LIH suffered heavy losses in engineering and human resources," he added. "Six cars were destroyed and more than 25 terrorists were killed on the western outskirts of the village of Mkhin."