Russian Defense Ministry spokesman Maj.-Gen. Igor Konashenkov said that the Su-24M Russian VKS bombers destroyed the armor repair workshops of the Islamic State terrorist group that were located in the Syrian province of Aleppo.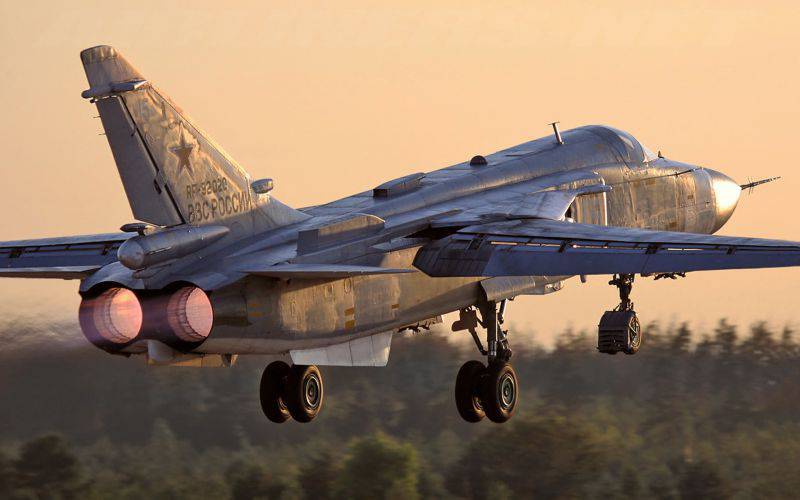 "In the area of ​​Neyrob Airport, Aleppo Province, Su-24M bombers destroyed the armored vehicles repair workshops of the ISIL terrorist group located in several buildings," Konashenkov RIA reports.
"News"
.
Major General noted that the workshops were used to restore military vehicles and
tanks
, as well as for the installation of heavy weapons on trucks and jeeps, which were then transferred to war zones.
"As a result of hitting the aerial bombs, the workshops and the seven pieces of equipment belonging to the terrorists were destroyed," said Konashenkov.
In addition, according to him, in the territory of the Syrian province of Homs, the fortified region of IG was destroyed, which was located in 30 kilometers from the ancient city of Palmyra.
"In the area of ​​the settlement of Tadmor, the province of Homs, the Su-24 bomber destroyed a large fortified area of ​​ISIS militants, as well as a tank that was in firing positions, an anti-aircraft gun ZU-23 and a mortar battery. The destroyed fortified area of ​​ISIS terrorists was located more than 30 kilometers from ancient Palmyra, "said Konashenkov.
Another Su-34 bomber made a sortie that destroyed the training base of the Dzhebhat an-Nusra group.
"Not far from the village of Mukhasan, Deir-Ez-Zor province, the Su-34 bomber struck at the training base for militants of the Dzhebhat al-Nusra group," said Konashenkov.
According to the Major General, direct hits from corrected
aviation
bombs completely destroyed the training infrastructure, as well as the explosives depots.
In addition, terrorists' checkpoints were destroyed in the area of ​​the Raqqa settlement, and in the mountains near Damascus, Russian planes attacked a terrorist base.
"In the area of ​​the settlement of Rakka, Su-34 bombers attacked two fortified militant checkpoints located on the outskirts of the city. The fortifications of the terrorists, as well as the four units of the automobile and armored vehicles that were on them, were destroyed by direct hits of the air bombs, "said Konashenkov.
On the website of the Ministry of Defense of the Russian Federation, you can see the video of combat missions of the aviation of the VKS RF