The Russian Federation, in collaboration with 26 countries, prepared a draft resolution on the inadmissibility of placing in outer space any
weapons
. The project is considered at the UN General Assembly. However, already at the stage of preliminary consideration of the draft anti-militarist initiative of the Russian Federation, such an initiative was identified as a clear opponent. This is the United States of America. How unexpected...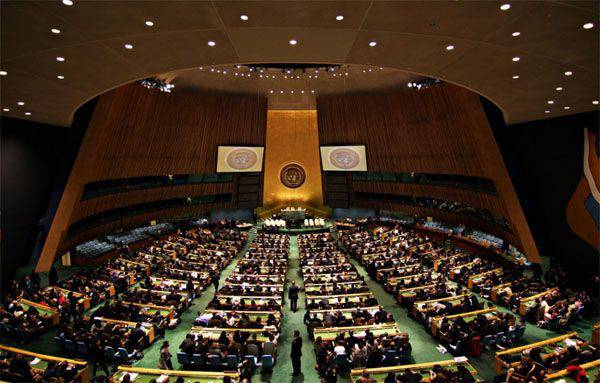 The American delegation voted against the adoption of the draft resolution in the so-called First Committee of the UN General Assembly, declaring that "the states do not yet have an understanding of what should be called a weapon in outer space." Apparently, there is no "understanding" exclusively on the American side, since the draft resolution clearly states that we are talking about any type of weapons based in space.
The delegation of the United States states that in subsequent reviews the resolution will abandon its support. The argument is already the next (quote
RIA News
):
The initiative involves only weapons that are based in space, and does not speak of ground-based anti-satellite weapons, which can aggravate, rather than reduce, distrust and possible miscalculations.
At the end of the material, it is worthwhile to submit a list of those states that, even on an anti-militarist initiative, are not capable of expressing their opinions and are forced to vote as the Washington hosts tell them. This is about Ukraine and Georgia, who spoke out against the draft resolution. It is noteworthy that voted against and Israel. Seven delegations abstained.
122 states have supported the initiative of the Russian Federation. Is it time for the Russian Foreign Ministry to make a statement that the United States and several other states are isolated from the rest of the world community ...