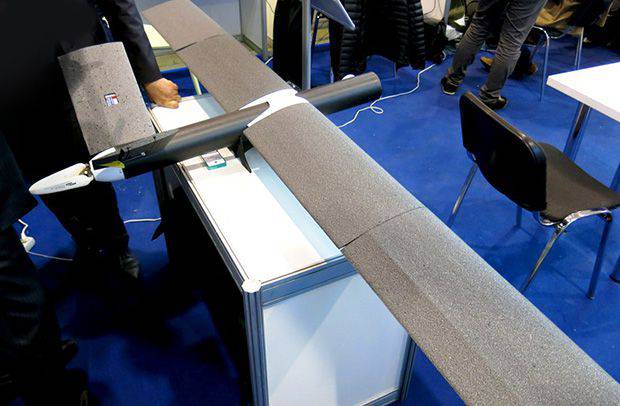 The most interesting drones of the exhibition "Interpolitech-2015"
A characteristic sign of our time was the use of unmanned aerial vehicles (UAV) for solving a wide range of tasks. A whole galaxy of new drones debuted at the XIX International exhibition of means of ensuring the security of the state and the individual Interpolitex-2015.
Unmanned aerial vehicles, or drones (English drone - drone), depending on weight, time and altitude, are divided into classes: micro (up to 10 kg, up to 1 hour, up to 1 km), mini (up to 50 kg, a few hours, to 3 – 5 km), midi (up to 1000 kg, 10 – 12 hours, up to 9 – 10 km) and heavy (flight altitude up to 20 km, flight time - 24 and more hours).
The Russian company NELK presented already well-known and new developments. Among the first ones, the airborne reconnaissance complex based on a helicopter-type UAV (NELK-V6) and an experimental vertical-take-off device with an on-board power plant based on fuel cells (NELK-V8) should be noted.
NELK-B6 is designed to solve a complex of tasks in the interests of law enforcement agencies and civilian agencies. With an take-off (own) mass of 7 (up to 3), a kg of a UAV can fly at altitudes up to 500 m, traveling up to 10 km for about 40 minutes. NELK-V8 with an onboard power plant on low-temperature fuel cells with take-off weight up to 12 kg with a target load 3 kg can solve problems at speeds up to 50 km / h at a similar altitude during 12 hours.
The premieres of the manufacturer were airborne reconnaissance and radar detection systems based on aerial and helicopter-type UAVs. So, an unmanned aircraft "NELK-С3" weighing up to 2,5 kg with an electric motor at speed 70 – 120 km / h can operate at altitudes up to 3000 m for up to 60 minutes. The "Rotor" rotor weighing up to 3 kg is equipped with a radar, which provides round-the-clock radar reconnaissance of the terrain and mobile objects at a distance of up to 10 km with the transmission of information about them over the radio channel for removal to 5 km. A UAV with a speed of up to 50 km / h, when equipped with an onboard power plant, can fly at altitudes up to 1500 m for 5 hours.
At the same time, multifunctional systems - aircraft-type and helicopter-type UAVs equipped with electric engines - can, depending on their characteristics, carry out photo, video or thermal imaging ("Griffin-02") and 3D-terrain mapping ( "Gryphon-11", "Gryphon-12") at a distance of 15 – 90 km for up to 3 hours. The more modest copters, the Griffon-41 and Griffon-07, are capable of performing similar tasks at a distance of 5 – 15 km within 30 – 60 minutes.
The heavy-duty aircraft class Kaira aircraft, demonstrated by RTI Aerospace Systems LLC, provides monitoring of ice conditions, fish stocks, gas and oil pipelines, power transmission lines, high-risk facilities, as well as aerial photography and mineral exploration. To transmit information complex "Kaira" is equipped with satellite radio. Possessing a mass up to 1500 kg, it can fly at speeds up to 300 km / h at altitudes up to 8000 m and with a payload on board in 230 kg can be airborne for up to 35 hours.
Remote observation complexes with UAV of the Pomegranate series were presented by Izhmash - Unmanned Systems. These are portable and transportable variants with the "Granat-1-E" and "Granat-4-E" UAVs (supplied for the needs of the Ministry of Defense), as well as the Takhion UAV complex. According to the developer, the latter is designed for round-the-clock information gathering in hard-to-reach conditions at a distance of up to 40 km, remote detection of moving and stationary objects, including a person, as well as relaying information and control signals. With a take-off mass of up to 7, kg BLAH can operate at altitudes up to 4000 m at speeds of up to 100 km / h for at least 2 hours. Under direct visibility conditions, the application radius is at least 40 km.
According to company spokesperson Yevgeny Zaitsev, at the end of 2015, the test of the Granat-5 UAV convertible plane of vertical take-off and landing will begin. A unit weighing 7 kg, which can carry the load up to 1 kg, is created for the special forces of the Navy. A convertible with rotary engines operating in both helicopter and airplane modes is planned to be offered to troops in the 2016 year.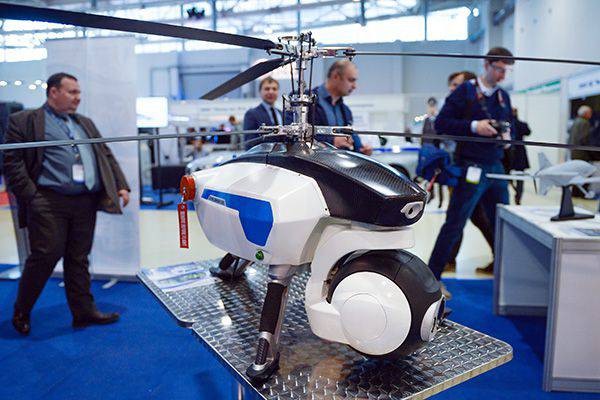 Osa unmanned aerial vehicle at the Interpolitex-2015 international exhibition of state security equipment in Moscow. Photo: Vladimir Astapkovich / RIA
News
The representative of the geodesy department Alexander Kostritsa spoke about the latest initiative development of ZALA Aero Group "Russian Planet". According to him, the UAV under the code name 421-Е5 is intended for monitoring large areas in emergency zones, patrolling and solving other tasks. A drone with a wingspan of 5 m can carry up to 5 kg of payload and fly for 7 hours at a distance of up to 150 km at altitudes of 1000 m and above. The device has already attracted the attention of specialists EMERCOM, the Ministry of Defense and the Border Service of the Federal Security Service of Russia.
In turn, the Russian Emergency Situations Ministry presented the UAV of an Aerob A2V type aircraft with a case in the form of a pipe, inside of which an electric motor with batteries and a payload is located on a sliding platform. According to Vitaly Kovynev, the deputy director of Aerobe, the design ensures a quick load change and the replacement of batteries. UAVs with a take-off weight of 6,5 kg at speeds up to 120 km / h can operate at altitudes and distances in 50 – 150 m and up to 50 km, respectively, for 3 hours. The device is able to fly automatically on a certain route and return to a given point.
Another unmanned aircraft - BS-103 vertical takeoff and landing - made in the form of a convertoplane with a body made of composite materials. As Sergey Alexandrov, Chief Designer of Record-Electronics OJSC, explained, the device weighing up to 11 kg is capable of carrying 1,3 kg of payload. Helicopter and airplane flight times are 30 and up to 150 minutes, respectively, and the horizontal speed at altitudes 300 – 2000 m can reach 80 – 100 km / h. According to Aleksandrov, it is planned to increase the flight altitude to 3000 – 5000 m, the payload to 3 kg, as well as the time of "freezing" at one point. The choice of such a scheme is due to the demand for UAVs, which are capable of independently take off and land in unequipped places without additional devices. At present, there are no analogues of the chosen scheme, according to the designer, in Russia.
Lucien Marcellet spoke about the latest French tactical vehicles at the PIK PIK Company booth. Helicopter-type "Osa" UAV with two coaxial rotors with own weight up to 16 kg can carry 15 kg of payload and fly at altitudes and distances up to 80 m and 3000 (25) km, respectively, at speeds up to 120 km / h respectively in remote control mode (offline). The UAV is equipped with a unique gas turbine engine with minimal noise.
Meanwhile, the Kite aircraft with a pusher propeller and a body made of composite materials can be used both in unmanned and manned modes. With a weight of 550 kg "Kite" with a speed of 340 km / h, it is able to carry 250 kg of payload (or 2 pilots) to a distance of up to 1200 km and operate at altitudes up to 6800 m.
A whole family of drones
aviation
complexes with UAVs of the "Busel" type were shown by the Physicotechnical Institute of the National Academy of Sciences (FTI NAS) of Belarus. Aircraft-type devices weighing 6-14 kg at a speed of 40-120 km / h can stay in the air for 60-150 minutes and conduct video monitoring from an altitude of 1500-5000 m at ranges of 20-50 km, while a long-range UAV of the Burevestnik type »Can observe the terrain and moving objects with the transmission of information at a distance of up to 300 km. With a mass of 180-300 kg and a flight speed of 80-220 km / h, they are capable of functioning at altitudes of 200-5000 m for 4-10 hours.
SEC "Yurion" showed a UAV - a repeater for radio communications, created by radio engineers. With a mass of 3,5 kg, it can carry a payload weighing up to 530 g. The device is capable of operating at altitudes 60 – 3000 m with a speed of 70 – 120 km / h for 45 minutes.
Among other UAVs, the Aeroxo Era-100 UAV and fan-type vertical take-off and landing UAV OMV deserve attention. The first is a convertoplane with a take-off mass of 18 / 25 kg, which can act at a speed of 150 – 200 km / h to a range of up to 120 (1000) km on batteries (with a generator) for up to 48 hours. The UAV drones of the new generation air family are distinguished by a combination of high payload and long flight duration. They are compact, quickly brought into working condition, are characterized by increased maneuverability and ease of management.
In short, domestic interesting new products have been shown a great variety. Denis Fedutinov, a specialist in the field of unmanned aerial systems, believes that the tendency of foreign UAVs to move in Russia under domestic brands, which appeared several years ago, has disappeared today. The current geopolitical situation, he said, has contributed to an increase in the number of its developments in this area. According to Fedutinov's forecast, now cooperation with foreign developers of UAVs will move, rather, towards a deep localization of the production of their vehicles here and the transfer of technology within the framework of this cooperation.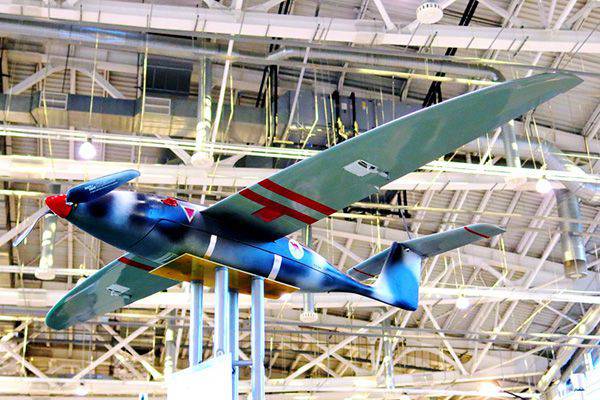 Repeater STC Yurion. Photo: Anatoly Sokolov / "Russian Planet"