Moscow saves the Middle East from a nuclear catastrophe
Henry Kissinger, who, from my point of view, still remains the wisest foreign policy analyst in the world, published in the Wall Street Journal an article entitled "How to save the Middle East from collapse" (A path out of Middle East Collapse). Today it is carefully analyzed around the world. The key idea of ​​the article: "If nuclear
weapon
will be fixed (in the Middle East), a catastrophic outcome will be almost inevitable. "
Obama and Europe have just handed Iran the key to making nuclear weapons. Saudi Arabia is trying to find a supplier willing to sell her nuclear weapons. Pakistan sells it. Have we not already entered the territory of the "inevitable catastrophe"?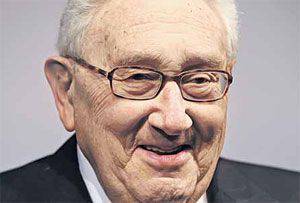 Our crazy liberals swept through this cemetery to protect Obama. But the next president will not have such a chance. Putin recently said that "some American officials have a mess instead of brains," and these are not just insults.
At the beginning of his article, Kissinger writes about the collapse of the balance of power in the Middle East. And since he writes with long and complex sentences, it makes sense to focus on some of his basic ideas.
1. "With the arrival of Russia in Syria, that geopolitical structure that has existed for four decades collapsed."
2. Four Arab states have ceased to function: Libya, Syria, Iraq and Yemen. All of them are at risk of being captured by ISIS, which seeks to become a global caliphate living under Sharia law.
3. The United States and the West need a thought-out strategy. Now we do not have it.
4. To consider Iran as a normal state is to take what is desired. Over time, it can become such a state. But today, Iran "has embarked on the path leading to Armageddon."
Israel, like most countries of the world, was caught up in the maelstrom, which is why Russia went on an unprecedented military intervention in Syria. Putin defends primarily Russia.
5. "As long as ISIS exists and continues to control the geographically defined territory, it will maintain tensions in the Middle East ... The destruction of ISIL is a more urgent matter than the overthrow of Bashar al-Assad."
6. "The United States has already allowed Russian military participation in these events." (Vladimir Putin proposed to create a new alliance of Russia and the West on the model of an alliance from the Second World War.)
Given the general lack of political will in the West, such an alliance can produce good results on the condition of Putin's strategic transparency.
Kissinger did not mention this, but Putin watched the jihadist forces at its southern borders move closer and closer to nuclear weapons. Putin climbed to the top, fighting Chechen jihadists, in a ruthless Russian manner. Today, thousands of Chechens joined the ranks of ISIS in Iraq and Syria, and soon these people may well return to Russia or Chechnya.
Imagine that thousands of fanatical suicide bombers were on your borders, and you will understand how Moscow assesses the current situation.
Conclusion: to avoid a catastrophe of a hot nuclear race in the Middle East, we need an effective alliance of the West and Russia, which, perhaps, will save the world.