In our country, the development and production of promising materials for use as part of the design of armored vehicles or personal protective equipment continues. At the recent Open Innovations Forum, Russian companies NEVZ-Ceramics and Virial presented their new developments in the field of ceramic armor. New materials and technologies allow to protect the fighter from various rifle
weapons
.
During the recent exhibition, the development companies demonstrated the so-called. nanostructured ceramic armor. Due to the use of special raw materials and special processing technologies, it is possible to manufacture ceramic tiles of various shapes and sizes that can be used as part of body armor or other similar equipment, as well as mounted on armored vehicles. Ceramic armor of this class has a fairly high protection performance, but differs in lower weight in comparison with steel armor plates with similar indicators. All this allows you to enhance protection without increasing the weight of the structure or to facilitate it without loss in the level of protection.
NEVZ-Ceramics (Novosibirsk) and Virial (St. Petersburg brought to the Open Innovations Forum several samples of ceramic armor made using different technologies and from different materials. First of all, these are products based on reactive sintered silicon carbide and boron carbide.This tile can be used in the construction of various products designed to protect people from bullets and shrapnel.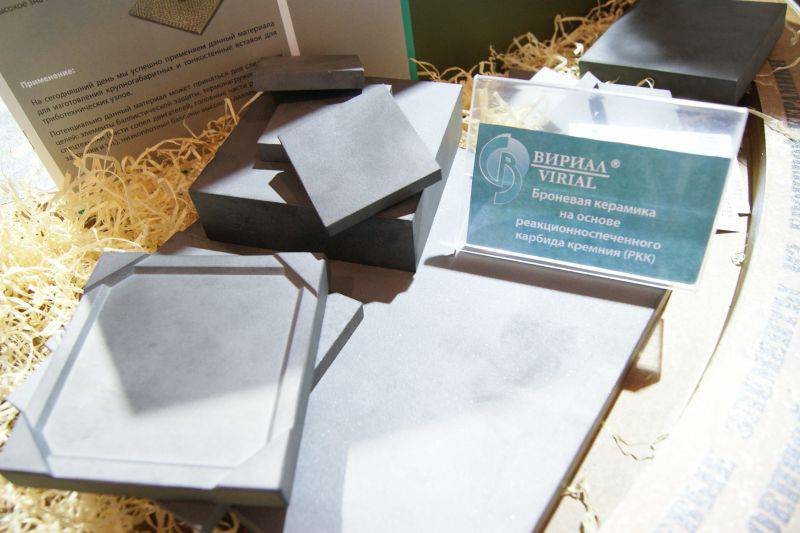 Ceramic Armor Tiles
According to the existing technology, ceramic modules of various sizes as well as with different protection characteristics can be produced. The ceramic block can be up to 205 mm in length and width. Module thickness is from 5 to 55 mm. Different dimensions of the tiles provide the flexibility of their use in the composition of various means of protection, and by selecting the desired thickness, you can meet the requirements for the weight of the structure and provide the desired level of protection.
The armored ceramics of the companies NEVZ-Ceramics and Virial may have different protection characteristics. So, as part of personal protective equipment, such as body armor, tiles can be used that correspond to 6 class of reservation according to national standards. This means that such a means of protection is able to withstand a SVD rifle (cartridge 7,62x54 R) when using a bullet with an armor-piercing core.
According to domestic media reports, Novosibirsk and St. Petersburg experts have already created more powerful armor ceramics, the possibilities of which exceed the protection against small arms provided for by domestic standards. Due to the use of appropriate materials and sufficient thickness, the ceramic block is able to withstand a shot from a weapon of caliber 12,7 or 14,5 mm. Naturally, such ceramics are not offered for use in body armor.
Such powerful protection is intended for installation on various vehicles. The company NEVZ-Ceramics together with the firm Kirasa (Perm) developed special mounted armored panels that can be installed on various equipment. A car or other equipment with such panels is protected from shelling using various machine guns or rifles, as well as from large-caliber weapons.
It is reported that the proposed hinged panels can reduce the overall weight of the equipment while maintaining the required level of protection against small arms. For this reason, they can be used in the construction or modernization of armored vehicles, armored personnel carriers, combat helicopters, boats or ships, as well as other equipment. Thus, perspective panels with ceramic armor can be used on techniques of various classes that require light but durable protection.
Currently, domestic enterprises are working to create new types of armored ceramics that differ from existing ones with special properties. For example, there is a project of ceramic armor capable of absorbing a radio signal. Such tiles will not only protect the equipment from bullets or shells, but also reduce the likelihood of its detection. The possibility of reducing the visibility of the radar is also able to protect equipment from weapons, which include radar homing heads.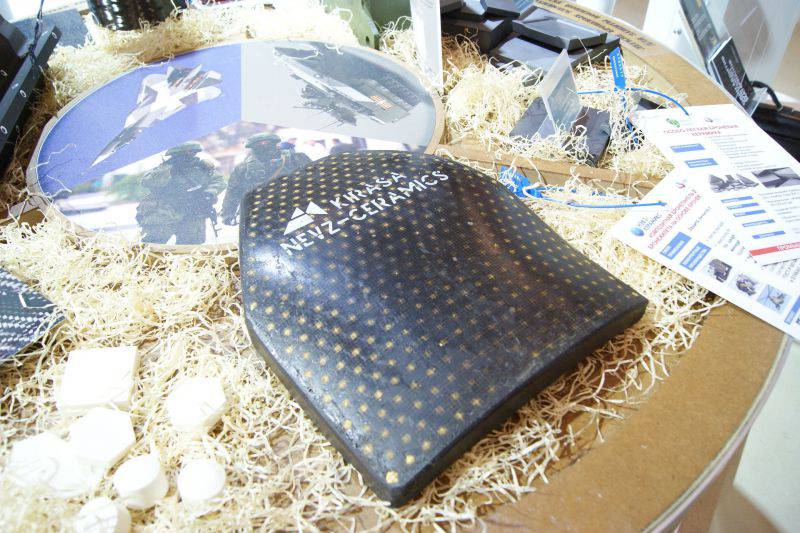 Ceramic armor flap designed for use as part of body armor
It should be noted that NEVZ-Ceramics has been engaged in the subject of ceramic reservation modules for quite a long time. For example, in September last year, the participation of this company in several programs to create promising armored vehicles was reported. Then it was reported that the company completely switched to the use of domestic raw materials, abandoning its purchases abroad. In addition, some examples of the company's participation in promising projects were cited.
According to the words of the executive director of NEVZ-Keramix in the direction of "Armored vehicles" Vladimir Markov, it follows that ceramics of this company are equipped with Typhoon armored cars, Kurganets and Boomerang combat vehicles, as well as the promising Armata tank. State tests of armor ceramics as part of ready-made combat vehicles were planned for 2015 year.
V. Markov said that the production capacity of the enterprise made it possible to produce up to 650-800 tons of ceramic armor per year. Thus, the company "NEVZ-Ceramics" for the year can provide the necessary amount of armor up to one thousand combat vehicles.
The exposition of NEVZ-Ceramics, Virial and Breastplate enterprises at the latest exhibitions shows that they are ready to create and produce armor of new types not only for combat vehicles, but also for various personal protective equipment. In addition, Novosibirsk experts are engaged in another, no less important area. Using the latest technology, they are developing various medical devices. Special ceramics are used for implants, wear-resistant ceramic products and other products designed for non-military use.
On the materials of the sites:
http://rg.ru/
http://ria.ru/
http://sdelanounas.ru/
http://arms-expo.ru/
http://nevz-ceramics.com/