Russian Defense Minister Sergei Shoigu held a selector meeting with representatives of the leadership of the Russian Armed Forces at the National Defense Management Center. The meeting began with a minute of silence in memory of the victims of the plane crash.
Press Service of the Ministry of Defense
quotes Sergei Shoigu:
In the sky of Egypt, a terrible tragedy occurred. Killed 224 man, among them children. I propose to honor the memory of the dead by a minute of silence.
Further, military officials began discussing the planned training session on October 30 to manage the Armed Forces. It should be noted that Caspian ships were involved in the training
flotilla
, Northern and Pacific fleets, as well as troops of the Southern Military District, Strategic Rocket Forces and Dalnaya
aviation
RF.
Sergey Shoigu:
During the training, the reliability of training combat orders and signals along the entire vertical of control was checked - from the National Center for Defense Management of the Russian Federation to command posts of formations and military units. Practical launches of ballistic and cruise missiles carried out all components of the Russian nuclear triad. All assigned targets are hit with accuracy.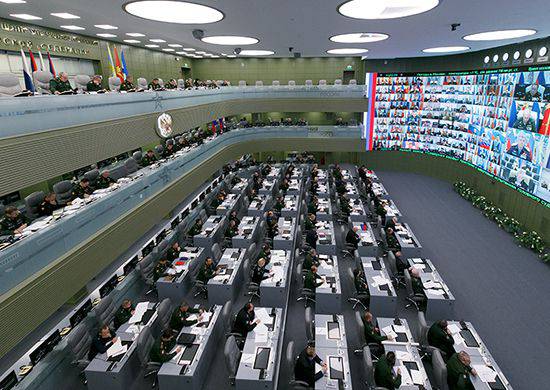 During the meeting, the Minister of Defense focused on three issues: the development of federal targeted programs, the creation of shelters for aircraft and the cost of maintaining aircraft in open parking areas, and the execution of the defense budget in 2015.
Sergey Shoigu:
In July, at a meeting of the Collegium of the Ministry of Defense, a decision was made to develop projects of federal target programs aimed at developing the infrastructure of the Arctic zone, ensuring nuclear safety
weapons
, as well as the improvement of the airfield network of the Armed Forces (...). At the same time, it is important that the new equipment is housed in shelters. This will improve its safety, reduce the time for preparation for use, facilitate the work of the engineering staff, and also reduce operating costs.
During the meeting, the heads of the military administration received operational tasks from the Minister of Defense in the area of ​​responsibility.