Until recently, the Syrian military practically did not use wheeled armored personnel carriers after they abandoned the Soviet BTR-60PB and Czechoslovak O-64 and switched to using tracked BMP-1 and BMP-2.
"Messenger of Mordovia"
.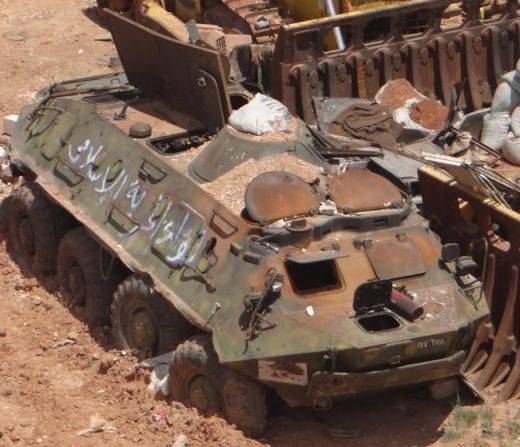 "In 90-s, a significant number of BTR-60PB and OT-64 were withdrawn from the troops to the storage bases. The equipment needed to be repaired and modernized, and the Syrians, who had lost military assistance because of the collapse of the USSR and the countries of the former Warsaw Pact, simply had no money, "the material notes.
By the beginning of the civil war and the intensification of terrorist groups, most of the wheeled armored personnel carriers remaining in the government forces had fallen into disrepair. The Syrian military began to receive new wheeled armored vehicles only at the beginning of last year. A batch of 30 BTR-80 was used to guard the columns transporting chemical
weapon
in the process of its destruction.
For a long time, there were no reports of the use of the BTR-80, however, at the end of October, one of these vehicles got into the report with the front line along with
a tank
T-55 and the "Solntsepek" flamethrower system. Recently, Russian BTR-80s also lit up in the Latakia region. In August 2015, more modern BTR-82s, which the Russian Federation delivered to the Syrian military a few months earlier, joined the fighting.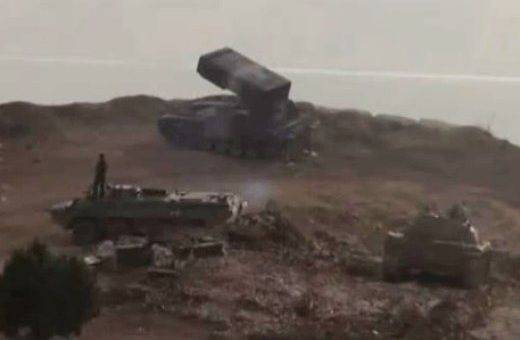 "Military experts positively estimate the supply of new equipment to the Syrian army, however, in their opinion, it would be good if these armored vehicles received anti-cumulated lattice screens. Such a measure would significantly increase the security of the armored personnel carrier and increase the chances of preserving the lives of the Syrian fighters fighting against them, "the article notes.