On Monday, Russian Defense Ministry spokesman Igor Konashenkov demonstrated at a briefing aerial photographs of a hospital in Syrian Sarmin, which, according to Western media, was destroyed during a Russian attack
aviation
. The picture shows that the building of the hospital is not damaged, passes
RIA News
.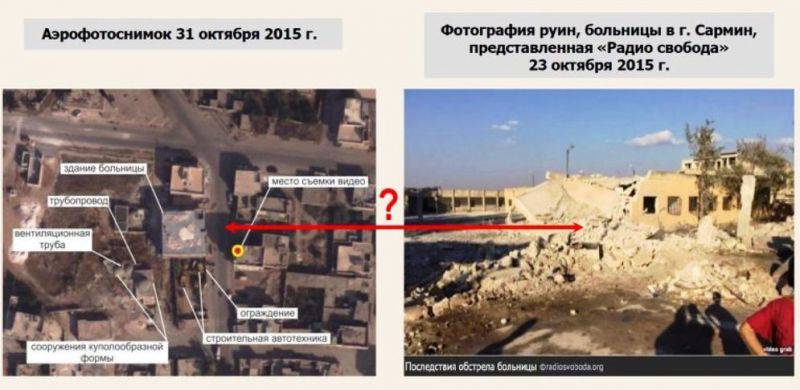 For comparison, a snapshot of the hospital was taken in 2014 year.
"As you can see, the building (hospital) is a whole ... This is the data of our 31 October 2015 survey of the year. As you can see, all the characteristic buildings and structures that were in 2014 year, they are still present in the picture that was taken the day before yesterday, "said Konashenkov.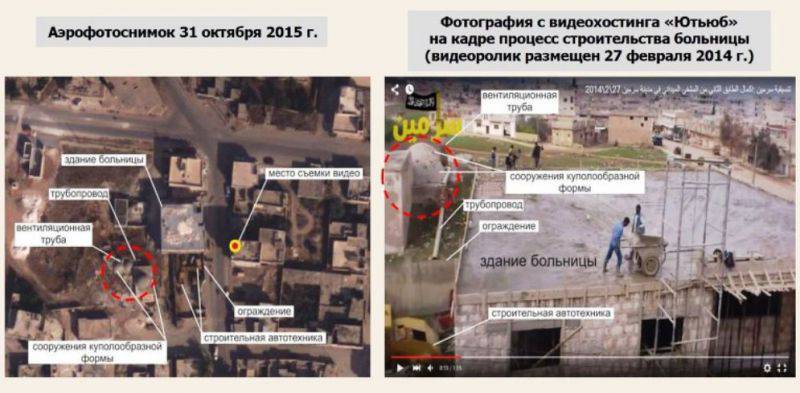 In total, 6 destroyed hospitals were attributed to the Russian VKS by the Western press. However, when checking information, the Ministry of Defense found out that "there are no hospitals in five of the six settlements indicated in the articles".
Nevertheless, the State Department continues to insist that Russian planes bomb civilian objects. However, the department does not provide any evidence to the above.
"We say that we have seen information that Russia is striking at civilian infrastructure. We advise you to contact Syrian non-governmental organizations that work on the spot (in Syria), as well as open sources, "State Department spokeswoman Elizabeth Trudeau told reporters.
To the question "whether the State Department knows which hospital was allegedly bombed by the Russian aircraft," Trudeau said: "I will not go into questions of intelligence and evaluation of operational information. I advise you to contact the Russian authorities and find out from them what they are bombing. "
Then the representative of the State Department was asked: "Why can you not make a statement in this connection and name at least a place? This is not difficult, and violates any intelligence methods, does not disclose its sources, say where it happened when you make such accusations. "
"We know that they (the Russian Federation) have struck," answered Trudeau, again without further details or details.