The other day I witnessed the processes occurring around and around the people who came to us from Ukraine under different brands. Someone is a refugee, someone is a migrant, someone is a repatriate, there are many subspecies and subclasses there. But the essence is the same - they all arrived to us recently from the territory of Ukraine as yet, if judged from the point of view of international and other diplomacy.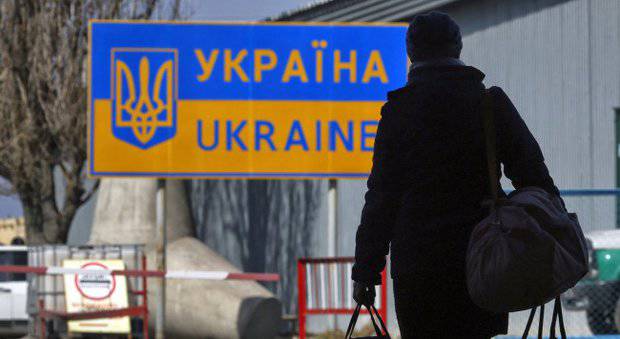 And recently in this mass fermentation began, and, I would say, panic. Moreover, such a panic is quite an adult. Although it is strange, because even when it was announced that from August 1 we begin to tighten the nuts. And with November 1, the process takes on an irreversible and rigid nature. And since December 1, those who do not want to be a participant in this process, you are welcome back to your native Ukraine, and three years to us with your foot.
It was? It was. Notify? And how. So what are the moaning and throwing now in the "toy" press, they say, that Ukrainians are deprived of privileges and privileges in Russia? Groaning the same. Again, of course, they curse these very ... well, you understand who. It means that Ukrainians do not give living in Russia, they want to turn everyone back so they die of hunger. This is not me, this is "Echo". I do not know where and who so much howled, but the echo of howling is just the way.
By the way, that "in a way".
In my house (I somehow casually mentioned this already) lives a pseudo-cell of a society of two people. It is understood, who came from Ukraine last year. Pseudo is because they seem to live together, but unregistered, unmarked and understandable, according to Ukrainian passports. But this is a matter of this cell exclusively.
Since people are not arrogant, at night "Glory to Ukraine" didn't scream, we (the people) didn't really know who they were or where they were from. The house is big. But now the girl got a job at a stall with vegetables and fruits, which I already consider to be "mine" for several years. Well, you want, you do not want, but at least five words to the buyer have to say. Well, with my practice I distinguish Lugansk speech from others. True, there are differences, even if compared with the Donetsk people. But the point is not that.
And so, the very next day after the notification that the nuts will be tightened, I meet this couple in the yard in complete disarray. And sheer panic. I begin to find out what it is and find out very interesting details of what is happening in our country. I suspect this is not the only thing happening here.
In late October, Irina was told by the FMS agency that she was denied refugee status. With all that it implies. And she will either have to go through the procedure of registration in another status, or ... well, you understand. Back to Ukraine.
Shock? Well yes. Why would it suddenly? But corrosiveness did not allow me to immediately crumble in sympathy, I began to understand, since I had climbed. And found interesting details. Yes, Ira came as a refugee from the Luhansk region, it is. But in her passport (not even overdue yet) is the address: Novopskov village.
Returning, used the card. Yes, I was amazed at that. Not the presence of Novopskova, such a village is in the Luhansk region. I was surprised that you could escape from there. No, you can run, but obviously not from shelling. From a small salary you can, from personal problems. But the fighting there was not something that was not there, even the terbats were not seen even once. Specially on the Novopskov forums polazil. So, somewhere over the horizon, something is happening, but lately, even no one in the direction of Russia is hysterical. Apparently, their problems enough.
Apparently, our FMS also knows how to use the card. And in the end, she began to gradually understand the two and a half million Ukrainians who came to us last year. Who, from where and why ran. Apparently, this is not an isolated case, because nobody has particularly explained anything. They handed the decree, said, in what time frame and where to go, and that was all.
In general, in this case I fully support the FMS. Accepted. Placed. Helped by the first time. Supported financially, and not bad, I must say, supported. But as if a year has passed, it's time to start settling everything. Any fairy tale tends to end.
So the Russian fairy tale for Lugansk "refugee" ended. And its end was not at all happy. But excuse me, I have enough of my problems. But living like this at our expense will be a little bit fat.
So that I will not be reproached for some excessive bitterness towards the refugees, I will tell you one more short
history
. In contrast, so to speak.
I have a friend, much younger than me. So it happened. Throughout his life, he stood in line for an apartment. Our state owed him an apartment because his father, an employee of the Ministry of Internal Affairs, died during 2 a month before his birth. But before his 25 years, he lived in a one-room apartment with his mother. Not enough. In her he grew up, learned, served, by the way, in the army, although for obvious reasons he could not do that. According to law. But served.
And on 25 for years, he was given a luxurious gift: he was informed that, since he already had 25, he was already an adult and able-bodied member of society, then he could earn money on his property. And they pushed him from the queue first from the second hundred to the second thousand, and then removed it altogether. You see, they put refugees in line.
I agree that the people who lost everything in the war should somehow be resettled. From the tents of the temporary detention facilities, from the sanatoriums and shelters to at least some normal housing. Well settled. Gave it. Provided work. Everything is normal, everything is as it should be in Russian. But why should one always throw one's eyes between the eyes? We sometimes have strange situations.
The fact that the FMS has started some kind of filtering of all those who arrived, that's fine. It is timely. First of all, it will not be worse in terms of who came for what, and then we came across all kinds of refugees in the range. Secondly, not weak economy for the budget. Yes, a year has passed. You can already stand up and get down from the neck of the country. With our, if anything, neck.
In general, people come from there really different. Saw and those who, enlighten your head, except for "give", you will not find anything. But there were a lot of people, for whom these benefits and statuses were not needed. They came, sometimes stayed with half-acquaintances, often found on the Internet, issued permits, found work, housing. And waited for citizenship. And they got it. And they became our citizens. And God grant them further good luck and happiness in the new life.
But those who came to sit out, and even if possible at the expense of others, and even earn extra money so that you can send more home - you really should say goodbye to such people.
We actually stopped the war, thanks to everyone who pulled it on their nerves. So the whole "Putin call" must also decide whose they are in the end. Ours - welcome, make out and work, live. Not? So then we must remember where your home and engage in the glory of it.
And the cries of those who began to scream about the oppression of Ukrainians and the deprivation of their benefits in Russia, you just have to ignore. We have enough of our beneficiaries. What can we say about healthy hard workers who work with us, but really for the benefit of the country with which we have relations, to say the least, weird?