The National Interest reviewer Dave Majumdar has compiled a list of the most deadly fighters fighting in Syria, which included two Russian aircraft at once, writes RIA
"News"
.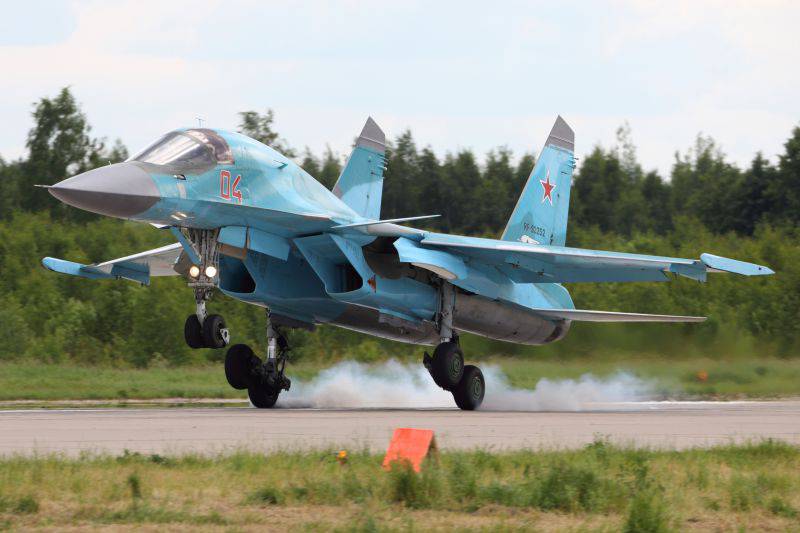 In particular, the Russian Su-34, which replaced its predecessor, the Su-24, was named one of the most powerful. According to Majumdar, this fighter has powerful air-to-air self-defense capabilities; in addition, along with the R-73 short-range missiles, it is equipped with long-range missiles and R-77 air-to-air missiles. Another fundamental feature of the aircraft is the radar, which makes it possible to recognize the threat from behind.
The list also included the Su-30 multi-role fighter, which is mainly used to accompany combat aircraft during air-to-air operations, but at the same time having a powerful potential for air-to-ground strikes.
Among the airplanes of other states attacking the positions of the Islamic State militants, Majumdar noted the F-22 Raptor multipurpose fighter from the US Air Force with a high-speed combat platform. The US military uses it for reconnaissance, monitoring and control.
Also on the list were the Boeing EA - 18 Growler - the US Navy's deck-mounted electronic warfare aircraft that can disable enemy radar and communications thanks to a set of sensors, including the ALQ-218 wideband receiver and the ALQ-99 jammer.
In the last place was the French Dassault Rafale with an electronic radar Thales RBE2 for scanning the terrain, which in the future is planned to be replaced by the ASEA system.