The self-propelled unit "Pere" was developed in 1982 g and was presented as a machine "capable of striking with surgical precision both manpower and heavily armored enemy equipment at a distance of 25 kilometers". After 33, the IDF decided to declassify some of its characteristics, reports
Look
with reference to MIGnews.com.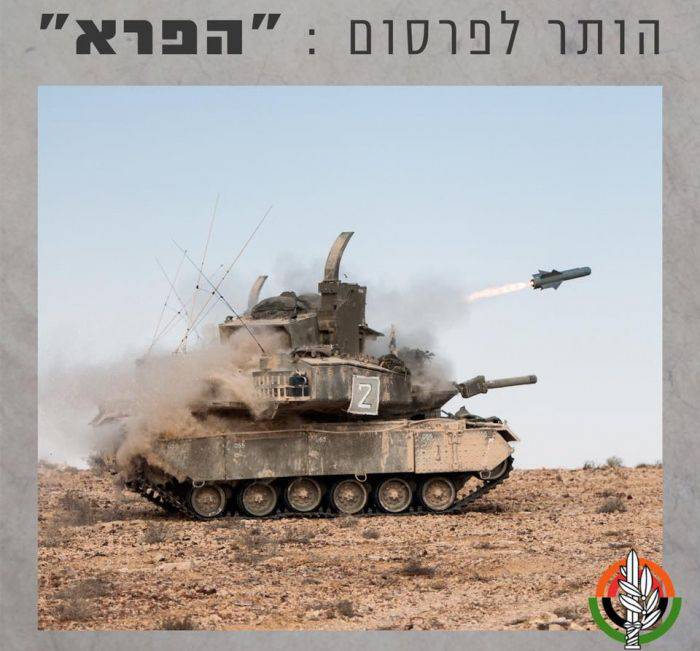 According to the military, "a new generation of artillery" Pere "is a separate class of military equipment called rocket
a tank
", Although, in the opinion of the resource," Pere "has nothing in common with the tank, except, perhaps, in appearance.
Characteristics of the machine is fully consistent with self-propelled installation. "Its only difference from the latter is high accuracy, up to 20-times more accurate than a conventional artillery projectile, and a high destructive force concentrated in a small radius of action," the newspaper notes.
In addition, Pere "has good mobility, developing speeds up to 40 km per hour, as well as stealth on the battlefield, due to the external similarity with the tank," writes MIGnews.com.
"The machine's strike system consists of 22's Tamuz-type guided missiles. Each rocket is equipped with a tandem-cumulative warhead with optoelectronic guidance, "the resource reports. The rate of fire, depending on the skill of the loader, is 3-4 shot per minute.
"Pere" is in service with the Israeli army "since the Second Lebanon War and during this time has established itself as an indispensable means of hitting enemy targets that are out of sight," the newspaper notes.