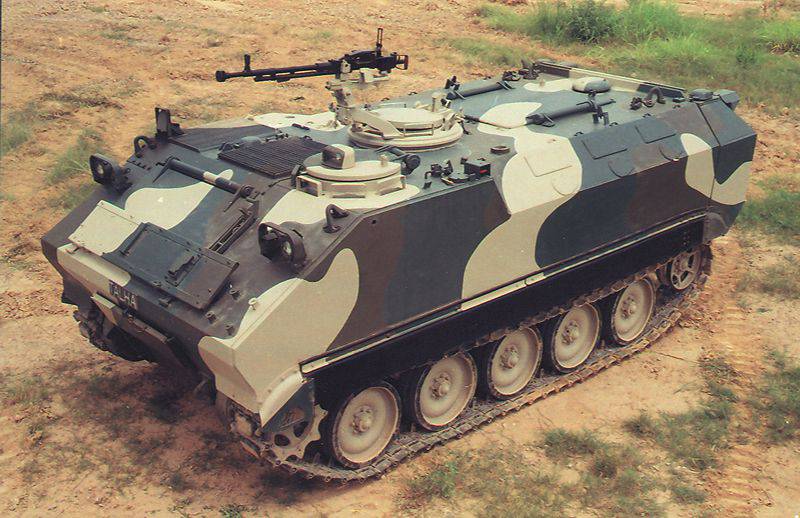 Talha armored personnel carrier developed by Pakistani company Heavy Industries Taxila
The Talha armored personnel carrier was designed and manufactured by the Pakistani state defense company Heavy Industries Taxila (HIT). This vehicle is based on the chassis of the American armored personnel carrier M113-A2-Mk.1. The Pakistani army planned to purchase 2010 of these armored vehicles back in 2000, and at least it is known about the 400 vehicles in service plus the 40 vehicles supplied by the police of that country. In 2006, Iraq ordered 44 such machines. Talha is a floating all-terrain infantry support vehicle armed, as a rule, with an 12,7-mm machine gun. The increased internal volume of the habitable compartment provides the crew with increased comfort. The level of survivability is ensured by the installation of external fuel tanks. In order to increase the level of protection, additional mounted armor can be installed on the vehicle.
The decision to develop the Talha armored personnel carrier was made after the United States imposed sanctions on Pakistan and HIT could no longer produce M113 vehicles. The Talha design is based on the M113 chassis, but has a different layout of the power unit and driver's seat.
The Talha BTR is being exported; it was shown at the IDEAS 2002 defense exhibition in Karachi. In November 2004, the Iraqi delegation ordered the Talha 44 armored personnel carrier.
Functional flexibility is ensured by the fact that either the Detroit Diesel 6V53T 275 hp engine or the Ukrainian UTD-20 330 diesel engine HP hp can be installed in the engine compartment.
options
Options with five basic skating rinks:
Talha APC;
Maaz anti-tank gun, armed with Baktar Shikan missiles (Pakistan's Chinese version of Hongjian-8, licensed);
ATGM Mouz Transporter, armed with the Swedish anti-aircraft missile system RBS-70;
Sakb control point;
Infantry fighting vehicle Al-Hamza.
Extended hexagon options:
BTR Saad;
Al-Hadeed repair and recovery vehicle with a crane and hydraulic winch;
Al Qaswa logistics vehicle. It can transport up to six tons of various cargoes in its cargo compartment.
Talha Armored Carrier
Country of Origin - Pakistan
In service
Pakistani Army
Iraqi Army
Manufacturer - Heavy Industries Taxila
Development - 1998 year
Production - from 2002 year
Characteristics
Mass - 12,5 tons (combat weight)
10,6 tons (curb weight)
Length - 5,55 m
Width - 2,54 m
Height - 2,59 m
Crew - 13 man
Aluminum armor (5083 series)
Main armament
12,7-mm machine gun
Engine
Two options are available:
Detroit Diesel 6V53T, power 275 hp
Ukrainian ATD-20, hp power 330
Трансмиссия
Allison TX 100-1A
Specific power
22 hp / t (6V53T)
25 hp / t (UTD-20)
Suspension - torsion shafts, hydraulic shock absorbers
Power reserve - 500 km
Speed ​​- 62 km / h
Materials used:
www.wikipedia.org
www.hit.gov.pk
www.defence.pk
www.military-today.com