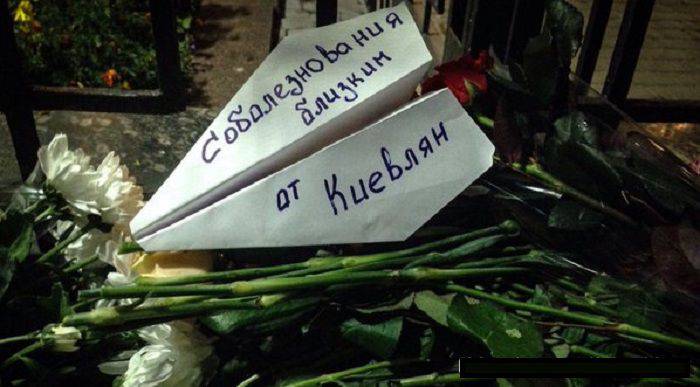 I will not tire of repeating that it is impossible to judge a people by individual representatives. Just need to judge these representatives. The catastrophe in Egypt has become a litmus test, which showed who is a friend and brother. And showed, I must say, properly.
I will not go into the details of what is happening on the Censor. This is absolutely not an indicator. "Censor" is a well-paid serpentarium, where sizzling and spitting poison svolakivali from all over Ukraine. They created free conditions for them, so they hiss.
Plus, there are still enough aliens from all over the CIS. Sympathizers.
But I won't talk about reptiles for a long time, I generally wanted to talk about people.
What do you think, dear readers, is it easy to take and come to the Russian embassy with flowers and candles? I know that no. In today's realities, whatever they say in the Ukrainian media about freedom and correctness, such an act requires remarkable nerves. Because there can be a reaction to the deed.
But go. But bear.
Of course, in today's Ukraine there are many who for whom the tragedy in Egypt is a reason to gloat. And there are those who cause it sadness and sympathy.
We are writing about Ukraine. We write sometimes evil and harshly, sometimes satirically. But we write, because we hope that common sense will still win. And the people, that Ukrainian people that we knew back in the USSR, will be defeated by that nonhumans who are in power today. And all these black and red standards will be where they should be. In the garbage
stories
.
If they did not believe, they would not have written. Like this.
And the flowers and candles at our embassy are a real counterbalance to the stones and bottles that flew into this building not too long ago. And they are the best evidence that "Ukraine has not yet died," conscience and humanity. Let not everyone living there.
But here to each his own. But we sincerely continue to believe that reason and humanity will eventually triumph in savagery and fascist frenzy.
Thanks to all the real Ukrainians who are with us this minute.