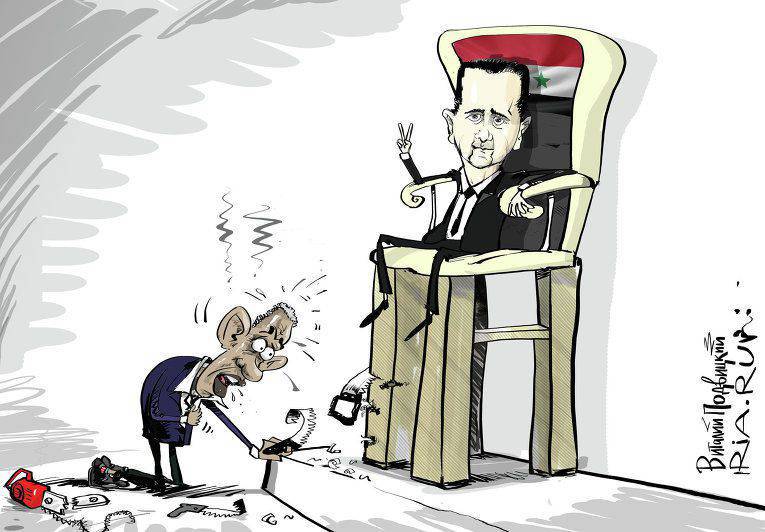 Why does John Kerry want to convene an emergency conference on Syria right now, although this war has been dragging on for four and a half years?
Is he worried that Russian airstrikes are killing too many US-backed jihadists and disrupting Washington's plans to overthrow Syrian President Bashar al-Assad?
Of course he is worried. No one who has been following the events in Syria in the last three weeks should have any doubts about what is really going on. Russia methodically destroys the Washington mercenaries on the ground, capturing large areas of land that had previously been abandoned and found under the control of terrorists. This, in turn, strengthens the position of Assad in Damascus and tore to shreds the policy of the US administration.
And that is why Kerry now wants to urgently hold another meeting with Russian Foreign Minister Sergei Lavrov, although the two diplomats met less than a week ago. The US Secretary of State intends to quickly prepare an impromptu deal that will stop the bloodshed and save what is left of Uncle Sam's battered Syrian project.
On Tuesday, Reuters reported that Iran was invited to the talks, which will be held on Thursday in Vienna. This announcement will undoubtedly be severely criticized on Capitol Hill, but in fact it simply shows the extent to which Russia is setting the agenda today. It was Lavrov who insisted on inviting Iran, and it was Kerry who was reluctant, but he capitulated. Moscow today is located in the driver's seat.
And do not be surprised if the results of this summit are quite shocking, as well as the dramatic 180 degree turn regarding Washington's claim that "Assad should leave." As Putin has stressed many times before, Assad is not going anywhere. It will become part of the Syrian "transitional government" when Obama finally agrees with the Geneva communique, that is, with the political track that will eventually cease hostilities, restore security, and allow millions of refugees to return to their homes.
The reason the US administration intends to agree to allow Assad to stay is this: if this does not happen, the Russian air force will continue to smash the mercenaries supported by the United States. Therefore, as you understand, Obama has no other choice in this matter. Putin put a gun to his head and made him an offer that was impossible to refuse.
This does not mean that the war in Syria will be an easy walk for Russia and its allies. She will not be. In fact, some significant setbacks are already visible, including the fact that the ISIL militants have just established control over the critical part of the Aleppo-Hanaser highway, thus cutting off government supply routes to the Aleppo area. This is a serious problem, but it's not a problem that cannot be solved, and it's not a problem that can affect the outcome of the war. This is simply one of the obstacles that need to be addressed and that needs to be overcome. More broadly, the prospects have become even more favorable for the Russian-led coalition, which continues to destroy supply routes, detonate weapons depots, fuel stores and quickly deprive the enemy of the ability to wage war. This war, of course, is not a walk in the park, but there is no doubt who will win it.
And this may explain why the United States last week decided to bomb the main power station in Aleppo, thus plunging the whole city into darkness. And this happened precisely because Obama wants to "shred" everything before leaving. It should be borne in mind that local water treatment plants require electricity to operate, and therefore, having blown up the power plant, Obama put tens of thousands of civilians in an extremely difficult position - now they are threatened with cholera, as well as other water-related diseases. Apparently, our dropping bombs on the hospital of the president is not disturbed by such trifling things as the murder of women and children. Here is what the Daily Star newspaper writes:
"The coalition forces led by the United States in Iraq and Syria conducted a large-scale attack on the Omar Syrian oil field, which is part of a mission aimed at eliminating the sources of ISIL money, an official representative of this coalition said on Thursday.
Head of Operations, Major Michael Filanowski, told reporters that the air strikes on Wednesday evening were directed against ISIS-controlled oil refineries, command centers, control centers, as well as transport hubs in the Omar field near Deir el-Zur . Coalition spokesman Colonel Steven Warren (Steven Warren) reported that 26 targets were subjected to a bomb strike, making this operation one of the largest since the launch of air raids last year.
This oil refinery allows ISIS to receive per month from 1,7 million dollars to 5,1 million dollars.
"These were very specific targets, the destruction of which for a long time would make it impossible for ISIL to sell oil, take it away from the production site and transport it," Filanovski noted.
ISIS militants seized a large number of oil refineries, as well as other infrastructure facilities in Iraq and Syria, because they wanted to make a profit to create an economically independent state.
Is it not surprising how, after a year of searching the desert for ISIS targets, did the US air forces finally understand where these damn refineries are located? The Western media, of course, ignored this topic. One can only conclude that Obama never had the intention to cut the main channels of financing ISIS (and this is the sale of oil). In fact, he wanted this terrorist group to flourish under the condition that it would help Washington realize its strategic goals. Putin even noted this in a recent interview. He said: mercenaries seized oil fields in Iraq and in Syria. "Oil has begun to be mined, they are bought, transported, sold. Why don't they impose sanctions on everyone who does it? Well, don't the United States know who does this? Isn't that what their allies are doing? They do not have the strength and ability to influence their allies? Or do not want to influence? "
For Putin, this whole oil charade of ISIS is not a revelation. He understood from the very beginning that it was a farce, he understood from the moment when the Financial Times published its ridiculous article on this topic, which stated that ISIL has its own "recruiters" offering "competitive wages" to engineers with relevant experience "and calling for" prospective employees to contact the personnel department of this organization ".
"Personnel Department" LIH ?? Have you ever read anything more funny in your life? (You can read this article yourself).
In an interview with the correspondent for the NPR radio station, science fiction writer from the Financial Times, Eric Solomon (Erika Solomon), who wrote this article, explained why the United States cannot bomb oil fields and oil refineries. Here is what she says:
"ISIS managed to establish control over the process of oil production, which was a smart move, since they cannot be bombed there. This can cause a natural disaster. And so they extract oil, and then immediately sell it to local traders — that is, to any ordinary person who can buy a truck with the appropriate tanks, which they fill with oil. "
But this, of course, did not stop Major Michael Filanovski, did he? It seems that he blew up these ISIS refineries without batting an eye, and this proves that Solomon's fairy tale about a "natural catastrophe" is complete nonsense.
But if all this is nonsense, then why did the US Air Force decide to strike these targets right now? What changed?
Here is the answer, which is contained in the article that appeared on the site of the RT TV company just one day after this air attack:
"Russian aircraft destroyed the routes used by the Islamic State (IG, formerly ISIS / ISIL) to transport cargo from Iraq to Syria. As a result of a bomb strike, the bridge across the Euphrates River was destroyed, a representative of the Russian General Staff said.
"The bridge over the Euphrates River, located near (Syrian city) Deir ez-Zor, was a key link in the logistics chain (IG). Today, Russian pilots with surgical precision hit the object, "said Col.-Gen. Andrei Kartapolov, deputy chief of the Russian General Staff, during a briefing on Thursday. He also added that the channel for the supply of arms and ammunition of this terrorist group was cut. " So it was that the Russians blew up a critical bridge across the Euphrates, which made the transportation of oil impossible, and right after that — bam — the United States sent its planes to the desert scorched earth area and compared everything to earth. Coincidence?
Hell no. This entire incident shows that the powerful CIA is rolling its favorite project in Syria towards the exit (It's worth noting that ISIS has never been a self-financing corporate franchise earning over a million bucks a day by selling oil, as Western propaganda tries to present This is all part of the "smoke screen" used to conceal the fact that the allies from the Gulf and, probably, the CIA's "secret operations" fund these hateful maniacs).
In any case, the Russian intervention forces Washington to rethink its policy towards Syria. While Kerry is making significant efforts to stop hostilities, Obama
is trying to make such policy adjustments that would please his critics from the right, without provoking a confrontation with Moscow. It's a real tightrope walk, but the White House PR team believes they can do it. Here's what it says
the news
broadcaster NBC:
"Defense Secretary Ash Carter today acknowledged that the United States openly" is launching direct actions on the ground "against ISIS forces in Iraq and Syria."
In a statement at a hearing in the Senate Armed Services Committee on Tuesday, Carter said: "We will not refuse to support capable partners in flexible offensive actions against ISIL ... as well as from direct conduct of such operations - be it air attacks or direct action on earth. "
It all sounds much worse than the actual situation. In fact, Obama does not dare to escalate, as hawks demand from him (like Hillary Clinton and John McCain). There will be no "security zones", "no-fly zones" or any other provocations capable of unleashing a bloody conflict with Moscow. Obama is trying to find the best available strategy to save the face, which will allow him to retreat, without incurring the wrath of Washington instigators of war. This is not an easy task, but Secretary of Defense Ash Carter has proposed a plan that may work. Here is a quote from The Hill:
"Defense Secretary Ash Carter on Tuesday introduced new options that the US military plans to increase pressure on the Islamic State of Iraq and Syria, and this happens after months of criticism that the presidential administration has been subjected to for not doing enough to defeat this terrorist grouping.
"The changes we are proposing can be represented in the form of the three letters R - Raqqah, Ramadi and raids," said Carter, speaking at a hearing in the Senate Armed Services Committee.
First of all, Carter said that the United States-led coalition against ISIS plans to support moderate Syrian forces in their attack on Raqqa — the stronghold of this terrorist group and the administrative capital.
The US Secretary of Defense also noted that he hopes for a new way of equipping the Syrian Arab coalition, consisting of a dozen different groups.
"If the old approach was aimed at training and equipping completely new forces outside of Syria before sending them to participate in the hostilities, then the new approach is to work with experienced leaders of those groups that are already fighting against ISIL, as well as providing them with equipment, organizing certain training and air support for their operations, "he said.
According to him, the coalition intends to strengthen its operations from the air and increase the number of American aircraft, as well as aircraft of other members of the coalition. In addition, it is planned to increase the number and intensity of air strikes.
"This will mean delivering, as our exploration improves, more strikes directed against significant targets for ISIL, including its oil refineries, which are crucial elements of the ISIL's financial structure," said Karte.
Do you see something new in this? It's just a dummy, isn't it?
Are they going to strike at "more important targets"?
Be crazy, what an important thing. This game plan existed right from the start, didn't it? Of course it existed.
All this shows that Obama simply pulls time, hoping that he will be able to keep this mess in the background until the moment when his term expires and he will agree on the terms of the first large-scale publication of his book. The last thing he wants is to be drawn into rivalry with the Kremlin in the last year of his presidency.
Unfortunately, the problem that Obama will face is that Putin cannot just turn off the military machine by pressing a button. Moscow took a long time to decide on intervention in Syria. In addition, it took her a long time to gather the necessary forces, create a coalition and develop a battle plan. The Russians do not take the war easily, and now that the ball is already in the game, they do not intend to stop until the work is completed and most of the terrorists are destroyed. This means that in the near future there will be no cease-fire. Putin needs to demonstrate the following: if Moscow sent its forces, it will save them until victory is achieved. This victory can only be in the form of "the liberation of Aleppo" and the subsequent closure of the Turkish-Syrian border. But Moscow may have some other goals on its mind. And all this is not least a matter of persuasiveness. If Putin steps back, starts to hesitate, or shows even a minor hitch, Washington will take it as a sign of weakness and try to take advantage of it. Therefore, Putin has no choice but to go this way to the very end. At the very least, he needs to prove one thing to Washington: if Russia participates in something, it will win.
This is exactly the message that Washington should hear.