The head of the National Bank of Ukraine hurried to please the American partners with the incredible success of the Ukrainian economy. If you believe Valeria Gontareva, the country's economy has stopped falling (apparently, there is nowhere else to fall) and has shown a one percent increase. The statement about economic growth, which ordinary citizens of Ukraine perceived, to put it mildly, with bewilderment, Gontareva made during a meeting with representatives of the ATP (American Chamber of Commerce) - they say, no one will check it anyway ...
At the same time, Gontareva added that the 2015 forecast for the year remains disappointing - the country's GDP will drop by 11,6%. This is reported by the portal.
"Correspondent"
. In general, it turns out that the Ukrainian economy is falling, growing ... This is a new achievement of the Ukrainian National Bank, headed by Valeria Alekseevna. New Peremoga! ..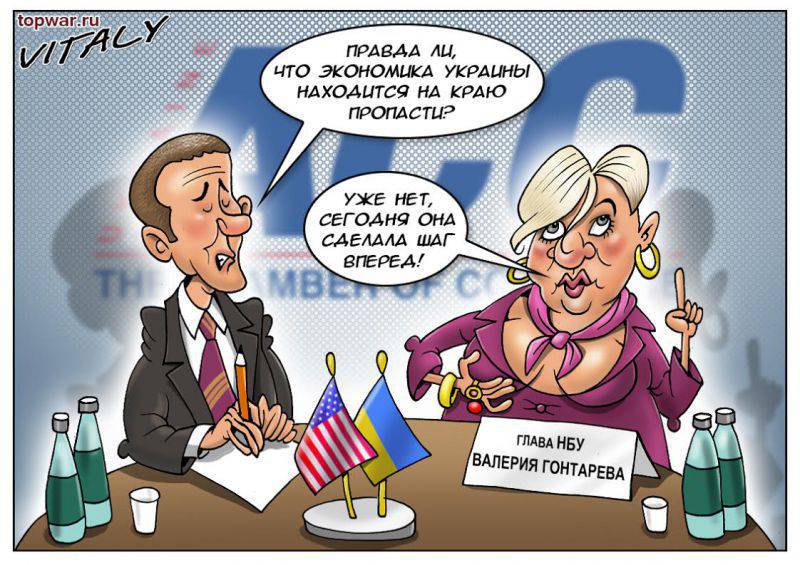 And at the same time in Russia ... Deputy Head of the Federal Migration Service Vadim Yakovenko said that there are more than 600 thousands of Ukrainian citizens in the territory of the Russian Federation, violating the regime of temporary stay. According to Yakovenko, those who have Ukrainian passports and are not residents of the south-east of Ukraine, destroyed by civil war, in a month may face an administrative penalty, up to a ban on future entry into the territory of the Russian Federation. At the same time, it is especially emphasized that not all citizens who violate the regime of temporary stay in Russian territory, heeded the recommendations of the FMS and requested refugee status or permission to work in Russia.
If even a part of Ukrainian citizens who do not want to get a work permit, and actually staying in the Russian Federation illegally, will return home, then for Gontareva and other representatives of the Ukrainian authorities this will become a superfluous headache, since they (returning to Ukraine) risk to replenish the already an impressive army of Ukrainian unemployed.