Over the next six months, inspectors of the military police will take training courses on the possession of special means, the most powerful of which is the multifunctional complex OCA, created by Tekhmash holding, which is part of the Rostec State Corporation.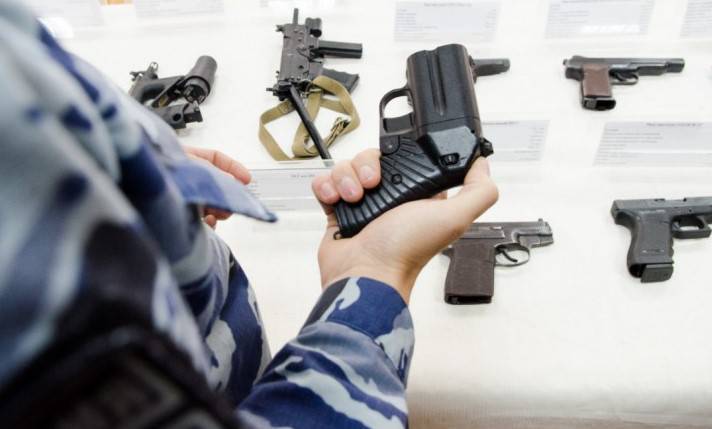 The non-lethal pistol-free pistols "OCA" of the PB-4SP model, specially developed for the needs of law enforcement agencies, were manufactured at the FNPC Applied Chemistry Research Institute, which is part of the Tekhmash, and delivered to the 2013 units in the 2014 – 919 years.
"The OCA complex is very easy to operate, and its application is not difficult for people who have completed a basic pistol shooting course," said Artyom Muranov, head of the department for foreign trade, marketing and marketing of civilian products and pyrotechnics. - At the same time, the task of "OSY", as well as any special means of this type, is to stop the criminal, while causing the least possible harm to his health. It is this aspect that will form the basis for the training of representatives of the military police. "
The right to use special equipment Russian military police received after the approval of the relevant Charter in March 2015. The PB-4SP model chosen by the Ministry of Defense has been in service with the Ministry of Internal Affairs of Russia for more than ten years and has proven its effectiveness. This product differs from the civilian pistol "OCA" by an enlarged cartridge cartridge, designed for the 18,5x60 cartridge, as well as by an improved open aiming device. These features make it possible to conduct aimed shooting from a distance of 25 meters.
"The OCA pistol allows for the shooting of traumatic, light-sounding and irritating ammunition," A. Muranov noted. - So far, the Ministry of Defense has purchased only traumatic cartridges. This is a normal practice, because before purchasing new types of ammunition for special equipment, it is usually necessary to practice their tactics. The Interior Ministry, for example, adopted the signal and lighting cartridges only two years after the start of operation of the pistol. "
In addition to Russia, the Osa complex is in service with law enforcement agencies of Belarus, Armenia, Israel, the United Arab Emirates, Saudi Arabia and the Czech Republic. The police and penitentiary bodies from the USA, Brazil, South Africa and Germany are showing interest in its purchase.
Such popularity in the world is associated with a combination of high economic (the Ministry of Defense each "OCA" cost 15 thousand rubles, which is at least twice lower than the cost of foreign analogues) and the quality characteristics of the gun. The latter is evidenced, in particular, by the fact that OCA was recognized by the NATO Commission DAT-11 as the best non-lethal means in the category "Means for neutralizing individuals or groups".