An expanded meeting has begun in the Austrian capital, at which it is planned to discuss the Syrian issue. During the meeting, various countries, including regional Middle Eastern players, will offer ways to find the optimal solution to overcome the Syrian crisis. Delegations of such countries as Russia, China, Iran, USA, Britain, Egypt, Qatar, Iraq, Saudi Arabia, France, Germany, Lebanon, Oman, Turkey, Jordan, etc. take part in the Vienna Conference on Syria. UN.
On the initial stage of the negotiations reported in
Facebook
Russian Foreign Ministry spokesman Maria Zakharova (not without a hint of irony):
In Vienna, launched a multilateral meeting on Syria. Which countries as a result were invited by Washington and accepted the invitation can be recognized by flags.

Despite the overwhelming statements of the White House spokesman, made the day before, that "as they further deepen into the internecine quagmire in Syria, the Russians find that their only friends who are ready to fight with them are the floundering Syrian Government and the Iranian regime" , the American organizers put Lavrov in the center of the table next to Kerry, who immediately began to whisper something to the "Russian outcast."

As for the American approach to international relations, I follow a clear trend: from dualism to bifurcation. On the one hand, they say to the whole world every day that "Russia is isolated very seriously" (from the same White House statement). On the other hand, they are trying in every possible way to jump onto the wing of a Russian fighter flying away into the Syrian distance. Although it is necessary to jump - the door of the information center in Baghdad is open to everyone, including Washington.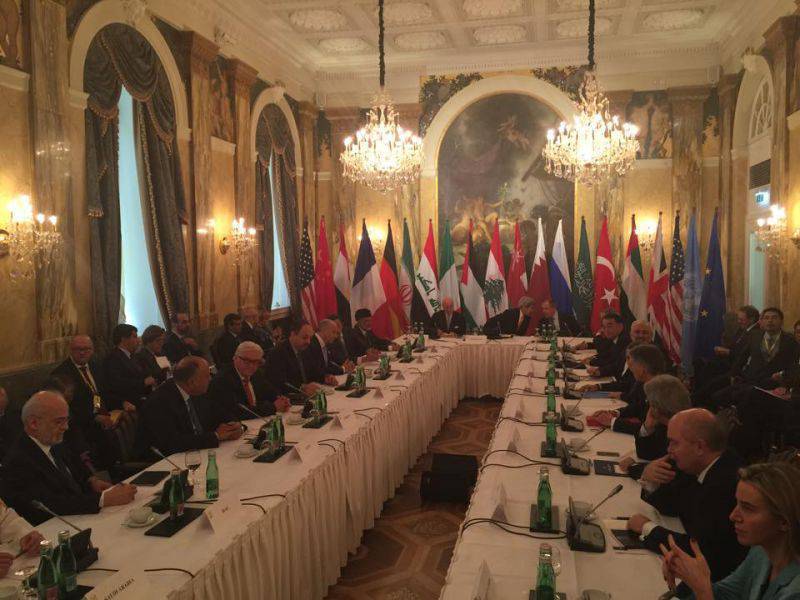 Two American flags draw attention to themselves ... At the same time, the flag of Syria itself is not found in the photo.
Before discussing the Syrian theme in Vienna, Russian Foreign Minister Sergey Lavrov met with an Egyptian counterpart, which is what he called, checking the clocks on Middle Eastern issues.