The policy of the Turkish authorities in relation to Syria needs to be revised, Turkey and the Russian Federation could become partners in the fight against the "Islamic state", reports
RIA News
Statement by the head of the country's opposition party, Kemal Kilicdaroglu.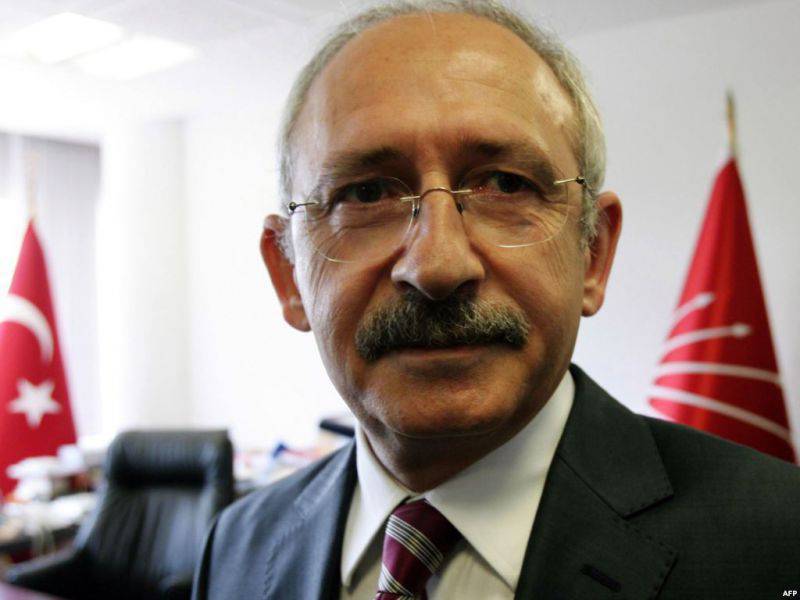 "Turkey, which is already 63 of the year in NATO, is the dominant country in the region. We want this power to be used for peace and tranquility in the region. From this point of view, the strategy (the first president of Turkey, Kemal Atatürk) "peace in the country - peace in the whole world" is the main road map, which is directed to the interests of all countries in the region. We should consider our relations with the Russian Federation from the same point of view ... One of the foundations can be cooperation in fighting the IG, "said the leader of the Republican People's Party.
He criticized the policy of the ruling Justice and Development Party (AKP) against the SAR.
"The AKP leads a policy based on fantasy and utopia towards Syria. This policy has damaged our national interests and deepened the humanitarian catastrophe in Syria, with which Turkey has the longest border. We believe that this policy should be radically changed ",
said Kylychdaroglu.
He stressed that the US-Turkish training program for the Syrian opposition failed.
"We warned that trained fighters of moderate opposition could go to the side of the IG. That is exactly what happened. Most of those trained in Turkey, having barely crossed the border with Syria, surrendered to
weapons
IG and other terrorist organizations. Obviously, the Syrian crisis in this way cannot be resolved. And everyone already understands that it is necessary to change the strategy and take other steps, "Kılıçdaroлуlu concluded.