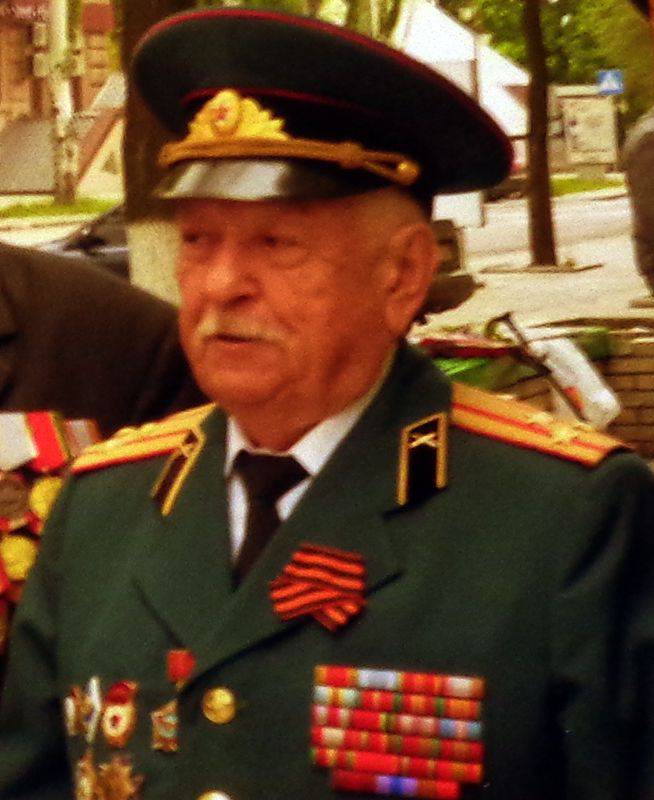 When the Day of Liberation of Ukraine from the Fascist invaders was celebrated in the DPR, in Ukraine itself the first person unceremoniously insulted that Victory, comparing the veterans with the current punishers tormenting the Donbass. However desecration
stories
Kiev junta is manifested not only in this. There are even more sinister signs of new fascism than the speeches of a half-drunk non-presidential. So, anyone who carries the Red Banner of Victory, who dares to put on the St. George ribbon or walk down the street in a T-shirt with the inscription "USSR" can be beaten and arrested.
But even in such incredibly difficult conditions there are people who still come out with great symbols that have fallen under a monstrous ban. In particular, they are representatives of the Union of Soviet Officers. So this time, in honor of the 71 anniversary of the liberation of Ukraine, as reported from the occupied Kharkov, courageous representatives of the older generation came to the Memorial of Glory. They brought flowers and were not afraid to take the banners of Victory.
The Union of Soviet Officers also operates in the Donetsk People's Republic. And heads the Donetsk city organization of the Union - a retired colonel
Edward B. Lyubimov
who saw the war as a boy. He also personally participated in the international assistance to the friendly people of Cuba.
Edward Borisovich agreed to talk about his military childhood, and about the subsequent service for the benefit of our united homeland - the USSR, and, of course, about the current events in the Donbas.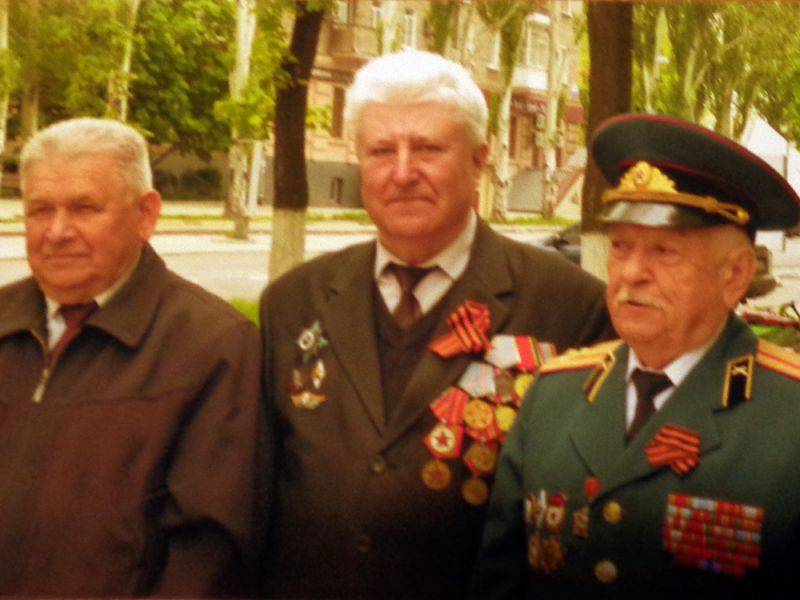 - You belong to the generation of "children of war." Please share your memories of that time.

- I was born in Baku. My father worked in the NKVD of Azerbaijan, and in September 1939 was sent to Lviv. In October, or a little later, he took us there. And until the beginning of the war, our family lived there. I studied at the Lviv 1 school. War met in the same place in Lviv.
It so happened that my mother was sick and was in Georgia. And on June 21, 1941, my father told us to immediately get ready and ready to leave. He said that you need to take only the most necessary with you.
My grandmother and I urgently put together the knots. And on the morning of 6 on June 22, I ran to a friend - we lived on the same street. And suddenly we heard the explosions and saw that they were bombing a military unit, the post office. I rushed home. He stumbled in a hurry, badly hurt himself. Grandma ohala-ohala because I was covered in blood, and she thought that I was hurt. We went down to the basement.
The next day, a car drove up, a "lorry", a sergeant came out, took me and my grandmother. And we went, and the Germans continued to bomb at this time. We turned up at the station Pazamche, near the High Castle. This is a secondary station there was not even a train station. The memory has gravel, railroad tracks and six passenger cars. People flocked there — mostly women, old people, children. Of course, there was anxiety, but children are children - they found something for themselves. At that time, from the bell tower - as I remember it - the shooting of a machine gun at the group of people that was in the carriages began. I am sure that they were Bandera - they were already acting then. I do not think that the Germans from a military point of view needed this action against the civilian population. There were victims. When we got into the carriage, there was a woman next to us, who had two children killed during this raid. She went insane on the way. She landed somewhere in front of Kiev.
My mother, just like her father, went to the front. And in 1944, when Lviv was liberated, she went there and a month later called us.
Worked mom in the City Executive Committee. She often told her grandmother about the atrocities of Bandera, and I heard it all.
Here is one of the episodes. The supply manager worked in the Executive Committee of the City Executive Committee — a Ukrainian, and his wife was a Polish girl. At night, Bandera came to them and asked the woman to tell her where their child was. And they hid the child to save from reprisals. And right before this man's eyes, they tortured his wife. Then she was killed, and he was told: "We freed you from the Poles."
I remember how we buried the pioneer leader. She was strangled right at school with a pioneer tie.
I have to Bandera - disgust and hatred. And I thought - if they come into a house, a room with two trunks, a doublet, without any regret.
What is happening in Kiev? All these Yarosh today preach the real Nazism. They are no different from those of Bandera, who acted then, in the forties.
- Can you tell about your participation in the events called the Caribbean crisis? After all, all of this, in essence, is the struggle with the same enemy ...

- I like the operation that our country carried out then. And not only because I was there. The Americans were extremely discouraged by the fact that the Armed Forces of the USSR were right under their noses. And our country helped the people who gained independence. I am proud of it.
The US aircraft carrier was on full alert. And we - air defense-shniki, and our task was not to allow raids. We shot down one US aircraft, this is described in the American film Thirteen Days. The world was on the verge of a nuclear catastrophe. Then many Americans fled from Florida headlong - they thought we would get them. And would get it if needed. True, the forces were unequal, and we understood that.
These nine months we spent there left an indelible mark on my life. Of course, it was not easy for us in the jungle, where a lot of insects, everything creeps, bites. It was just flour. Often had to eat borsch with worms, throw them out with a spoon. Cigarettes were stored in zinc boxes from under cartridges. There, it seems, everything is tight, but open - and in tobacco there are worms. All this was hard to endure. But they got used to it, performed their tasks.
Relations with Cubans were fraternal. It happened that we intersected with them in some cafe or other institution - and they all sang "Moscow Nights" in choir. They tried to sing in Russian.
I admired how the Cubans worked with strong heat, chopped sugar cane. And our country helped them. Nikita Sergeevich ordered to make combines for them. They were not entirely successful - there were difficulties when working in Cuban climatic conditions. But the Cubans finished them themselves, and then began their own production.
The people with our help won freedom. And the fact that they were not previously free was evident from the way Americans treated their women. Roughly speaking, the Americans previously perceived Cuba as their brothel. There are beautiful beaches, and the Cubans are very beautiful. Many of them were prostitutes.
For example, there was such a famous financier - DuPont. He had a two-story house in Varadeo, 24 rooms. And there he went to have fun in secret from his family. And so did many Americans.
When Fidel came to power, he obliged all prostitutes to work for the good of Cuba. Those who refused, - exiled to the island of Pinos, where the work was for them. By force, not by force, but I think it was right.
I am proud that our country then "killed two birds with one stone" in one fell swoop. First, they slipped a good barrel to the Americans, who behave arrogantly towards other states, and the USSR feared. They deployed military bases around our country - and suddenly Soviet troops appeared right under their noses. Well, and secondly, we saved Cuba.
We have a society of those who served there. The Cuban ambassador gave us a flag of his country, and we are going to rallies.
We left there after we trained the Cuban division. I remember how the Cubans all the time wanted to steal the station key from us. Because American planes periodically violated the borders of Cuba, and they wanted to shoot them down, but we did not allow them. Then, when we left, they betrayed all the stations, all the equipment. I gave my Makarov pistol to one Cuban captain and asked to remember us.
- It so happened that you are now witnessing a new war. And the descendants of those who then committed atrocities in Lviv, now came to kill the residents of Donbass. How did you meet this war?

- For me it was unexpected. I never thought that could happen. I understood from the very beginning what Yarosh and his team are. But he also treated Yanukovych badly, because he repeatedly demonstrated his cowardice. I was not surprised when he escaped.
Maidan made me anxious from the very beginning. I saw how the Nazis go to power, how Yanukovych is maneuvering. I was stunned by the mockery of the "Berkut" when the guys poured gasoline over them and set it on fire. At the same time, Yanukovych did not hit his finger. Why did he make concessions to the West? Why did he overlook the fact that nationalists were taught in the Carpathians? And so they seized power. It turned out that no one wanted to defend the previous government. We didn't want, because we didn't respect, and they themselves didn't protect themselves, because they were afraid.
I am surprised that Europe, on its own skin has experienced Nazism, which was condemned in Nuremberg, is suddenly loyal to the manifestation of Nazism in Ukraine. Maybe Yanukovych looked like a gangster to them, but they allowed even big gangsters to power. I could not look at it - Yanukovych signs all the agreements, and the next morning they are looking for him to shoot.
And where was Mrs. Merkel, where is Hollande, where are the representatives of Europe? She is now giving birth to new fascism, as Hitler gave birth in 1933 year.
I participated in the events in Donetsk from the very beginning - from the first rally, which took place on Lenin Square. Seen how sincere people were. There were 70 thousand people in the square. We have a million city, but thousands of us never had 70 thousands. Is that the May holidays in the Soviet era ...
And all these 70 thousands shouted "Russia, Russia". Appealed to Putin. Hoped that everything will be resolved peacefully. But it did not work out. And when it became clear that that side was ready to begin hostilities and destroy everyone - the assault of the Regional State Administration, the Security Service of Ukraine, the seizure began.
weapons
and resistance.
- You live in a relatively quiet area. However, as far as is known, they also flew here. And the school located here got ...
- Yes, banged here well. In addition, sabotage groups operated on Leninsky Prospekt. We have a Mariupol highway here, they have repeatedly broken out of it. They were destroyed. During this time, burned three enemy vehicles.
- How do you see the future of the Donetsk People's Republic?

- I would like to be with Russia. But, judging by the latest statements by the Russian leadership, we see that Moscow would like to see us in Ukraine as a force that could withstand the enemies.
I often think about Russia, about my beloved Russia ... I really love Yesenin, I love Russian birch trees ... I see that the future is very difficult. To resolve the situation without shifting the existing government in Ukraine is impossible.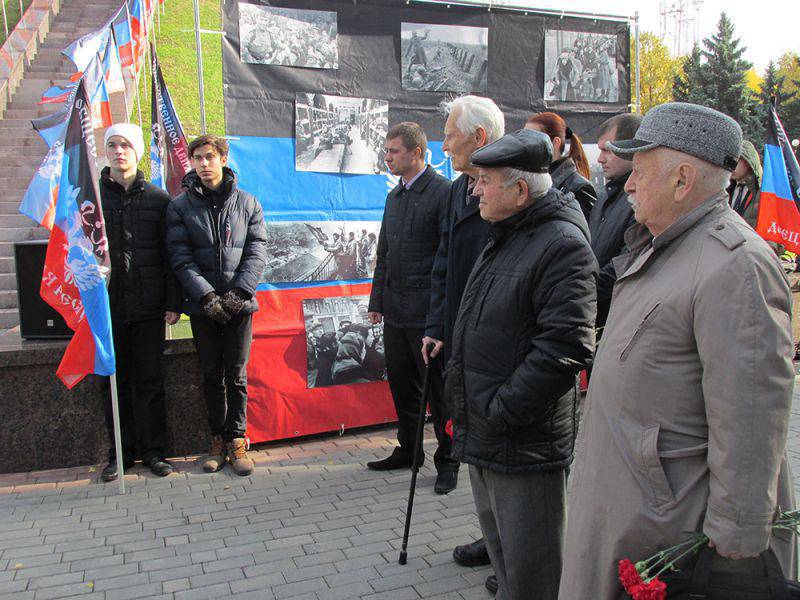 Edward Borisovich at a rally in honor of the Day of the liberation of Ukraine from fascism
(Especially for the "Military Review")