His first flight was made on Tuesday by a heavy transport helicopter CH-53K King Stallion, reports
Look
with reference to the press service of the company Sikorsky.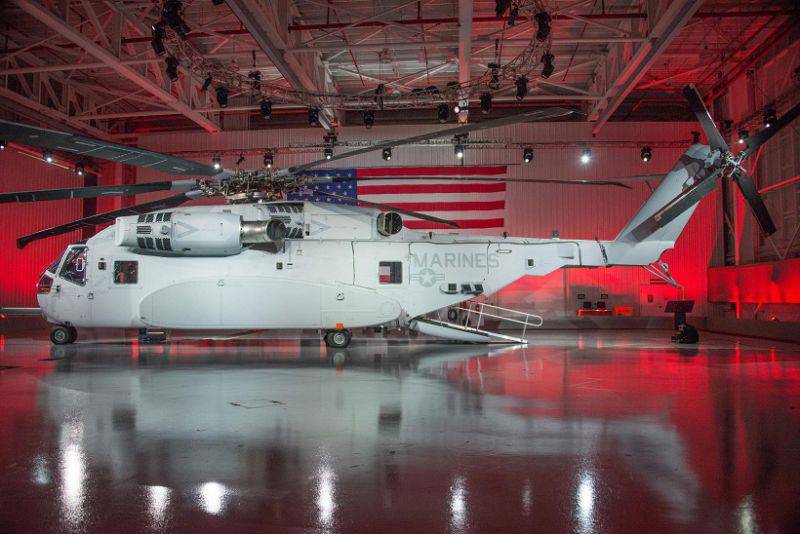 "The first prototype of the machine, designated EDM-1, took part in the tests. The duration of the first flight of the helicopter was 30 minutes, "the release says.
"During the first flight, the heavy transport helicopter performed a hangup, as well as flying sideways, back and forth. In addition, the stability of the machine when hovering at the height of 9,1 meter within the limits of the earth pillow effect, that is, the air currents reflected from the earth surface from the rotor, was checked, "the press service told.
Flight tests will be continued, already 4 machines will participate in them. "The helicopter flight test program is scheduled for three years. A total of four helicopter prototypes must spend at least 2 thousands of hours in the air, "the company said.
According to the developer, "the maximum take-off weight of the CH-53K helicopter will be 39,9 tons, the flight range is about 840 km, the speed is up to 315 km / h, it can carry up to 55 people, the crew is 5 people (2 pilot and one arrow from both boards and tail compartment) ".
Developed with the 2006 g, the machine is "a deeply modernized version of the modern CH-53E Super Stallion and equipped with three GE38-1B turboshaft engines."
The first helicopter will go to the US Marine Corps, which plans to acquire 200 machines of this type.