The government of Moldova, headed by Valeriu Strelet, has now been dismissed. The majority of the Moldovan parliament deputies voted for this decision - 65 from 101. Under the walls of parliament, citizens of the country demanded the immediate resignation of the cabinet, which, in the opinion of the population, does not take any measures to improve the economic situation in the country. The rally was held under the slogans "Down with the government!" And "Thieves should be in prison!"
TASS
quotes the leader of the Moldavian socialists, Igor Dodon, who is also one of the organizers of protest actions in Chisinau:
We have achieved the inclusion in the agenda of a resolution expressing a vote of no confidence in the government, which has no confidence from the people. This is our victory with you, this is the first result of our indefinite protest, which has been going on for more than a month now. We will go further and achieve early elections.
A crowd of thousands of people gleefully greeted the news that parliamentarians decided to dismiss the government. It should be noted that the government of Valeriu Strelet has positioned itself by pro-European force, which declared that integration with the EU would be soon.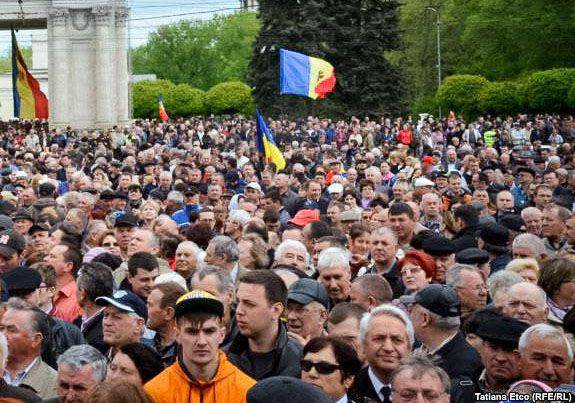 The protest action in the capital of Moldova began about a couple of months ago, when people learned about the embezzlement of gigantic funds for the Moldovan economy from the country's banking sector. According to some reports, it was about a billion US dollars.
It is noteworthy that in addition to the socialists in favor of integration with Russia and the EAEU, "democratic" forces also took part in the protest, saying that the current Cabinet "compromised the idea of ​​rapprochement with the European Union."
The government of Valeriu Strelet (Liberal Democratic Party) has worked in Moldova since July 2015. Moldavian previous prime minister Kirill Gaburici resigned on June 12 after he was accused of forging a higher education diploma.
Deputy Prime Minister Dmitry Rogozin commented on the resignation of the Moldova Cabinet of Ministers on Twitter:
I do not have time to get acquainted with them