With respect to the director of the library of Ukrainian literature in Moscow, Natalia Sharina, the Investigative Committee of the Russian Federation decided to initiate a criminal case. According to investigators, Sharina violated Russian legislation by distributing extremist literature. From the message of the official representative
SC RF
Vladimir Markin:
The investigating authorities of the Main Investigation Department of the Investigative Committee of the Russian Federation in the city of Moscow opened a criminal case against 58-year-old Natalia Sharina, suspected of committing a crime under paragraph b of Article 2. 282 of the Criminal Code ("Incitement of national hatred and hostility, as well as the humiliation of human dignity").

According to investigators, in 2011-2015, the director of the Library of Ukrainian Literature Sharin, who is an official, in violation of the Federal Law "On Counteracting Extremist Activities", distributed to the public the book publications of Dmitro Korchinsky recognized by the court as extremist materials and prohibited for use.

As part of the investigation of the criminal case in the said institution, located on Trifonovskaya Street in Moscow, investigators of the Main Investigation Department together with operational services conducted a search, during which printed materials containing appeals for anti-Russian and anti-Russian propaganda were seized.

Currently, the investigators have prepared a petition for election in relation to the suspected preventive measure in the form of detention. The investigation continues.
A considerable number of publications on searches in the library of Ukrainian literature in Moscow have appeared in the Ukrainian media. So, in the publication
"Comments"
Under the guise of "pogroms" in the library published photos of the premises after the earthquake in New Zealand: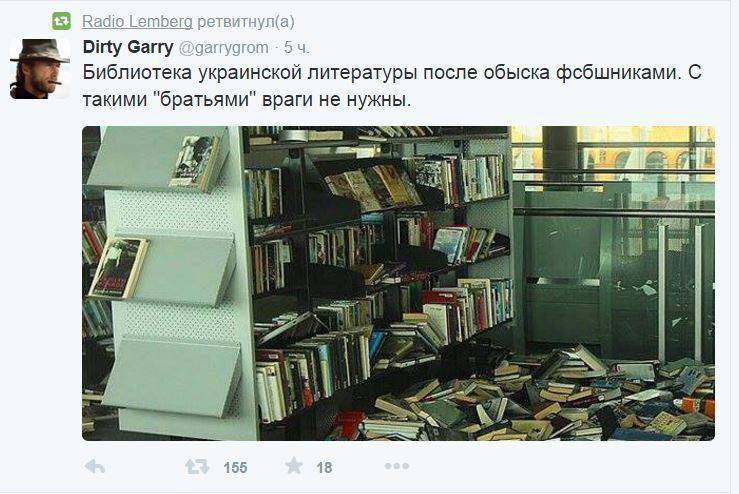 This and other similar fake photos quickly scattered across the Ukrainian segment of social networks. It is surprising that the following was not provided as a photo of searches in the library: