The newest oceanographic vessel "Yantar" on Wednesday arrived in the Northern Fleet, completing the transition from the Atlantic Ocean to the Kola Bay, reports
Look
with reference to the Ministry of Defense of the Russian Federation.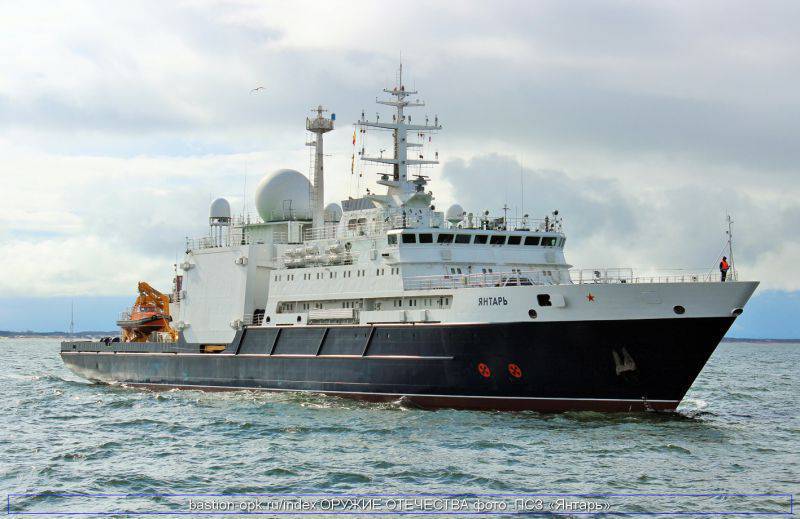 "Today, the newest oceanographic research vessel Yantar arrived in the Northern Fleet, completing the transition from the Atlantic to the Kola Bay," the release said.
Vladimir Korolyov, Commander of the Federation Council, who took part in the solemn meeting, stressed that the fleet "was replenished with a unique research vessel of a new generation, which, according to a complex of technical means, has no analogues in the world."
He noted that "the technical capabilities of Yantar will increase the hydrographic and research activities of the North
fleet
in the oceans, and especially in the Arctic, to a new qualitative level. "
Earlier it was reported that American reconnaissance aircraft, ships and satellites are closely watching the "Yantar", whose course took place near the base of US submarine missile carriers. As one of the representatives of the Pentagon said, "the ship is disturbing because it is equipped with deep-sea tracking devices and equipment for cutting cables".
According to the developers (KB "Almaz"), "the ship has no analogues in the world and is intended to study not only the thickness of the oceans, but also its bottom." According to them, "for these purposes, the vessel is equipped with deep-sea habitable vehicles capable of sinking to a depth of more than six kilometers, in addition, Yantar can be used for rescue purposes, its equipment allows searching for sunken objects on the seabed and ocean floor".
The displacement of the vessel is 5,2 thousand tons, the length of 108,1 m, width - 17,2 m. Launched in 2012 g, was included in the Navy in the 2015.