The EU Statistics Committee has published an increase in the number of refugees who are flocking to Europe from Africa and the Middle East. For the reporting period, the time elapsed from January to August is taken. The Committee reports that during this period of the current year, in the EU countries, refugee status was requested in 2 times more than in the same period of the past year. Since the beginning of the year, more than 800 thousands of applications have been submitted. Similar figures are presented in the United Nations High Commissioner for Refugees, but we are talking about the countries of the whole continent - not only the countries of the European Union. This is reported by the Times newspaper (translation
TASS
):
The total number of applications for refugee status in 38 European countries this year ranges from 60 to 115 thousand per month on average. Last year, from January to August, 397 needed thousands of people to provide asylum in Europe, for the same period this year, thousands of people turned to the authorities of European countries with a similar demand.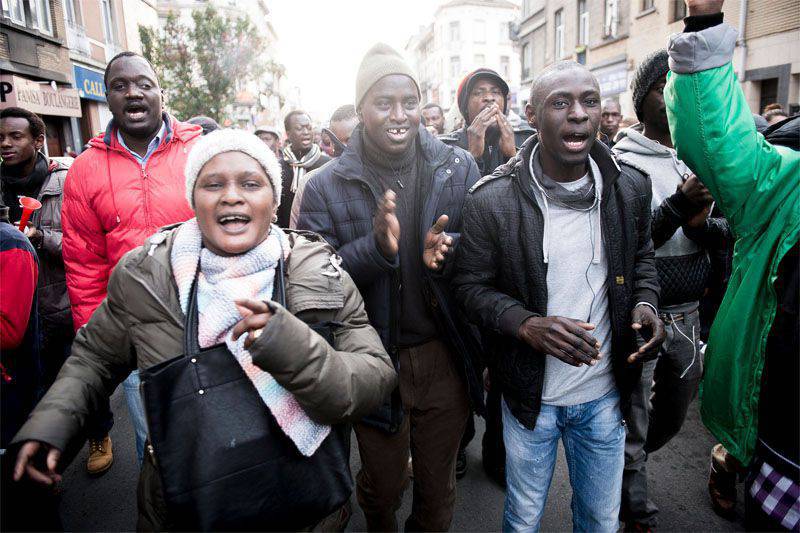 But these are the ones who submitted the application. At least as many refugees travel around Europe, failing to apply for official refugee status.
The largest number of refugees is recorded from Syria, however, it is also known that, for example, in Turkey a criminal service is available for forging passports, which turns a refugee, for example, from Pakistan into a Syrian ...
A number of EU countries abandon classical Schengen freedom and start full border control even at the internal borders of the EU. From countries outside the European Union, and completely fenced off with barbed wire fences. The Slovenian government decided to go even further and announced its readiness to build a fence on the border with Croatia, which is also part of the EU. Slovenian Prime Minister Miro Tserar quotes Tass:
Slovenia is ready immediately today to begin the construction of technical barriers on the border with Croatia. Our citizens need to be protected from the uncontrolled flow of migrants arriving in the country. And I will do my best for this.