The leadership of Montenegro continues to insist on the involvement of the Russian Federation in protest actions conducted by the opposition of the country, reports
RIA News
with reference to the press service of the Montenegrin government.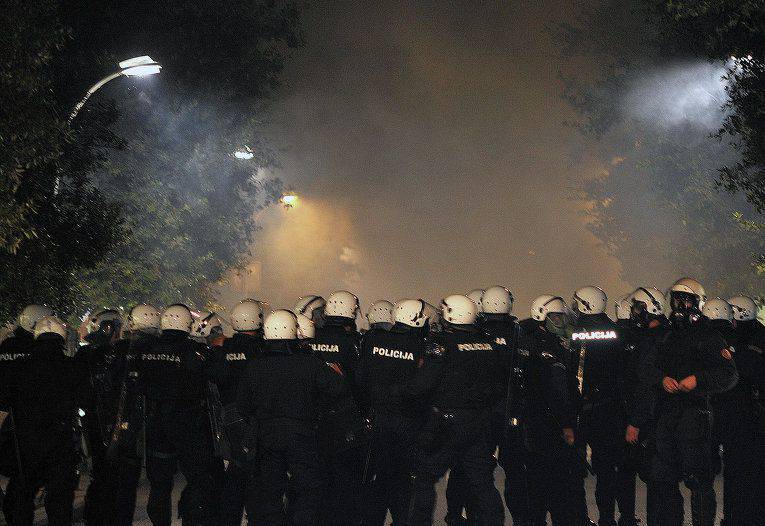 So the Cabinet responded to the statement of the Russian Foreign Ministry about the Saturday clash of demonstrators with the police in Podgorica. Protesters accuse the government of Djukanovic of corruption and demand his resignation.
"A statement by the Information and Press Department of the Ministry of Foreign Affairs of the Russian Federation, which expressed concern about the allegedly excessive force against the" peaceful demonstrators "without reminding that these" peaceful demonstrators "were throwing the police with" Molotov cocktails "and trying to force parliament and make a coup, as reported by numerous world media, only confirms the validity of the statement of the Chairman of the Government Milo Djukanovic about Russia's intervention in the protests against NATO ",
- said in a release.
In the past few days, Djukanovic made several statements accusing Russia of inciting the opposition to take action.
"Deep bewilderment was caused by the unfounded statements of the Prime Minister of Montenegro M. Djukanovic, who accused Russia of provoking protest speeches in Podgorica, of encouraging clashes between opposition forces and the police," the Russian Foreign Ministry said.
"Djukanovic did not provide any concrete fact of alleged Russian involvement in the exacerbation of social tension in Montenegro, and he couldn't imagine it, because there are no such facts," the statement says. "His goal is obvious - to disclaim responsibility for the escalation of the confrontation in Montenegro, although the root cause is on the surface: this man completely ignores the opinion of a significant part of Montenegrin society."
"It is difficult to assume that the statesman, who has been in power for so long, does not realize the whole background of the aggravation of the situation in his country. Of course, aware. Moreover, he probably knows why he is forced to repeat absurd statements that only NATO membership will ensure the independence of Montenegro, "the ministry said.
"As for Russia, we are really concerned, but not with the choice that the Montenegrin people should freely make, but with the excessive use of force by the authorities of Podgorica against peaceful demonstrators," the Russian Foreign Ministry stressed.