The head of the Odessa region, Mikhail Saakashvili, announced election fraud in his region and warned the country against slipping "in the times of Yanukovych." Supporters of the Georgian ex-president undertook to organize a protest rally, reports
Ридус
.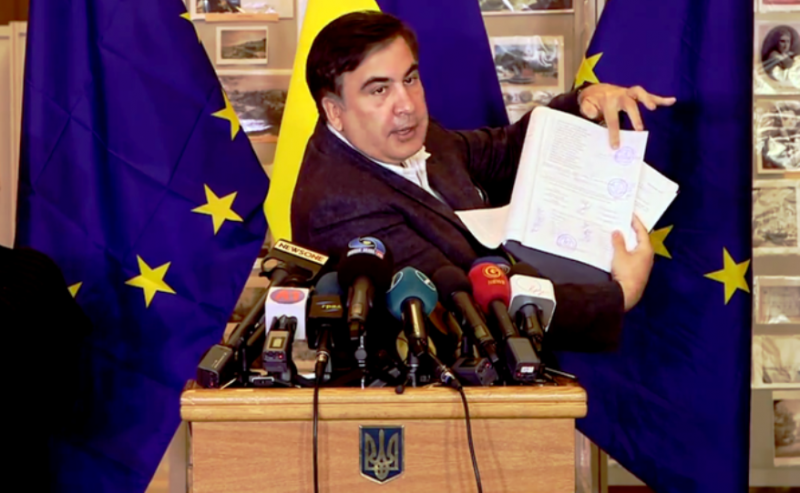 Holding in his hands fake protocols, Saakashvili said:
"In 2004, there was a revolution in Ukraine. Then the election Yanukovych spent one to one on this technology. I was an active participant in the Orange Revolution, and I know well what people were protesting against. In exactly this form, Yanukovych falsified in 2004 in his favor. We are in Odessa in the 2015 year, and then one to one electoral regime, which caused a revolution ... The same thieves and crooks rule everything! "
The fact is that on Sunday, Saakashvili's advisor Alexander Borovik was defeated in the election of the mayor of Odessa. It was bypassed by the acting mayor Gennady Trukhanov.
All the fuss broke out after the announcement of the results. The election commission behind closed doors announced that Trukhanov scored 51,99% of the votes, and his rival Borovik - only 27,7%.
The governor was supported by the head of the Odessa organization Poroshenko's Solidarity, Aleksey Goncharenko, who also demanded an immediate recount of votes.
October 29 district court in Odessa will consider a lawsuit to cancel the results of local elections. Saakashvili and Borovik called on their supporters on this day to go out and hold a protest action outside the court building.