A source in the military-industrial complex (DIC) of the Russian Federation told Interfax-AVN that the production of an experimental batch of Yak-152 training aircraft (TCB), which will be used to train students of the Air Force schools and the DOSAAF system, will be completed by July 2016 of the year.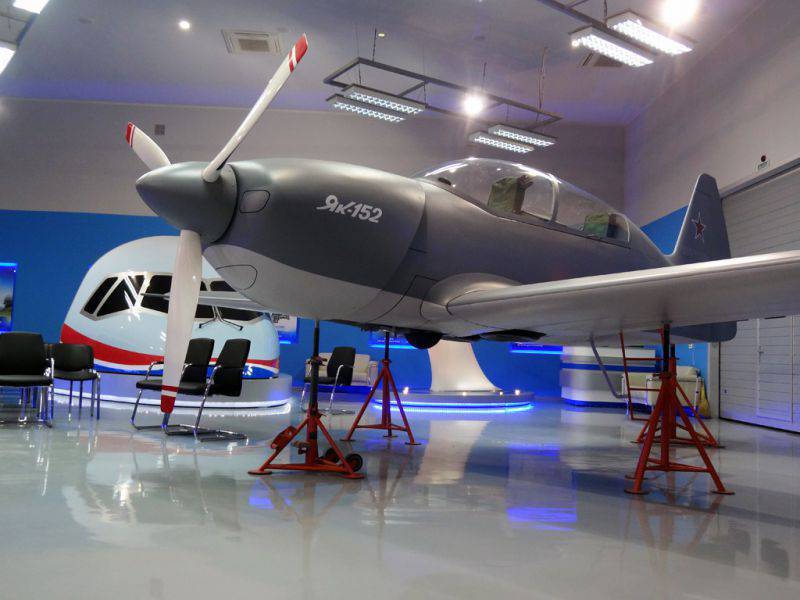 "The first four aircraft Yak-152 pilot batch in accordance with the state contract should be made at the Irkutsk aircraft factory before 30 June 2016 of the year", - leads him to the words
"Military Industrial Courier"
.
The representative of the military-industrial complex noted that the prototype consisted of two Yak-152 aircraft for the flight test program, one for ground-based life tests and one for ground-based statistical tests.
Also source in
aviation
industry said that "the start of mass production of the Yak-152 from 2017 is quite real."
"Today, the aircraft plant in Irkutsk is preparing for the mass production of long-haul aircraft MC-21, compared with the production volume of which, the labor-intensiveness of the production of Yak-152 airplanes is a relatively small share," he said.
According to the source, "the Yak-152 aircraft is needed, in particular, to replace the Yak-52 type aircraft, which currently number 339 copies, of which less than a hundred are in good condition."
Earlier, Deputy Defense Minister Yury Borisov reported that the Russian Ministry of Defense plans to purchase about YN-150 152 aircraft for the Russian Air Force.
This aircraft with a resource of at least 10 thousands of hours and 30 thousands of landings, maximum flight altitude - 4000 m, flight range - 1400 km and maximum speed of horizontal flight - 300-320 km / h, is created according to the results of the competition of the RF Ministry of Defense, which was held in 2014 year