Information Agency
France-Presse
publishes material on the crash of the F-16 aircraft of the Danish Air Force. The article says that the American-made fighter fell into the North Sea, the pilot managed to make a bailout. Now the life of the Danish soldier is not in danger - a rescue helicopter picked him up.
According to preliminary data, the incident occurred due to a faulty chassis.
In the Danish Air Force, X-NUMX F-30 fighters are in service. In connection with the incident, it was decided to suspend flights on these vehicles and conduct a thorough investigation into the causes of the crash.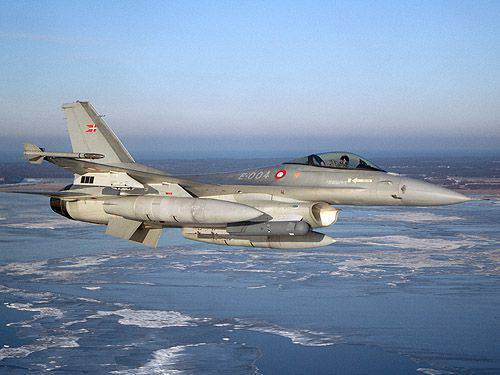 The official representative of the Ministry of Defense of Denmark, Colonel Rex told the media that the plane crash occurred during the exercise. Information Agency
TASS
quotes a statement from Danish Colonel Rex:
The car had a problem with the chassis, and the attempt to carry out the landing was considered too dangerous. A decision was made to control the pilot's ejection.
The crash site of the Danish Air Force aircraft is the waters to the west of the island of Rømø in the North Sea. It is reported that the aircraft "partially sank."