The US military announced their suspicions about the "activity of the Russian Navy in the immediate vicinity of the location of the communication cables of the United States." In the intelligence structures, they also expressed concern, declaring that Russia "could leave various American economic and political structures unconnected."
According to the newspaper
The New York Times
, US intelligence agencies are worried not only about the possibility of complete damage to the cables, but also about the likely interception of signals coming through the cables.
The American publication cites the statement of Rear Admiral of the US Navy, commander of the underwater
fleet
in the Pacific, Frederick Rogge:
I worry daily about what Russians can do!
Interestingly, the rear admiral sleeps even at night? ..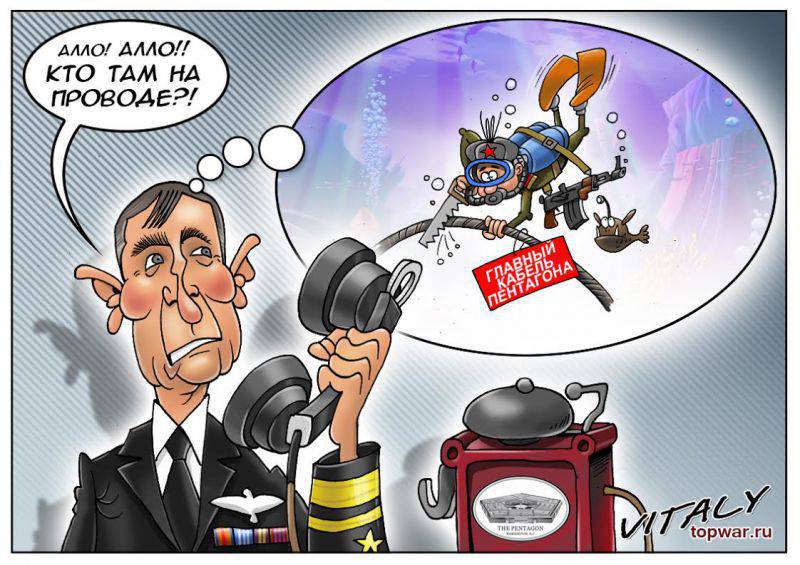 Another representative of the US Navy, William Marks:
This would be a (access to cables) problem, because you can decode signals or fake them. We can not discuss the features, as the information about underwater objects is secret.
"The increase in the level of activity of Russian submarines and surface ships," Americans say in the area of ​​the American military base Guantanamo (Cuba). Washington's greatest concern was the appearance of the 22010 "Yantar" oceanographic research ship in these waters.
The American admiral with a memorable surname Stavridis stated that the United States is faced with "assertive and aggressive examples that bring peace back to the cold war era."
That is, the constant plying of US ships and submarines across the oceans as an aggressive example and element of the Cold War in the United States is not regarded, but the activity of Russian ships was immediately considered. But these are already the personal problems of Stavridis and the problems of the "exceptional" Washington ...