More than ten BTR-82A and BMP-3 have replenished the training and material base of the Far Eastern Military School (VOK), located in Blagoveshchensk. The cadets have already started classes on a new technology, the press service reports.
Ministry of Defense of the Russian Federation
.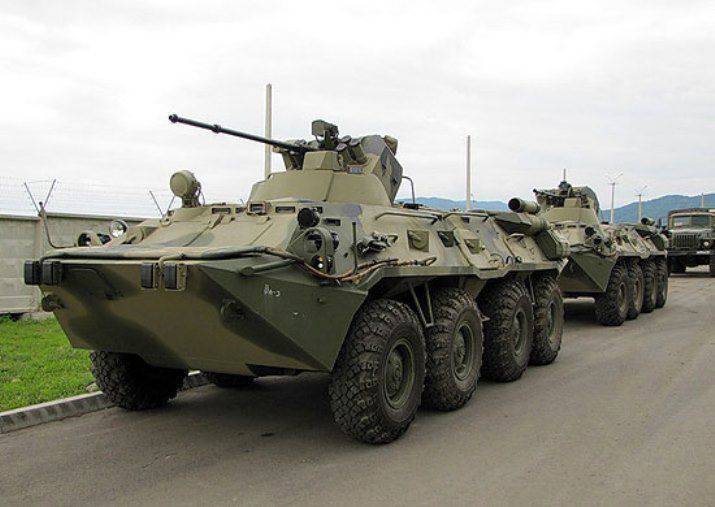 "BTR-82А differs from its predecessor by its increased survivability. Protection of the crew, units and systems of an armored personnel carrier against armor-piercing bullets, as well as against secondary destruction by shrapnel when penetrating the main armor of an armored personnel carrier. The car is equipped with a new radio station, the TRONA-1 topographic system with autonomous and satellite channels for receiving navigation information and a commander's combined observation device, "the release said.
It is noted that the firepower of the machine is "enhanced by the installation of a unified combat module with electric drives and a two-plane weapon stabilizer; as the main
weapons
in the combat module used 14,5-mm machine gun KPVT and paired 7,62-mm machine gun PKTM ".
BMP-3 is also different from its predecessors. "So the front location of the engine and transmission compartment, traditional for BMPs, has been replaced by a stern - by"
tank
"the scheme. Thus, the visibility of the driver is improved, the habitability of the internal volume, the weight is distributed more favorably along the length of the machine," the report said.
According to the press service, the combat vehicle has not its usual quality for its type: "the main armament allows it in some cases to work not only" together ", but also" instead of "tanks". The universal weaponry allows the crew to fight against various targets, incl. by air.
According to the ministry, "for training future officers in the Far Eastern VOK, about a hundred of the most diverse types of armored vehicles are used, including the BMP-1, BMP-2, BTR-80, BTR-80A, BTR-82AM, T-72B, T-72BXNNXX tanks , T-3, T-80 and other samples of military equipment in service with Russia ".