"Messenger of Mordovia"
published an article about the most "secret" aircraft, which is still in service with the Syrian Air Force, the use of which is "the most closed topic."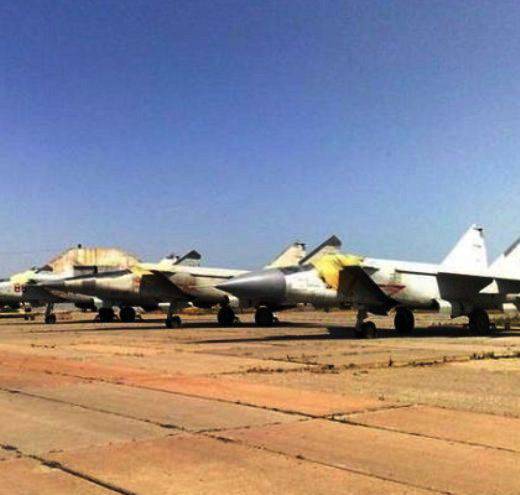 "This is a Soviet MiG-25 aircraft. Developed in 60-ies, he received a baptism of fire in the skies of the Middle East. Then he fought in Iraq and Syria, "the article says.
It is not known exactly how many such aircraft remain in the Syrian Air Force, according to some, there are only 11, according to others, at least 6 MiG-25RB, 30 MiG-25PD and 2 two-seat combat training vehicles. Earlier, a well-known Syrian expert, Yuri Lyamin, estimated the Syrian MiG-25 fleet at almost four dozen aircraft, which were based on
aviation
Tiyas base between Homs and Palmyra.
"MiG-25 was used to reconstruct the positions of militants in the northern and eastern regions of Syria or to patrol the Turkish border," the article notes.
In November last year, a video filmed at Syria's Tiyas Air Force Base (T4) was made public, "it was mostly Su-22 that could be seen, but in addition to the squadron of these fighter-bombers, all T-4 were also based 24MK and MiG-25 ". "A couple of the latter also hit the lens of a video camera," the newspaper notes.
It is possible that even now a certain number of Syrian MiG-25s can be used in combat, the publication concludes.