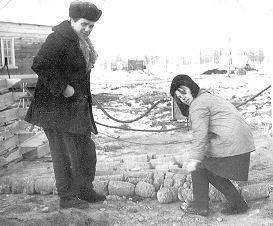 ... the Beast approached slowly. All the long day he followed the boy and now he was sure that the already not heroic prey had already lost the last stronglings. Frozen, tired little boy resembled a disheveled head of cabbage. He wore a lot of clothes on him, all from someone else's shoulder, and besides, he was full of holes - you could sift the flour. And on the feet of sandals. In this cold in boots you can freeze, but this one put on a bast!
And Vasya, meanwhile, was looking wistfully at the black silhouette of a big beast. In the semolina of winter evening, he clearly saw only his eyes - they were very close. Heard already and noisy breathing. "I didn't have time anyway," Vasya thought wistfully. - If I had not lost my way, I would have found my soldiers and saved them. And now exactly the end. Oh, lapatnik, lapotnik! .. "
In the boy's head, the carousel seemed to spin, counting back precious time, like a film strip. In memory flashed pictures from the past ...
Yesterday
Here, the mother quickly wears it, pulls on all the clothes that are in their poor house: the older sister's blouse, Annushka, her father's jacket, and the grandfather's almost new padded jacket. The yard is bitter cold, the air is already ringing, and the boy is running through the forest for more than one kilometer. But the boots, even holey and worn out, are not in their house. There was one pair - she was given to her father when he went to the front. Mother herself walks in galoshes, only wraps her legs with rags. Vasya does the same: he wraps his legs with woolen strips of cloth, and shoes his own bast shoes. True, he wove them not for himself, but on the adult leg, but even more so - you can wind more rags, it will be warmer. Mother meanwhile puts five pairs of bast shoes into the bag that the son managed to weave.
- Gardens make the way, son! she whispers hotly. - You know the road to the partisans. Tell that traitor Kobzev, they were mistaken, suspecting another. Do not come back home yet, ask permission to live with them. Not that they will kill, son, they will kill! The guerrillas will allow you to stay, do not be afraid.
- What about you, mom? - asks Vasya, blinded by fear for her future fate.
- Nothing, nothing, son! Now the main thing - to transfer information about the traitor. I am afraid the fascists will cover the whole detachment. Come on, run with all your might, Vassenka!
The mother hastily kisses her son, firmly presses him to her chest for a minute. And even through his numerous "cabbage leaves" Vasya feels how strongly and motherly heart beats.
With all his strength he runs away from the village of Cossacks (emphasis on a) of the Yelets district. And only a few hours later finally realizes that the mother has no hope for salvation, and she clearly knew it. The Nazis will shoot her, barely know about the boy's escape. And she herself can not hide - time pulls. Let them find it first, after all for at least some minutes or hours, may Vasya win.
Day before yesterday
... Slowly, Vasya bastard really weaves. The boy's left hand lacks three fingers, the brush is still red, swollen, but things are getting better. There is no one to blame: Vasya himself accidentally chopped off his fingers with an ax when he stole cattle. The village passed the news that the Nazis came close, it was necessary to urgently save the economy. Vasya was instructed to gather the collective farm and, together with the adult shepherd, he was taken away to another village, far away.
Cows boy kicked out of the pen rather quickly. And calves kept near the wall, tightly caulked with straw. Here was the warmest place in the pen, and even in the dead frost there was some kind of heat, but still warm. Vasya wanted to untie the calves, but they were frightened, began to whine, huddled together. I tried to pull pegs out of the ground, but they were frozen tight. Then, in hot weather, he grabbed an ax to cut the pegs, and in haste and excitement he grabbed his arm. She was instantly stained with blood, a sharp pain pierced the whole body, so strong that the boy almost lost consciousness. Vasya looked at his hand in horror: there were no three fingers. Overcoming the pain, pressing the crippled hand to his chest and somehow raising the brush up, the boy still kicked the calves out of the pen. He waited for the shepherd who was coping with the bulls at that time, did not listen to him and did not go home, and together they drove the restless flock from the village.
Only in the evening the boy returned home, lay in a fever and remembered almost nothing. He only felt that his mother then lowered his hand into some kind of hot liquid, then lubricated it with something cool.
And as soon as the boy recovered, he sat down to weave bast shoes. So now he sat and wove, and he was in a hurry.
- Vasya, son!
Mom quickly slammed the door behind her and whispered:
- Kobzev in policemen leaned, looking for you. They say that I saw that you are weaving sandals and realized that it was not for you. Like, recently you have had seven pairs of new ones, and the boy himself, who has been kicked out, walks. Looking for someone to give them.
Nasty sticky jelly spilled in Vasina soul. Lapti, he wove to a partisan detachment, which is located near their village of Cossacks, occupied by the Germans. Though the winter is in the yard, the boots of many of our soldiers have collapsed. And shoes on them you carry - the form will hold. Yes, and glide through the deep snow is comfortable, like skiing. Besides, Vasya heard from hunters that the sandals do not leave a human smell. So, if you suddenly look for dogs, nothing will come of it.
Seven pairs of bast shoes managed to weave Vasya. And I would have had more time if it was not a fever because of chopped off fingers. Mom took those seven pairs to the forest, to the partisans. And one more day Vasya spun five pairs. But Kobzev noticed him somehow, although the boy did not know when it happened. So the traitor guessed everything ...
The outbreak of war
The ninth day of the Great Patriotic War. Father and older sister Anya went to the front. And on the twenty-third day of the war a funeral came to my father. To him his comrades attached a letter, which he did not have time to send home: "My dear! Fascist - a fierce beast. Crumbles us, rushes forward, to Moscow. But we will not surrender to the enemy. We will give all our blood, all our strength, but we will not let the damned Fritz go to Moscow! Yesterday we shot from the trenches, I looked - next to me, very close, a bird's nest. Chibis is sitting on it, wings covered his house. The shells are torn around, people are dying, death is around, and even the bird has not abandoned its nest, but has become defended! And we will protect you, my relatives. Help the front with what you can, it's hard here. "
Shortly before the war, Father taught Vasya how to weave sandals. So now the boy thought, after reading the first and last news of his father, that he could thus help our fighters. Indeed, it is more convenient to fight in sandals, than in boots. They are light and familiar to the leg of the Russian villager. And to weave them for a short time, the work is not large, you can make a lot of pairs and provide considerable help in this way.
Things went well. Vasya wove sandals, gave them to my mother, and she sent them to the front. The first military winter came - and it turned out that even in this snowy, frosty time of Vasin, footwear was useful to the soldiers ...
And now...
Exhausted, devastated, sat Vasya in the snow. Without fear, he looked into the eyes of a hungry beast and waited for death. But the boy did not want to die. After all, he did not do what mother instructed: he did not inform the partisans about the traitor, did not know what had become of his house, and did not give the sandals. He didn't even really know what kind of beast is now in front of him - a wolf or a large wild dog, because of the many who divorced them in the war.
Like candles, the eyes flashed in the darkness - the beast was still waiting, which means it was not completely sure of its victory. And the boy suddenly remembered: a flashlight! He has a flashlight in his quilted jacket pocket - the last memo from his father. He was also sent along with the funeral.
Carefully, slowly, without making sudden movements, the boy pulled out his father's posthumous gift from his pocket. If only I did not let me down! ... I turned it on - and a rather bright beam of light, like a knife, cut through the winter darkness. The black outline turned into a skinny wolf. The beast, blinded by a sudden light, was confused, lost sight of Vasya. But Vasya saw him very well. And now, directing the beam into the wolf's eyes, he knew for sure that if the flashlight did not go out, he would be saved. For some reason it seemed for a moment that the father was near. And while the light is on, dad protects his son, who finds himself in a deep forest, at night, in tattered clothes, cabbage and sandals, alone with a hungry beast.
I spent a few more hours looking for signs told by my mother, the boy was on his way to the partisans. And all this time he kept the wolf on the "fly". He sensed Vasya, kept close, but could not rush - a constant light blinded the wolf's eye.
Father's gift helped. Vasya found the partisan detachment and handed over the information. Mom was not mistaken: before, in the detachment, another villager was considered a traitor. The commander, Anatoly Ivanovich Kozlov, at first did not believe the boy, having decided that he had confused his last names from fatigue, fear and hunger.
- But I'm telling the truth! - hotly exclaimed offended Vasya.
"The truth is different," smiled Anatoly Ivanovich.
- Probably. But the truth is only one! So mom said.
The first time then Vasya said about his mother in the past tense ...
... Until spring 1942, Vasya lived with a partisan detachment. I saw how my native village was liberated and returned home. I learned that my mother was shot on the same day when they discovered his escape. Began to live alone, grandfather also died. And after our Victory, sister Anna returned from the front (she was a sanitary instructor throughout the war). Vasily Ignatievich lived a long life. From Kazakov moved to Elets, and then to Tula. And until the very last day, weaved bast shoes. Gave them generously to friends and acquaintances.
And here is another episode to tell. Once the little granddaughter of Vasily Ignatievich saw the bast shoes and asked:
- Grandpa, what company does this do?
- It is not a company, Lerochka, I wove it myself.
"So you, grandfather, are firm!"
Vasily Ignatievich smiled:
- Probably. And I will call it - "The Firm of Seven Fingers". In general, it is a pity that much is now called differently. When I was making shoes, I didn't think about any company. Just trying to help people.
In the photo you will see Vasily Ignatievich. But I don't remember his last name. Recorded for some reason, apart from these memories, but now I could not find it.
Excuse me, please.