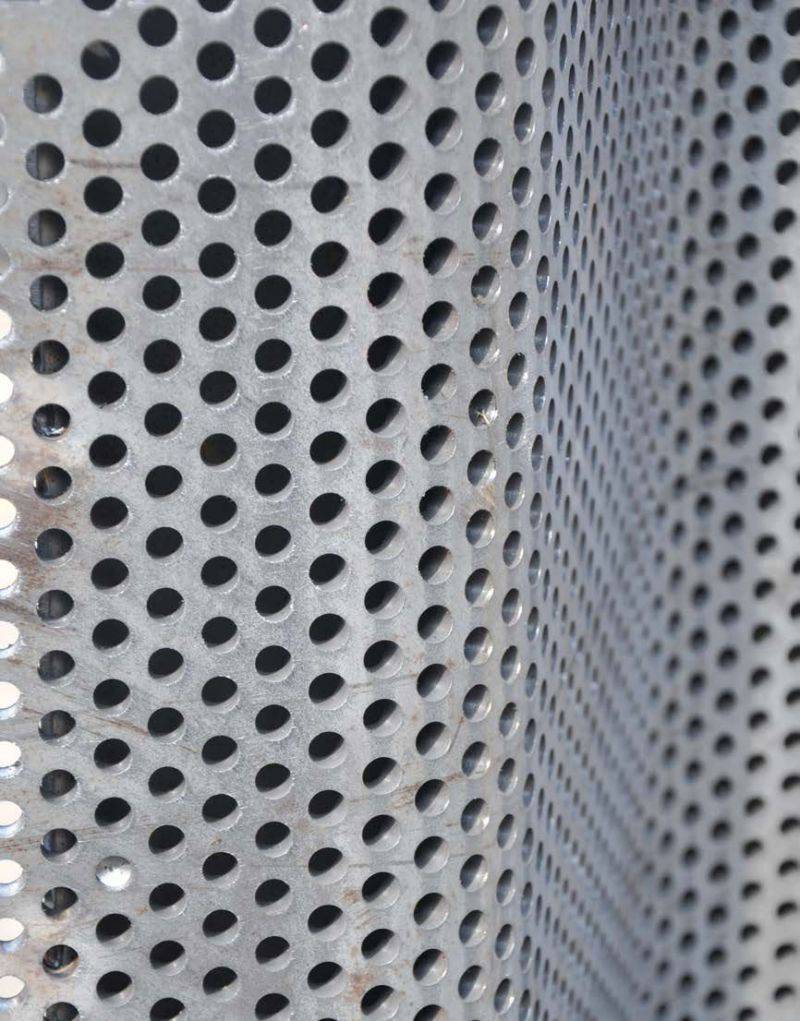 The perforated armor steel IMPAS manufactured by MTL offers light vehicles increased levels of protection
Innovations in material technology lead to a significant increase in vehicle protection levels. Consider some suggestions for steel and composite armor.
Technological developments in the production of steel and composite armor in recent years have allowed companies to offer lighter, cheaper and more efficient systems for protecting vehicles and personnel.
The Iraqi and Afghan theaters of war, where more advanced solutions were sought after, contributed to significant progress in this area. Currently, these conflicts are close to completion, the industry, taking advantage of the "pause", is actively investing in this industry and uses the latest developments in materials and design to offer its products to foreign markets.
Traditionally, steel and composite materials have occupied a different position in the field of protection regarding cost, features and applicability in various vehicles. But now the contours are beginning to blur, high-strength steel products become lighter and thus penetrate the market for lighter machines, and composite materials with multi-impact characteristics (the ability to withstand multiple hits) become cheaper and enter the market for heavier machines. This process was the result of constant investments in technologies of these two directions.
Compound Composites
Lead engineer for reservation systems at Morgan Advanced Materials Anthony Moran said in an interview that the main materials for composite materials are fiberglass, aramid fibers and low molecular weight polyethylene in combination with various binders.
"They come together in a plastic matrix, of course, there are many brands of similar materials on the market," he said. "We combine them with innovative production technologies in order to minimize the mass of our vehicle and people protection systems."
Moran called autoclave molding, direct pressing in forms and non-autoclave molding flexible from a technological point of view, processes that allow you to create materials with the best properties and the minimum weight.
"Traditionally, you need to have expensive stamps and very large, powerful presses, but we are trying to use autoclave or non-autoclave technologies with lower cost materials in order to offer similar characteristics at a lower price."
However, material suppliers have also developed relatively cheap brands that allow the use of polyethylene, which has always been a very expensive material. New materials plus their production technologies open up the market. New materials may well find widespread use in military vehicles, for example, in the manufacture of fragmented podboboy complex shape.
Composite materials are mainly used where mass is the main problem. Moran noted on this occasion that when replacing steel with a composite, one can hope for a decrease in mass of about two times. "On a standard 4x4 car, we can save one ton, if not two, by changing the standard case of the car from steel to a composite material."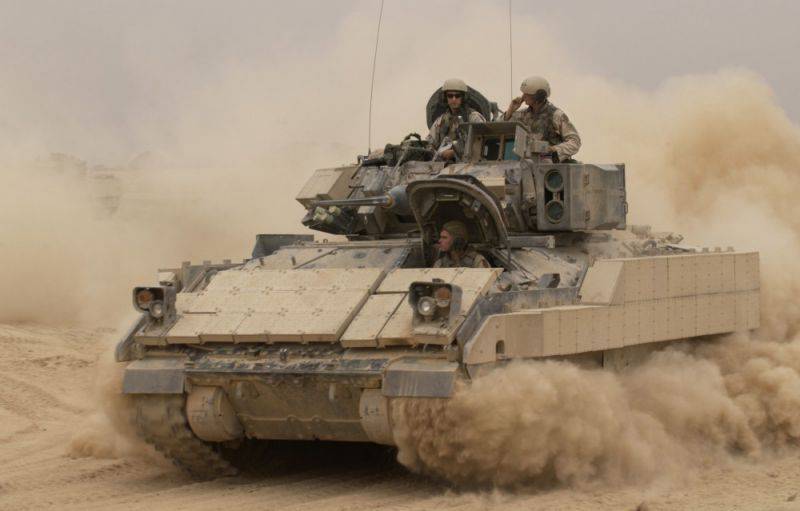 Bradley BMP in Iraq with Rafael Dynamic Protection Blocks Installed
Survival armored vehicles
Since September, 2013, Morgan Advanced Materials has collaborated with Tata Motors as part of the Indian Light Armored Multipurpose Vehicle (LAMV) light armored vehicle program for which it is developing a composite armored vehicle capsule. The first prototype was shown at the exhibition Defexpo 2014, and the company continues to refine this machine in order to begin its mass production.
The first reservation protection kit has already been manufactured and Tata uses it in preliminary tests in India. However, the set of requirements of the Indian government has changed.
"There will be another development stage where we will slightly redo the design to meet technical specifications with certainty," said Moran. "Before that, there was just a demonstration model for testing technology, and now we will test it against the entire set of requirements, not only ballistic characteristics, but also conduct tests on the effects of external conditions, such as fire, smoke toxicity and corrosive environments."
"This is an area where we combine the molding technology of composites developed in the UK with some of the new methods of encapsulation in ceramics in order to obtain the same multi-impact characteristics as the steel case, but at half weight. We hope to prepare for a full-fledged bid for Indian requirements in 2016. "
More steel?
In the sphere of armor steels, the industry also does not stand still and moves forward by leaps and bounds.
Rick Milne, Business Development Manager at MTL, said that developing ultra-high-strength steel production processes with Brinell hardness from 600 or 700 units provided protection with a lower mass. He added that steel mills, as a rule, did not recommend the production of alloys of such hardness, but MTL invested in know-how in order to create products that bring steel armor to the next level.
"The research work that we have carried out for the last three to four years also included tests whose purpose was to see what happens during the bending of the product, find out the cause of the destruction and understand the effect of the bending process of the parts on its ballistic characteristics, how it changes properties, starting with the flat state and ending with flexible and machining. In addition, one should not forget about stamping, investment in tooling is necessary in order to stamp these complex parts into the final high-strength product. "
"We buy a flat sheet from a steel plant, whether it's Brinell's 600 units or the Armox Advance brand or a similar grade, and we process it in our production. Then we cut it with a laser and a water jet, bend it on a bending press, then mechanically process it, possibly drill it, cut the thread and weld it into a single assembly. "
Milne said that by developing lightweight products using the Armox Advance, mass savings of 40% can be achieved with the same level of protection that homogeneous armor or armor with Brinell hardness of 500 units traditionally provides, all at a single cost.
"It is necessary to remind that when you save 40% per ton, you get 40% weight reduction at the same price per ton, that is, your price for this lightweight part or assembly will not differ too much from the price you pay for armor with Brinell 500 hardness. In this case, you get a big jackpot, which consists in reducing the mass by 40%. "
Lag
As the threat level increases, traditional armor with 500 HB hardness begins to lag behind, as customers seek greater protection while reducing weight and cost. Offering the same level of protection when using more durable steels with less mass opens up new opportunities for steel in the armor market, which it did not have on it before.
In theory, this means more details of armor steel for light vehicles that were previously made from composite materials. On the other hand, with a decrease in the total mass of the machine, this makes it possible to use cheaper and correspondingly heavier steel in other places.
Milne named some of the growth directions of this business, in particular, protective steel covers and barriers for optical-electronic systems and tower sights. On the body of the car there are also special places, such as wheel arches and racks, which can be made of armor steel.
"We have seen highly specialized production in the market capable of processing this superhard armor, so that the buyer, instead of a sheet with a thickness of 9 mm, can use a sheet with a thickness of 5 mm for protection corresponding to the 1 level of STANAG. That is, you have good mass savings and this is of great interest to customers, especially when they have limited budgets, and you are able to offer more subtle materials to counter the same level of threat. This satisfies many of their requirements, and we played back part of the business again when we were able to achieve it. "
"Of course, there are parts that can be made from both metal and other non-metallic material, but at the same time there are parts that are made only from ceramics and composite materials. At present, we have opened the doors, so that large and small manufacturers can come in and ask for a composite or ceramic part to be made of metal. In most cases, we say yes, now it can be made of armor steel in its weight limits, whereas previously it was necessary to refuse due to weight restrictions. "
At the request of the client
Steel has the advantage of technological flexibility, because at the request of the customer it can be cut on a panel of any size. Of course, the customer himself or the steel manufacturer can develop the necessary part from the armor plate, but Miln noted that if they have steel sheet in the factory, they can start production within a few days, quickly responding to urgent requirements.
There is also a certain division among steelmakers, those who use cold stamping and those who use hot stamping. The first process does not use heat for stamping parts, everything happens at ambient temperature, whereas during hot stamping, the steel is heated to bend or roll.
"This is something that we have always questioned," said Milne. "People who make hot rolled armor always say that heating does not affect the properties of the armor or the ballistic characteristics, but we doubt it."
"During cold forming there is no exposure to elevated temperatures, that is, you do not change the properties of the steel. In cold stamping zones, you apply a different type of pressure, but we ... understand this and with the help of our metallurgists and strength specialists we cope with this, so it does not affect the ballistic properties. "
He continued: "But by heating the material, you change the mechanical and ballistic characteristics and we don't want to go that way, since we can replace almost everything with cold stamping. Definitely applying this method gives our customers satisfaction and confidence. "
The only area where, as Milne believes, hot-stamped components can be used is heat-resistant covers in civilian vehicles, for example, Land Cruiser, since the geometry of these parts is only suitable for hot stamping.
The company MTL also offers for machines and structures that require protection corresponding to the STANAG level 4, their perforated IMPAS armor. This attachment booking solution can be integrated into any platform; its sheets are usually installed from the body of the machine at a distance of 50 mm, but it can be regulated for specific threats.
"This decision enhances the original machine protection. If it is STANAG Level 1 or 2, then you can very quickly raise the level of protection. This gives another 30-40% mass savings compared to traditional armor. If the sheet weighs 10 kg, then our perforated armor will weigh 6 kg, so you will further reduce the weight with the IMPAS armor. "
He added that this solution was successful, since the mass of the new armor is comparable to the mass of composites and ceramics, but the components are "much cheaper". Also, this armor is easy to add or quickly remove if necessary.
Multi-hit features
Milne believes that one of the most sought-after properties of perforated IMPAS armor, "significantly superior to composite materials," is its ability to withstand multiple hits.
Milne agrees that traditionally it was a problem of composites, but at the same time, he believes that all this can be overcome.
"From the very beginning, one of the drawbacks of ceramic systems is their multi-shock characteristic, when ceramics protects from the first bullet, and the second can already make a hole in the target," he explained. "We spent a lot of time checking the materials we use and how to combine them to get extremely small distances between hits in composite ceramic parts."
"We use the AP55 standard and this is a pretty tough test - 25 mm between pairs of hits, which is very difficult for a traditional ceramic system. Some new technologies are really pushing the boundaries of what's possible for this type of system. "
Moran added that composites can also be added to steel shells, and therefore Morgan designs ceramic elements to integrate with steel.
"If you want to increase the capabilities of the platform, since it has to be deployed in an area with a higher level of threats, then you can develop a ceramic plate, bolt it to the sides of the machine and, thereby, increase the levels of protection with a relatively small increase in mass."
Way east
Both markets, both composites and steel, have experienced similar bursts in the last five to ten years in connection with the hostilities in Iraq and Afghanistan, especially in connection with urgent operational orders. However, at present, sales have declined and both sectors must aggressively compete for foreign markets, especially now, when the characteristics of armor products are increasingly converging.
Moran said that for Morgan, composites technology developed for the British Department of Defense during the Afghan conflict "really allowed progress in many areas."
At the same time, he added: "The technology works for the UK and its allies, and we currently expect to use the same technology internationally, so we are focusing on expanding markets, such as the Middle East and Asia, while continuing to serve larger markets in Britain and North America.
In North America, Morgan opened a branch in the Canadian province of Ontario. This market is very large, and mainly products made of steel and aluminum armor are in demand here.
"Perhaps this is due to the fact that the metal is a more understandable and proven material, whereas since the advent of composites we have not accumulated enough data about them that are necessary for many of our programs," explained Moran.
However, he believes that currently there is a "change of mood" in the North American region along with the rest of the world, as an increasing number of requirements are put forward for machines that have mass restrictions. Since machines must be deployed strategically, they must weigh less, but the threats remain the same.
"There must be a compromise," he continued. - Therefore, when the level of threat exceeds the carrying capacity of the chassis and you must apply new materials, primarily non-metals, there are composites and find their niche. Steel and aluminum are well tested and for some applications they are just brilliant. They offer you a less bulky system with good multi-shock characteristics, but they are heavier than the composite alternative. "
"Another advantage of the hull or other composite parts of the machine is that they collapse gradually, so when firing armor-piercing ammunition, a shell, passing through the composite, does not form additional fragments inside the machine. They are used as anti-splinter podboy inside metal structures. If you have a car made of composite materials, then you do not need this slaughter, because there will be no formation of fragments in the car. "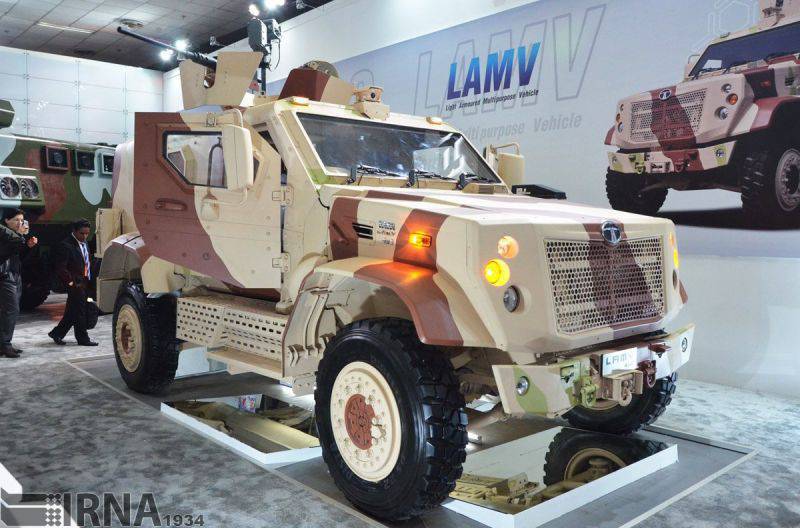 Tata's Light Armored Multipurpose Light Multi-Purpose Armored Vehicle is equipped with a composite armor crew capsule (photo from Defexpo India)
Space saving
The idea is that in order to reduce the number of parts in the kit instead of a set of flat panels connected together, the composites are molded into curved complex shapes. This saves zakronevy volume and can provide better coverage of the surfaces of the machine regarding survivability.
Moran said that mass requirements are being put forward in various vehicle development programs, not only in North America, but throughout the world, in order to reduce costs over the entire lifespan, as well as reduce harmful emissions.
"It was a huge and difficult task of moving from a pure idea to its practical application in cost-optimized systems for emerging markets such as Asia and the Middle East. They really want technology and performance, but this is a price-sensitive market and we are trying to use high technologies and production methods, but we adjust them to a specific market in order to get a more profitable product. "
In the meantime, Milne noted that the situation looks similar for steel, the markets outside Europe are "lively" and show interest in MTL.
"Turkey, the Middle East and the Far East are on the rise, the production of armored vehicles there is relatively new. They are also little aware of new armor steels, and therefore we have good prospects there. "
"They are not particularly good qualifications. I was at the DSA 2014 exhibition in Malaysia and many of their cars were relatively poorly protected, because they were built by Western manufacturers. "
"Currently, they want to design and manufacture their own equipment in cooperation with a western company themselves, they want to do everything in their own country, although they are familiar only with traditional homogeneous armor or steel 500 HB hardness. Therefore, new technologies have become 600 units and higher are often new to them, they were poorly aware of the availability of similar materials on the market that they can be produced, "Milne continued. "In these bear corners, we collaborated with several manufacturers on design and prototyping in the hope of mass production, which would allow us to obtain products with a decent weight saving."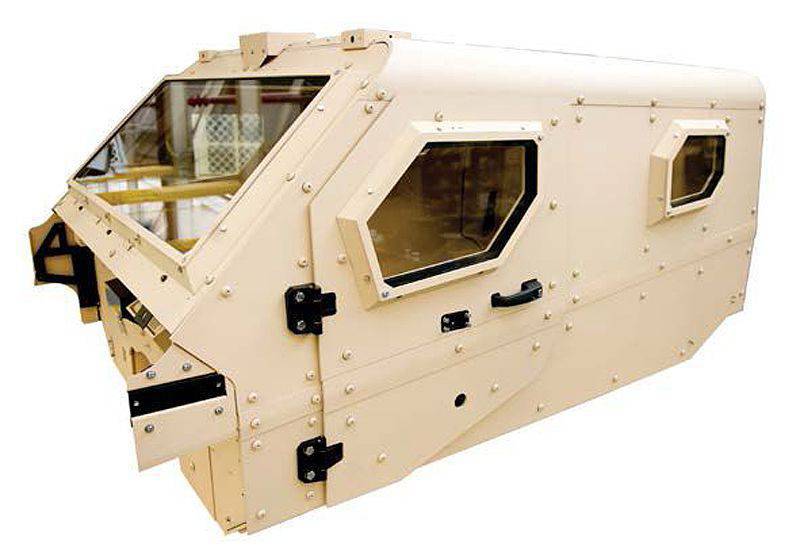 CAMAC Capsule from Morgan Composite Armor
Combined approach
In the Israeli company Rafael believe that the combination of armor materials is the best solution and therefore use a mixture of different processes in the development of their decisions.
A company spokesman said: "Composite materials and steel are the simplest simple technologies for additional booking, but the most effective. However, the combination of these materials with explosive or ceramic materials in the respective configurations offers effective dynamic and ceramic protection for combat vehicles.
"The best balanced protection" is not necessarily a combination of composites and steel. Rafael's advanced armor consists of metals, ceramics, composites, elastomers, and energy materials. There is no one correct combination of materials for obtaining the best protection. The optimal configuration of armor depends on the required level of protection, the available base armor, its material, thickness and angle of inclination. A combination of experimental and software tools is used to get the best and most unique booking solutions. "
Like its competitors, Rafael constantly conducts research and development and develops advanced materials. The latest developments include insensitive energetic material with an improved low burning rate for use in dynamic protection that complies with international safety standards and the requirements of the hazard classification system, as well as advanced composite ceramic armor. The company uses injection molding technology to produce reactive armor; computerized autoclaves for bonding composite ceramic armor; vulcanization of multilayer armor plates; heat treatment of steel plates; X-ray and ultrasound to detect microcracks in ceramic tiles as part of the quality control process.
Over the past year and a half, Rafael's booking contracts have been associated with retrofit kits for the Israeli army. Over the past three to four years, large contracts have also been concluded on advanced dynamic protection blocks for American cars Bradley and Stryker.
Future threats
Predicting future threats to vehicles, Rafael believes that they are associated with "the recent intensification of terrorism and the expansion of asymmetric conflicts," which has contributed to the rapid spread of RPGs and unconventional lethal systems, such as directional bombs and improvised explosive devices.
A company spokesman added that "before the most deadly threats were the coalition forces in Iraq and Afghanistan. This situation has led to the use of appropriate technologies for additional booking, especially technologies of dynamic protection and protection against directional bombs. "
"Most likely, in the future, the main threat to combat vehicles will be powerful armor-piercing sub-caliber 25-mm and 30-mm ammunition. Consequently, one of the main directions of development of vehicle protection against such threats in the coming years will be efficient and easy booking systems. "
Materials used:
www.morganadvancedmaterials.com
www.rafael.co.il
www.ssab.com
www.shephardmedia.com
www.wikipedia.org
https://ru.wikipedia.org